TikTok CEO Chew Shou Zi 'tried the best he could' in US Congress hearing, says analyst
One area Mr Chew succeeded in was explaining some of the nuances around the platform's algorithm and what makes it successful, says another analyst.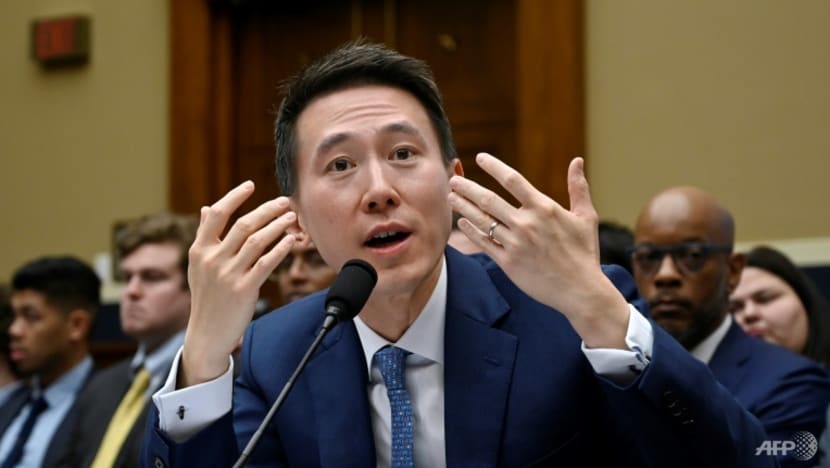 TikTok CEO Chew Shou Zi "tried the best he could" to allay privacy and security concerns and address allegations of his firm's links to the Chinese government, an analyst said on Friday (Mar 24), hours after Mr Chew's five-hour testimony in front of US lawmakers.
Although he maintained that the video-sharing app has never shared information with the Chinese government, nor removed or censored information at the behest of the Chinese authorities, he found "an audience that was not prepared to accept those claims", Professor of Law and Technology at Georgetown University Anupam Chander told CNA's Asia First.
"He did the best he could in a very hard environment," Prof Chander said.
"He asked the lawmakers to open the app. So, he literally pleaded with them to try searching for information on the app to look for information about China, for example, on there and see that it's uncensored,", he noted.
However, the lawmakers "already had their minds made up for the most part", he said. Mr Chew, a Singaporean, was grilled over concerns about privacy for Americans' data, protections for children online and TikTok's connection to the Chinese Communist Party.
Research Scientist at Georgia Institute of Technology's School of Public Policy Brenden Kuerbis noted that Mr Chew "tried numerous times" to explain how his global company deals with complex safety and content moderation, and how security decisions are made when running a platform as large as TikTok.
"But he was rarely given a chance to elaborate," he said.
However, one area Mr Chew succeeded in was explaining some of the nuances around the platform's algorithm and what makes it successful, said Dr Kuerbis.
This includes how users' inputs influence the outputs, and how varying the terms of use and policies for different age groups and national laws impacts the content moderation that the firm does.
Mr Chew also conveyed that TikTok should be compared to other US social media platforms that are confronting similar issues, added Dr Kuerbis.
US CONGRESS "POSTURING"
Both analysts noted that Mr Chew spent time elaborating on Project Texas, which is the data localisation arrangement that would move all US user data to a US-based cloud vendor, Oracle, and a new US government-controlled corporation.
"Despite that detailed plan that he laid out, several committee members remained sceptical, claiming that ByteDance or the Chinese government could still gain access to the data," said  Dr Kuerbis.
He said that it appeared that "the deck is stacked against TikTok" with bipartisan agreement amongst Republicans and Democrats about the perceived threats that the platform poses.
He added that committee hearings like these "can be less about understanding and more about posturing and scoring political points".
Similarly, Prof Chander said that "Congress is trying to use a hearing to make a point", noting that Mr Chew's effort has not placated its critics.
WOULD IT BE POSSIBLE FOR THE US TO BAN TIKTOK?
Despite the hostile stance of the US lawmakers, it is unclear whether the country intends to legislate a ban against the app that has 150 million monthly active users locally, said the analysts.
Most of the committee was sceptical of Mr Chew's defence or outright hostile in some instances, but Dr Kuerbis said he did not sense much momentum gained in banning Tiktok.
Explaining the possible reasons behind this, Dr Kuerbis said: "I think Chew wisely invoked TikTok's diverse user base and more importantly, its support for freedom of expression.
"In his statement and in his testimony. he skillfully reminded the committee of the constitutional challenges that such a ban would likely face here in the United States."
While it is possible for the US to ban an app, to do so for an app this size would be "unprecedented" in the country, said Prof Chander.
He painted a scenario of how it would work: Companies in the US would be told to halt business with TikTok or its parent company ByteDance, which would cut off its advertising revenue, servers and communications systems.
This would "devastate" TikTok and make it unavailable to be downloaded, he added.
"It would increase cybersecurity risks for those who already had the app because the app could no longer update itself to patch any cybersecurity holes that are discovered in the future," he said.
WHAT COULD HAPPEN NEXT?
Prof Chander said the situation could "escalate", given that American firms like Tesla, Apple and Microsoft have a presence in China.
"This is a precedent that could reverberate long after this particular app. I think it could create increasingly chilly relations between the United States and China on the business side so that the consequences may be felt far outside the technology industry," he said.
He highlighted two other Chinese apps, e-commerce platforms Temu and Shein, which are also popular in the US.
"The question now is 'are they going to be seen as a national security threat?' Because now they have potentially your credit card information, and maybe your location information as they try to target ads," he said.
"So all of these apps become vulnerable, but not just apps. It could be drone companies, it could be Internet of Things companies."
Dr Kuerbis noted that several committee members mentioned a Wall Street Journal article that suggested that Chinese officials might use export controls to restrict TikTok's technology from being divested.
"It would be ironic if it comes to pass. The Chinese government would be simply taking a page from the US government's playbook of controlling technology, for instance, in semiconductors in which it has an interest. So, we're going to have to wait and see what happens," he said.