Key takeaways from TikTok CEO Chew Shou Zi's US Congress grilling
The Singaporean CEO was questioned by US lawmakers about TikTok's alleged links to China, as well as access to home Wi-Fi networks.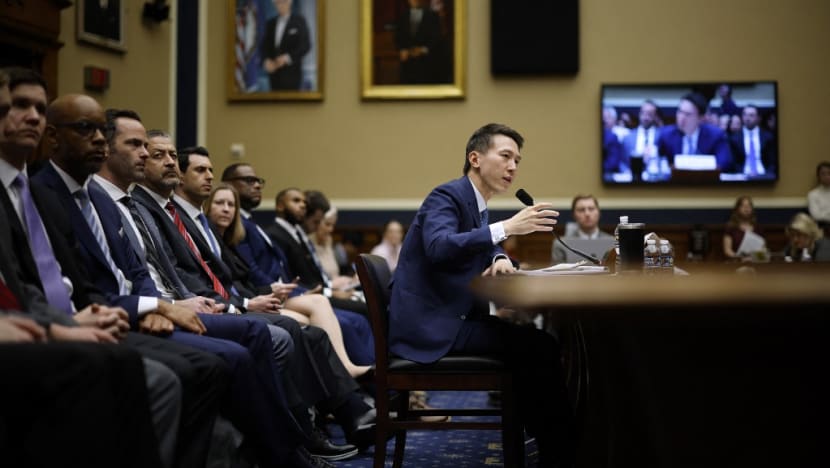 SINGAPORE: Alleged China links, youth safety and "political grandstanding" – these were some of the themes as TikTok CEO Chew Shou Zi was grilled in the US Congress on Thursday (Mar 23) over the social media platform.
Sitting in front of the House Committee on Energy and Commerce and with the world watching, Chew started his testimony by referring to his Singapore roots.
Over the next five hours, lawmakers posed questions about the app, which has more than 150 million users in the US.
CNA looks at the key takeaways from the hearing:
TIKTOK AND DATA COLLECTION
Chew moved to allay fears about TikTok's data collection practices, but he also said the data is "frequently collected by many other companies" in the same industry.
The CEO was asked multiple times if TikTok can commit to not collecting health or location data.
He told the committee that the app does not collect precise GPS data and that it does not collect any health data.
"We are committed to being very transparent with our users about what we collect. I don't believe what we collect is more than most players in the industry," he told lawmakers.
He also said that American tech firms "don't have a good track record" when it comes to data privacy, singling out Facebook over the Cambridge Analytica scandal.
Personal data belonging to millions of Facebook users was collected without consent by British consulting firm Cambridge Analytica, and used mainly for political advertising.
ALLEGED CHINA TIES
Chew responded to the allegations that TikTok posed a national security threat in the US, and said a lot of the risks pointed out were "hypothetical and theoretical risks".
He added that under the company's US$1.5 billion Project Texas plan, "American data is stored on American soil by an American company, overseen by American personnel".
"So the risk would be similar to any government going to an American company, asking for data," he said.
Project Texas is a plan that involves ringfencing US data into a separate division of the company, co-controlled by Austin-based company Oracle, so that the data is stored on American soil.
Chew also told lawmakers that TikTok is headquartered in Singapore and Los Angeles, and does not operate in China.
The legislators repeatedly asked the CEO about China's alleged influence over TikTok, with Democrat Representative Frank Pallone calling Bytedance a "Beijing communist-based parent company".
Chew said Bytedance is not owned or controlled by the Chinese government and that there has been "no evidence" that it has requested or accessed US user data.
One lawmaker responded by saying that the claim was "actually preposterous", before Chew reiterated that the data will be stored in the US.
When asked if Chinese engineers still have access to US data, Chew said: "After Project Texas is done, the answer is no. Today there is still some data that we need to delete."
He added: "It is our commitment to this committee and all our users that we will keep (TikTok) free from any manipulation by any government."
Republican Dan Crenshaw said ByteDance and its employees who live in China must cooperate with the Chinese government when they are called upon, adding that "they are bound to secrecy and that would include you".
Chew replied: "Congressman, first, I'm Singaporean." 
YOUTH SAFETY AND MENTAL HEALTH
One of the key issues that came up during the grilling was the app's impact on children.
Legislators asked about the moderation of harmful content, with some showing videos encouraging users to harm themselves.
Republican Representative Gus Bilirakis said: "Your technology is leading to death."
Chew said in his testimony that as a father of two, the issues around youth safety were "personal for me".
He reiterated that the app provides users with "age-appropriate settings and controls", and that it offers a "separate experience" in the US for children under 13.
He added that these children are directed to videos that are vetted by a third-party expert Common Sense Network, and are given a "curated viewing experience".
Those under 13 also cannot post videos, comment or message others.
Restrictions are also imposed on teenagers: Accounts of those under 16 are set to private by default, and they are prevented from sending direct messages, while only people 18 and over can host a live stream.
There is also a new 60-minute default daily time limit for those under 18.
The CEO said TikTok employs 40,000 moderators to track harmful content and also uses an algorithm to flag controversial material.
"I don't think I can sit here and say that we are perfect in doing this. We do work very hard," he said.
Chew also addressed news reports that his eight-year-old child does not use the app.
"I have seen these news articles, I would like to address that. My kids live in Singapore and in Singapore, we do not have the under-13 experience. If they lived here in the United States, I would let them use the under-13 experience," he added.
SILLY QUESTIONS AND "POLITICAL GRANDSTANDING"
Some of the questions asked by lawmakers were posted on social media platforms and drew ridicule.
In one exchange, Republican Richard Hudson asked: "Mr Chew, does TikTok access the home Wi-Fi network?"
Chew replied: "Only if the user turns on the Wi-Fi. I'm sorry, I may not understand the question."
"So if I have the TikTok app on my phone and my phone is on my home Wi-Fi network, does TikTok access that network?" Hudson continued.
"It would have to ... to access the network to get connections to the internet, if that's the question," said Chew.
Hudson asked if it is possible for TikTok to access other devices on that home Wi-Fi network.
"Congressman, we do not do anything that is beyond any industry norms. I believe the answer to your question is no. It could be technical. Let me get back to you," Chew said.
Republican Buddy Carter also asked if TikTok uses the phone's camera to determine "whether the content that elicits a pupil dilation should be amplified by the algorithm".
Chew said the app does not collect body, face or voice data to identify users, and the only data TikTok collects is when a person uses filters – such as pretending to have sunglasses on their face.
"We need to know where your eyes are," Chew said.
"Why do you need to know where the eyes are, if you're not seeing if they are dilated?" he was asked.
Chew said the data is stored on the local device and deleted after use. He also reiterated that the app does not collect body, face or voice data.
Throughout his answers before the committee, Chew was cut off mid-sentence by multiple lawmakers who asked for a "yes or no" answer.
Democrat Tony Cardenas compared him to Meta CEO Mark Zuckerberg, who testified before the same committee in 2018 over the Cambridge Analytica scandal.
"When he (Zuckerberg) came here, I said to my staff, 'he reminds me of Fred Astaire – good dancer with words'. And you are doing the same today. A lot of your answers are a bit nebulous, they're not yes or no."
After the hearing, a TikTok spokesperson said: "Shou came prepared to answer questions from Congress, but, unfortunately, the day was dominated by political grandstanding that failed to acknowledge the real solutions already underway through Project Texas or productively address industry-wide issues of youth safety." 
You may also be interested in:
Source: CNA/Agencies/mi(gr/gs)