Impact of Turkey earthquake on local population, economy will be 'massive': Expert
More aftershocks are expected in the next couple of weeks or even months, potentially leading to more deaths, says an expert.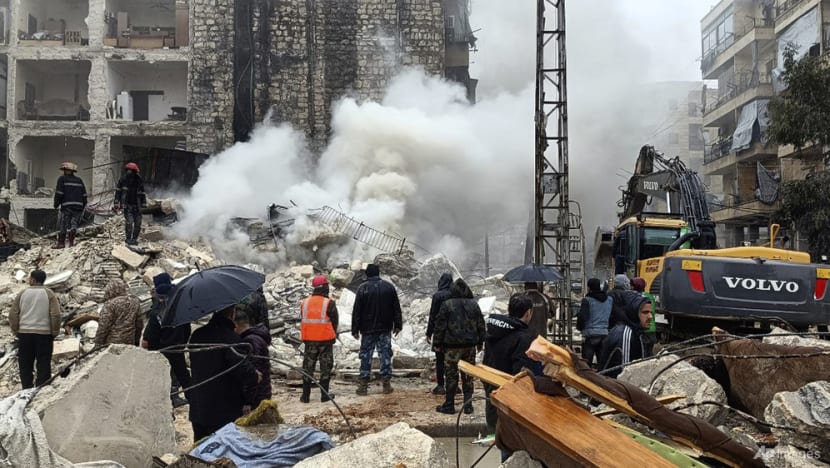 A powerful earthquake in Turkey and Syria that was also felt in Lebanon and Israel will have a "massive" impact on the country's people and economy, an expert said on Monday (Feb 6), hours after the natural disaster happened.
The earthquake was of the same magnitude, 7.8, as the strongest recorded in Turkey in 1939.
The initial aftershock data says that the earthquake had a rupture length of more than 300km, said an expert in the field, Professor Paul Martin Mai.
"Over a length of 300km, villages and towns are destroyed, economies are affected, the life infrastructure - gas, electricity, water pipelines - will be disrupted," the academic from the Earth Science and Engineering department at King Abdullah University of Science and Technology in Saudi Arabia told CNA's Asia Now.
"The impact on the local population and economy will be massive because it's such a big earthquake that affected a large area."
He noted that this earthquake exceeds the magnitude of the 1999 quake near Istanbul which had more than 15,000 fatalities. The earthquake on Monday had taken more than 2,300 lives in less than 24 hours.
LOCATING SURVIVORS
The tremor, followed by a slightly smaller one, wiped out entire sections of major Turkish cities in a region filled with millions of people who have fled the civil war in Syria and other conflicts.
Prof Martin said that the window to find survivors of an earthquake typically lasts 72 hours.
"We have to focus our efforts into the next 24 to 72 hours. After that it's very unlikely to find any further survivors," he said.
He noted that Turkey is in the middle of winter, and that it recently snowed in the region.
"People who need to leave their homes, they will have to stay outside in very unpleasant weather conditions. So it requires international aid activities to provide shelter, clean water, food and supplies," he said.
MORE AFTERSHOCKS TO COME
More aftershocks - smaller earthquakes following the main shock of a large earthquake - are expected in the next couple of weeks or even months, said Dr Januka Attanayake from the School of Earth Sciences at the University of Melbourne
The aftershocks can lead to more deaths, he added, noting that Turkey's building codes are "not up to scratch".
"If you go to a place like Japan, you know that the building codes are extremely tight, and they build to those building codes, but not so in Turkey," the research fellow whose expertise is in earthquake seismology told CNA's Asia Now.
He added that while it is "very difficult" to predict the magnitude of these aftershocks, based on the first aftershock of magnitude 6.7, it could be one of magnitude 6.
The "best-case scenario" will be no aftershocks of magnitude 6 or greater, said Dr Attanayake.
"The worst-case scenario will be another aftershock in the high sixes in terms of magnitude, because the buildings have been overly damaged. We wonder whether these damaged buildings can withstand another aftershock of high magnitude," he said.
"That will hamper the rescue missions really, really badly," he added.
FORECASTING EARTHQUAKES
Turkey sits on the Anatolian Plate, which borders two major faults. The North Anatolian fault goes across the country from west to east and the East Anatolian fault rests in the country's southeastern region.
Given that the other earthquakes that have occurred in Turkey have mostly been in the North Anatolian fault line, the authorities had been expecting a "damaging earthquake" in that region, Dr Attanayake said. Monday's disaster, however, happened on the Eastern Anatolian fault line, which he believes has received less focus.
The experts said that earthquakes cannot be predicted.
"We can only forecast the probability of an earthquake occurring within a certain amount of time. Usually, that time window is in decades," said Dr Attanayake.
For instance, for California, certain probabilities have established for a three-decade time period, he said.
Given that predicting the precise day, time and magnitude of an earthquake is not possible, countries need to prepare better, said Prof Martin.
"Nowadays we have a lot of dense data coverage. So, I expect that this earthquake will now be studied, not only by my team, but by many others across the globe to really understand what happened during this earthquake. And it will not help us to be able to better predict earthquakes, but to better prepare for them," he said.