Ukraine's defence minister slams Russian 'imperialism', says Bakhmut remains under Kyiv's control
Mr Oleksii Reznikov also invited divers to join him in a tour of the Black Sea site of a sunken Russian warship after the war ends.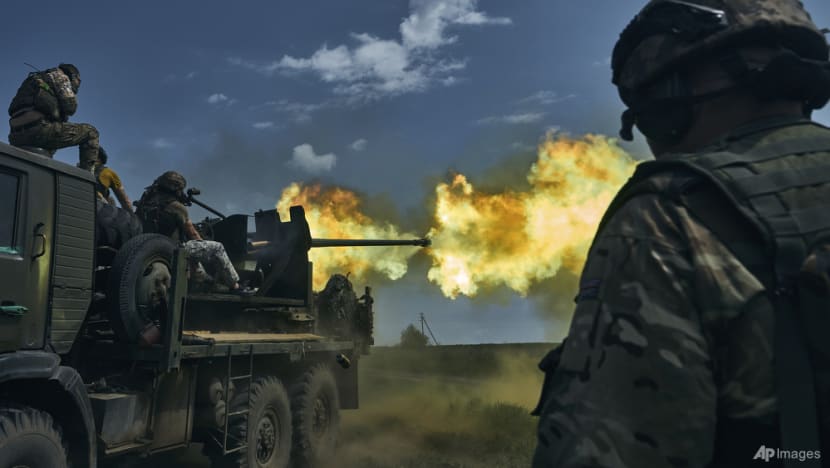 SINGAPORE: Ukraine's Defence Minister Oleksii Reznikov slammed Russia's "imperialist" mindset on Friday (Jun 2), vowing his country would triumph in the war with its borders intact.
Mr Reznikov also invited divers to join him in a tour of the Black Sea site of sunken renowned Russian warship Moskva after the war ends.
The 56-year-old spoke to CNA on the sidelines of the Shangri-La Dialogue, Asia's top defence summit taking place from Jun 2 to 4 in Singapore.
The meeting, organised by the International Institute for Strategic Studies (IISS), will be attended by some 550 defence ministers and delegates from 40 nations. 
Russia's invasion of Ukraine has remained a central issue in discussions at the summit.
When asked if Ukraine is winning the war, Mr Reznikov replied with an unwavering "yes".
"The result of this win would be the full liberation of our occupied territories within our borders, including Crimea, Luhansk and Donetsk," he said, referring to boundaries Ukraine had in 1991, at the time of the Soviet Union's collapse.
BAKHMUT A 'STRONGHOLD'
Ukrainian forces have been stuck in a months-long battle for Bakhmut against Russia's Wagner Group mercenaries.
The eastern Ukrainian city has suffered extensive damage and most of its residents have fled.
Both Russia and Ukraine have claimed they have gained control of the city in recent weeks. 
Mr Reznikov reiterated Bakhmut remains under Kyiv's control, rejecting Moscow's claims of having captured the city.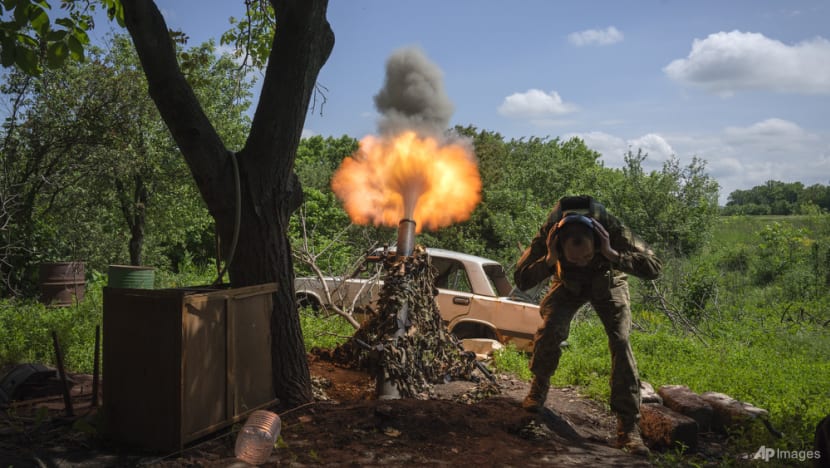 He said that Ukraine is using the region to exhaust Moscow's offensive, adding Russia has suffered over 60,000 casualties over the past eight months in a bid to seize control of the city.
He also accused Moscow of using its soldiers like cannon fodder.
"We use Bakhmut as a stronghold to reduce their (Russia's) offensive capability," said Mr Reznikov.
"We are (still) controlling this territory. (But) Bakhmut is no longer a city. They (the Russians) have wiped out everything. No residential buildings, no kindergartens, no hospitals. Nothing. It's an empty place."
Mr Reznikov said that Russia's use of mercenaries instead of its armed forces in the battle for Bakhmut showed incompetency and division within the Kremlin.
"This means it is not a good situation for them internally. It means the struggle among the Kremlin powers continues," he said.
'IMPERIALIST' RUSSIA
Mr Reznikov also accused Moscow of imperialism, saying the Kremlin is trying to restore Russia to the past glory of the Soviet empire by using force over lost territories.
"They (the Russians) are still gathering lands. They cannot accept that small countries can live separately, independently, and with their own values. They still have an imperialism approach – the one great Russia or Soviet Union. But for us, the doctrine that 'might is right', is unacceptable," he said.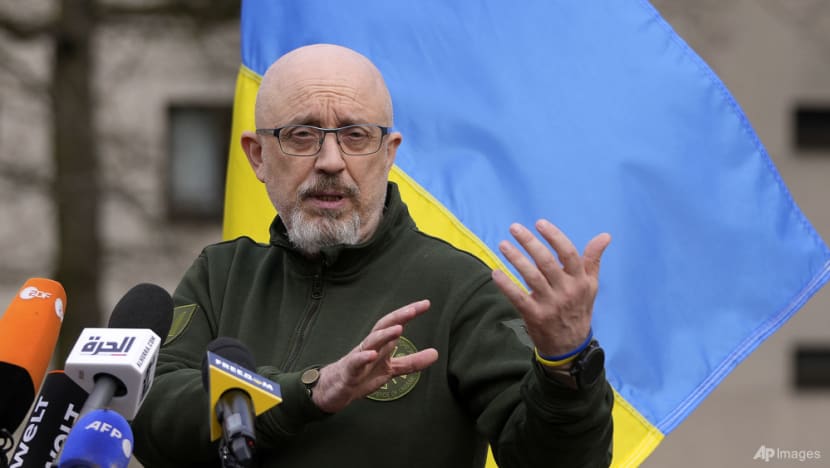 Aside from Ukraine, Moscow has also incited unrest and violence in other nations, added Mr Reznikov, pointing to past and current conflicts in Georgia, Moldova, Syria and the Caucasus region.
Air defence systems remain a top priority for Ukraine to deter Russian airstrikes on critical infrastructures, he said. Attacks on Ukraine's power grid have caused rolling blackouts, affecting homes, schools and hospitals.
"Russia is trying to stop our water, energy, heating supply in our residential houses, in our civilian places. We need to cover our skies," he said. "We need more sophisticated systems to deter Russia's attacks."
Ukraine is set to receive the first batch of F-16 fighter jets from its allies later this year.
Kyiv also needs more Western artillery and military vehicles, including battle tanks and armoured personnel carriers, to protect its soldiers, he said.
Mr Reznikov is expected to meet with various defence counterparts at the Singapore summit, where he will be conveying Ukrainian President Volodymyr Zelenskyy's request for more support.
"We need the full support of the civilised world. We are fighting for the whole of mankind's values. This war is not only between Russia and Ukraine. It also will affect Africa, Asia, the world," he said, adding the conflict has disrupted supply chains and pushed up commodity prices for many countries.
MOSKVA SHIPWRECK
Mr Reznikov first visited Singapore some 20 years ago on a diving trip when he was a lawyer.
The diving enthusiast said he is inviting divers to tour the sunken Russian warship Moskva in the Black Sea when the war is over.
Ukraine sank the guided missile cruiser, the flagship of the Russian Navy's Black Sea Fleet, using its Neptune anti-ship missile last April.
"I invite divers to join me for a dive tour after we win this war," said Mr Reznikov, promising to make the site at the bottom of the Black Sea a "very famous shipwreck diving spot".