Ukraine could push Russia back to pre-war lines soon - but only with Western aid, say analysts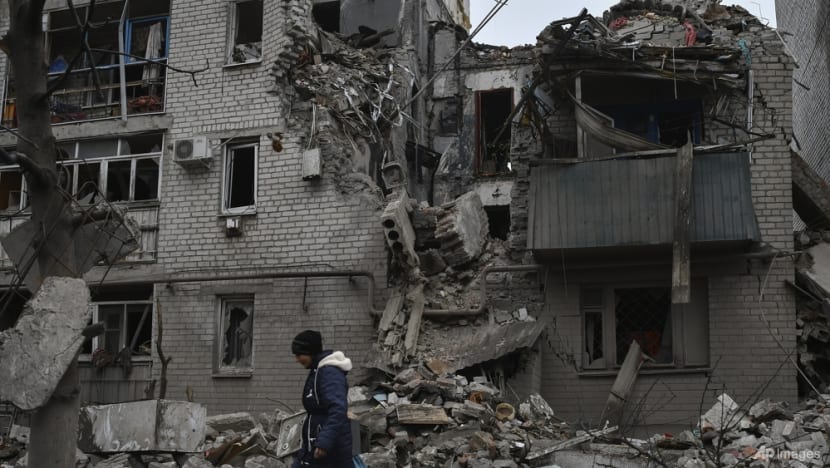 SINGAPORE: Ukraine could push Russia back to its pre-war lines soon, but only if Western partners continue to give Kyiv the help it desperately needs, said analysts.
Ms Melinda Haring, deputy director of the Atlantic Council's Eurasia Center, said on Monday (Dec 19) this includes continued military, financial and humanitarian assistance along with electrical equipment to fix a battered power grid.
Ukrainian president Volodymyr Zelenskyy also said previously that the conflict would not end unless Russia withdrew from all the areas it occupied. 
His determination to retake all of Ukraine, including Crimea which was seized by Moscow in 2014, "is eminently doable", said Ms Haring.
BELARUS AS RUSSIA'S ALLY
On Monday, Russian President Vladimir Putin made his first visit to the Belarus capital of Minsk in three years.
During talks, Mr Putin and his Belarusian counterpart Alexander Lukashenko reaffirmed their close ties. 
The meeting between the two leaders was a big deal, Ms Haring told CNA's Asia Tonight. "It underscores that Putin doesn't have very many friends."
The meeting has stoked fears he will pressure his ally to open a new invasion front.
In February, Russian forces used Belarus as a launch pad for an abortive attack on the Ukrainian capital Kyiv. 
Belarus can give Russia access to the northern border of Ukraine, said Ms Haring.
"If Russia is indeed planning an assault in January or the spring, (Putin) needs Lukashenko's cooperation. He would also like some forces, the Belarusian forces, to be fighting on his side."
So far, Mr Lukashenko has resisted and repeatedly said his country would not be drawn into the Ukraine conflict. 
"I think he will continue to resist. If he gives in, he's toast and he will not have any independence," Ms Haring noted. "Lukashenko is really good at playing games with Putin."
While Ukraine has made advances on the battlefield with counter-offensives around Kharkiv and Kherson, Russia's pivot to attacking Kyiv's infrastructure will make it harder to progress through the harsh winter, said observers.
"So the Ukrainians do have momentum on their side but they are getting tired. They made a lot of progress in the north, in the east, in the south," said Ms Haring. 
"The bottom line, though, is the Russian side can't make any progress on the military side, they can only defend what they've taken so far. And that's why they've opted for this cowardly strategy of hitting infrastructure since October, and they're pretty good at it."
Russia has been using winter as a weapon, with a barrage of missile and drone strikes on Ukraine's energy infrastructure. Their targets include high-voltage power lines, substations and distribution grids.
ATTACKS ON ENERGY NETWORKS
Ukraine has asked Western partners for air defences to protect critical infrastructure from Russian strikes.
The United States is finalising plans to equip Ukraine with its advanced Patriot missile units. This will add a layer of protection on top of Ukraine's current systems, and strengthen its air defences.
Ms Haring believes Russia is unlikely to be provoked by the new development and resort to using tactical nuclear weapons in Ukraine. "I think it's very, very low (chance) at this point," she said. 
"When you look at the costs and benefits of Russia using nuclear weapons. There are very few benefits to Russia. It just doesn't make sense."
But Ms Haring pointed out that Ukraine is a huge country and "you cannot put enough air defence systems in Ukraine to completely protect the country". 
"They also need planes, and the West has been unwilling to send those jets. There was a deal in the works earlier on, but everyone backed out," she added. 
For Ukraine to maintain its current momentum, it needs air defence systems, jets and the electric equipment required to repair its power grid, said Ms Haring. "If you don't send all three legs of the triangle, it's not going to work."
Meanwhile, Ukrainian engineers have been carrying out patchwork repairs to get through the winter heating season. 
Experts have estimated another three rounds of rocket volleys to hit Ukraine, with about 80 to 90 rockets each time. 
"We don't know how much longer Ukraine's grid can hold out," said Ms Haring. "That's really the scary part."