Is the US pledge to share nuclear planning insights with South Korea enough to deter North Korean threat?
Opinion polls in South Korea show a majority of the public wants Seoul to acquire its own nuclear bombs in response to the North Korea threat, something which Washington opposes.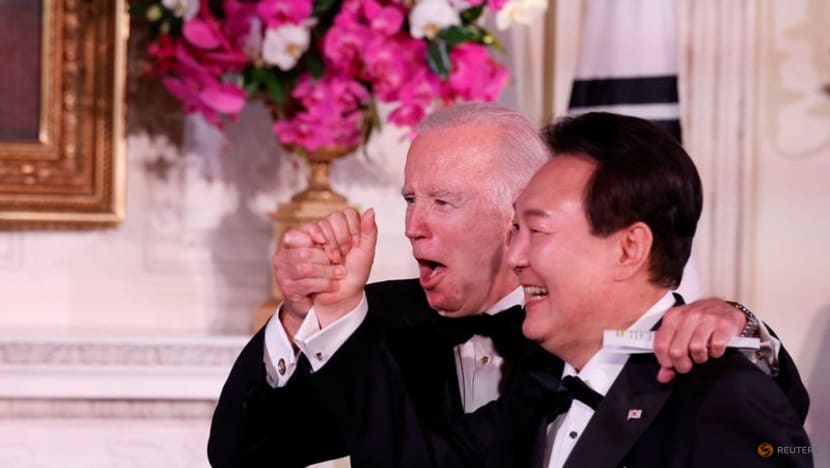 Gaps remain in the United States' commitment to give South Korea more insight into its nuclear planning in the event of any conflict with North Korea, said observers on Thursday (Apr 27). 
The pledge came after Wednesday's White House talks between US President Joe Biden and South Korean leader Yoon Suk-yeol, which covered issues including North Korea, trade and the Ukraine war.
South Korea also renewed its promise not to pursue nuclear weapons of its own, amid anxiety over Pyongyang's growing arsenal of missiles and bombs. 
SOUTH KOREA'S COMMITMENT TO NOT OBTAIN NUCLEAR WEAPONS
"Usually when we talk about extended deterrence, it's one country trying to deter an enemy country from attacking its ally," said Dr Justin Hastings, senior visiting research fellow at the National University of Singapore East Asian Institute's Korea Centre. 
The devil is always in the details, Dr Hastings told CNA938. "Partly because the question that any ally would have is, 'Is the US willing to give up one of its cities to protect ours?'"
North Korea's rapidly advancing weapons programmes - including ballistic missiles that can reach US cities - have raised concerns about whether the US would really use its nuclear weapons to defend South Korea under what it calls "extended deterrence". 
Meanwhile, opinion polls in South Korea show a majority of the public wants Seoul to acquire its own nuclear bombs in response to the North Korean threat, something which Washington opposes. 
"As long as South Korea feels that the sort of assertions and the assurances that the US has made are sort of credible in some way, that South Korea will, at least, sort of hold off from doing that," said Dr Hastings, adding that the country will reaffirm its obligations under the Nuclear Non-Proliferation Treaty. 
"The US is trying to essentially step up nuclear weapons information sharing and cooperation, and putting nuclear assets in the Korean peninsula as a way of reassuring South Korea that they don't need to develop nuclear weapons because there's sufficient cover by the US."
Under a new "Washington Declaration", the US will give South Korea detailed insights into its contingency planning to deter and respond to any nuclear incident in the region. 
Washington will also deploy a ballistic-missile submarine to South Korea. 
CONCRETE STEPS NEEDED TO ADDRESS NORTH KOREAN THREAT
"Essentially it's two sides agreeing to engage in more higher-level discussions to bring South Korea into the know as to how the United States would be making those decisions," said Ms Soo Kim, policy practice area lead at management consulting firm LMI.
"But ultimately, that nuclear decision rests in the hands of the US president. From the South Korean public's perspective, it's a verbal reassurance. But I think from an action perspective, there might be a gap that needs to be addressed."
Mr Biden has made clear no US nuclear weapons would be stationed on South Korean territory.
Ms Kim, who used to be an analyst in the Central Intelligence Agency (CIA), believes the declaration and accompanying actions are not going to deter North Korea in its nuclear ambitions. 
"If we wanted to see North Korea back down or take softer steps, we would've seen that I think a long time ago," she told CNA's Asia First. 
"If anything, we're seeing (North Korean leader) Kim Jong-un declare more confidently that his country is a nuclear weapon state."
The nuclear issue will remain where it is, said Ms Kim, a former policy analyst at think tank RAND Corporation.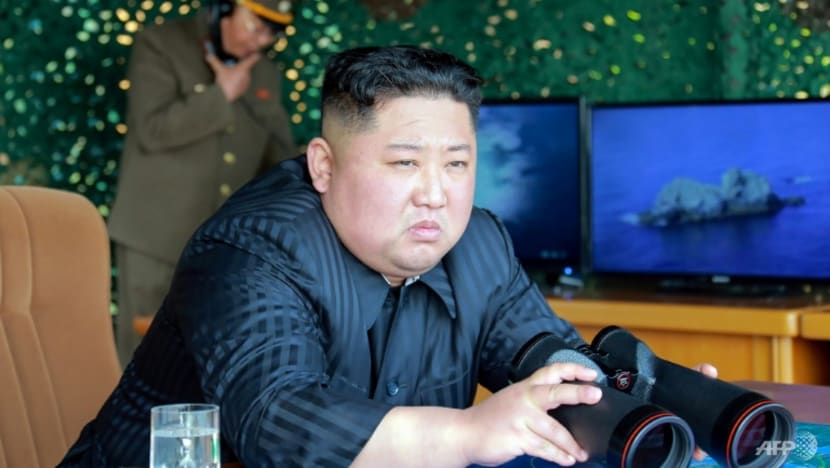 "So the two allies definitely need to be able to show more concrete steps … to allay the South Korean public's concerns about the growing North Korean nuclear threat, but also send a message to Kim Jong-un that they are taking that seriously, not just verbally, but also through action that is credible."
SOUTH KOREA AS A GLOBAL PIVOTAL STATE
This year marks the 70th anniversary of the alliance between the US and South Korea.
Mr Yoon, who had previously stated that the main goal of his foreign policy is to make South Korea a "global pivotal state", is on a six-day trip in the US, the first state visit by a South Korean leader to the country since 2011. 
It is only the second state visit Mr Biden has hosted since taking office two years ago. 
On what both leaders were trying to achieve through their meeting, Ms Kim said: "For Seoul, clearly the nuclear issue was of paramount importance. 
"For the United States, I would say that it would be to engage South Korea on the broader US-China competition, concerns about Russia with the war with Ukraine, and to see South Korea become much more of an active participant."
Ms Kim said any engagement between the US and South Korea will reduce China's "coercive leverage and the ability of China to bully South Korea and other countries". 
SOUTH KOREA IN THE US-CHINA RIVALRY
Seoul is actually coming to the realisation that its practice of strategic ambiguity in the US-China only hurts its own position, politically and economically, she noted. 
"I don't think that South Korea, by staying in the strategic ambiguous position, is actually going to be helping itself, both in the short and long term."
On pressuring China to give up nuclear arms, she added: "I think that South Koreans do know that there are limits as to how much China is really willing to do to bring North Korea either to the negotiating table or to convince Kim Jong-un that the nuclear option may not be the best for the population of North Korea."
Observers, however, believe South Korea is in a tough spot, as it has strong trade ties with China. 
"I don't think South Korea is ever going to stop trading with China. But like many other countries, South Korea is facing the idea that perhaps relying on one country for such a large percentage of the supply chain is not a good idea," said Dr Hastings, adding that the country's desire to build its supply chain resilience is driving it to expand further. 
"And so this goes in line with South Korea's general sort of foreign policy shift over the past couple of years to become a more global player."