Crime and gun control polarising issues for voters heading into US midterms
In a year marked by gun violence, the issue of gun rights is expected to trigger voter turnout for both parties.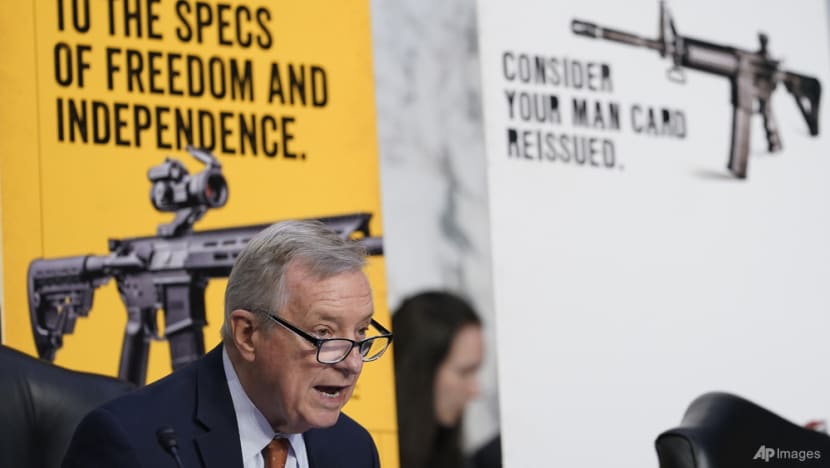 LAS VEGAS, Nevada: As Americans get ready to go to the polling stations for the US midterm elections on Tuesday (Nov 8), many will be marking their ballots motivated by the issues of guns and crime – two of the most contentious topics polarising public opinion.
More than half of the voters in the US - 56 per cent - said they believe crime has increased over the last year, according to a recent poll by advisory firm Gallup. The figure is a record high in 50 years of polling.
About 61 per cent of registered voters said violent crime is an important consideration when making a decision on who to vote for, with Republicans more likely than Democrats to see it as a key issue, a separate report by think tank Pew Research Center showed.
While the public perception is that there is a growing number of violent crimes, government numbers indicate no recent rise in violent crime rates - the statistics remain unchanged from the year before, and below pre-pandemic levels, according to the same paper.
Republicans have been criticising the Democrats for being weak on crime, accusing President Joe Biden's administration of limiting the rights and ability of regular Americans to protect themselves, while allowing crime to flourish.
Gun rights is a common theme from Republican candidates running in this election, with the suggestion that voters could lose their rights under the Democrats.
In a year marked by gun violence, the issue of gun rights is expected to trigger voter turnout for both parties.
MORE AMERICANS BUYING GUNS
Sales of firearms have almost doubled since the COVID-19 pandemic, from about 1 million guns sold monthly in 2019 to nearly 2 million per month in 2020, according to US media NBC News, quoting US national security organisation FBI.
"Americans are getting armed," said gun seller Mr Tom Whitfield, whose sales have spiked by 50 per cent at his store, Gun Shop Las Vegas, in Nevada, in the last two years.
Mr Whitfield said he has seen an increasing number of new buyers, and the main factor pushing people to purchase firearms is fear.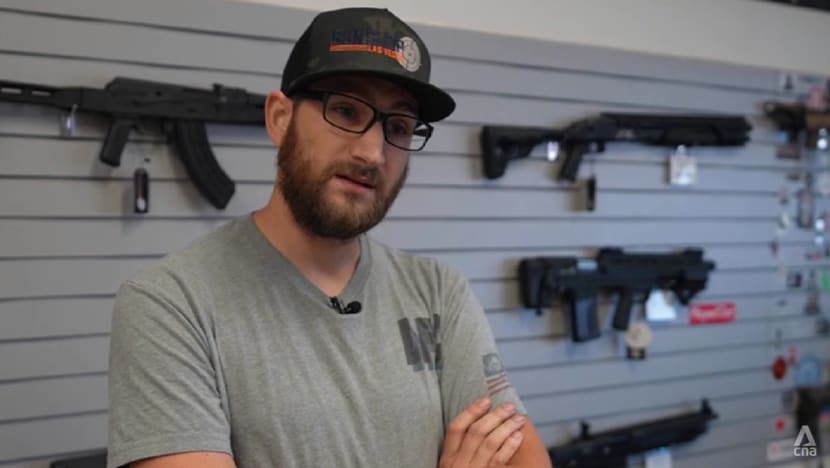 "Everyone was scared, people who didn't have guns at all, they were coming out and buying guns. Lots of first-time gun buyers, lots of women, tons of women," said Mr Whitfield, who owns 13 guns, one of which is a US$6,000 custom-built AR-15 lightweight semi-automatic rifle.
"Tons of people are signing up now because you're not safe everywhere. There's homeless (people), there's bad people around, there's people who will kill you for your shoes."
"They want to be able to defend themselves, they're starting to realise this, people are tired of just being stepped on and you're starting to see a lot of people stand up," he added.
State law allows Nevadans to carry handguns openly in public. With an additional permit from a roughly eight-hour course, residents can also carry them concealed under their clothing.
Advertisements for guns are not uncommon, and firearm commercials in Nevada frequently encourage people to arm themselves for their rights and protection.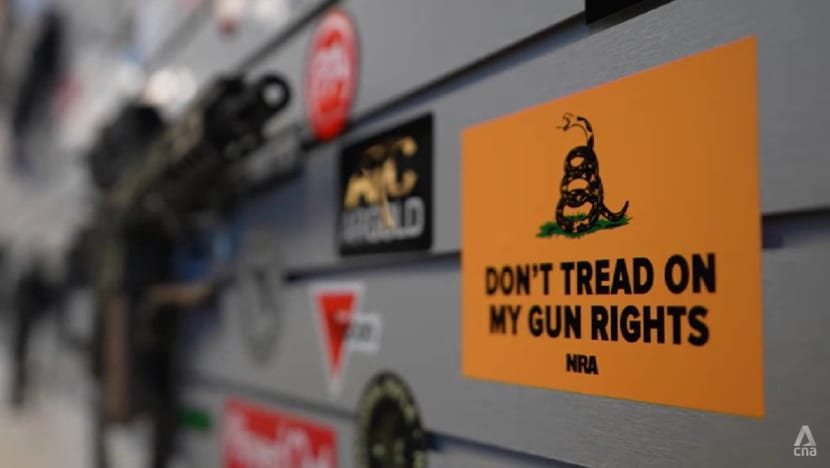 "I'll make sure we always have the right to protect ourselves and our families," said a commercial commonly heard on the radio, while another had this message: "Because without gun rights, before long, you have no rights."
Voters are deeply polarised on the issue of gun control, with Republicans supporters more likely to own a gun and less in favour of limiting gun ownership, according to data platform Statista.
"I think we need Trump. I think the Democrats are destroying things," said one such Republican supporter Ms Nicole Cloud, referring to former president Donald Trump.
"I have a lot of friends that are Democrats that are switching their party affiliation to Republican because they don't line up with Democrats anymore," added Ms Cloud, a photographer who just started gun training classes, saying she feels unsafe under Democratic leadership.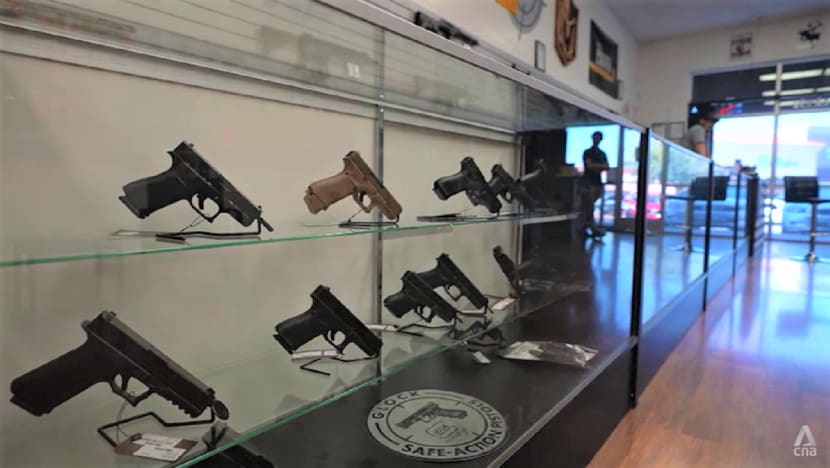 In contrast, Democratic voters are likely to favour stricter gun laws, including background checks for purchasers and the banning of assault weapons.
MASS SHOOTINGS
This past year has seen multiple high profile mass shootings. A gunman killed seven people at a Fourth of July parade in Highland Park, Illinois, while another live-streamed his racist shooting of 10 people at a supermarket in Buffalo, New York, in May.
On May 24, a gunman murdered 21 people – including 19 children – at Robb Elementary School in Uvalde, Texas, using an AR-15 style rifle, prompting Mr Biden to call – again – on Congress to pass gun reform legislation.
In October 2017, a gunman in a hotel room overlooking the Las Vegas Strip fired more than 1,100 rounds into a crowd of about 22,000 people at the Route 91 Harvest music festival, killing 60, in the US' deadliest mass shooting.
While some voters in Las Vegas say that attitudes towards guns have changed in the five years since the massacre, laws governing guns have barely budged.
Mr Biden has tightened rules for self-assembly kits that can be bought online, and enhanced background checks for younger buyers.
He also wants to ban assault weapons, and has said that gun reform laws of "significant impact" on violence can be passed with "no negative impact" on the Second Amendment, which grants US citizens the right to bear arms.
However, the Supreme Court in June this year loosened gun laws, ruling that Americans nation-wide have the right to carry guns in public for self-defence.
For many families of the victims of the mass shootings, the move by the Supreme Court was a setback in their fight for tighter gun control laws.
Ms Tennille Pereira, director of the Vegas Strong Resiliency Center, which helps those affected by the Route 91 Harvest music festival mass shooting, said that crime and gun control are high stakes for voters in the midterms, particularly in Las Vegas, where memory of the tragedy is still fresh.
She added that recent mass shootings have been hard for the community.
"These events are just unfathomable, until it happens and then you realise the fallout," she said. "It can bring out what they felt from that night. It can be very overwhelming and triggering. But it also brings up a lot of mixed emotions because we understand what it's like to be there and we know the long road they're going to be travelling."