ASIA'S FUTURE CITIES: Will motorcycles ever be seen on Yangon's streets again?
The buzz of motorcycles is a ubiquitous and even iconic aspect of life in Southeast Asia's sprawling metropolises, but in Yangon there there is none. They are banned after all.
YANGON: As a golden dawn light shines on Sule Pagoda in downtown Yangon and early commuters start to roll into the city, the quietness that lingers over the city is unusual.

Something is missing. The buzz of motorcycles is a ubiquitous and even iconic aspect of life in Southeast Asia's sprawling metropolises, but here there is none. They are banned after all.

An older man rolls slowly on a wiry bicycle on a small side street nearby. They too are not allowed in this part of Yangon; its rider is a most unlikely lawbreaker. So is the trishaw driver trying his luck with office workers opposite the City Hall.

Since 2003, fuel-powered motorcycles have been banned city-wide, while six downtown townships also restrict access of pedal-powered vehicles and e-bikes.
The reason for the ban is confusing and steeped in myth and rumour. Some say it is about road safety. Others say it is class warfare. A popular tale is about a gang of young bikers drawing alongside a military general and making an aggressive gesture.

"They were restricted because almost all of the riders at the time didn't obey the traffic rules," said Dr Maung Aung, the secretary of the Yangon Region Transportation Authority (YRTA).

"Especially groups of gangster-like youths rode with exposed exhausts and who made loud noises."

Higher taxes on private cars and overarching import restrictions are measures implemented recently. But a return of the motorcycle seems a distant prospect.

YRTA does admit, however, that a reverse of the laws is possible in the future.

"Due to the road and traffic management infrastructure in Yangon, we shouldn't allow it yet. I mean for the moment, because the number of vehicles is rapidly increasing and traffic jams are everywhere," Dr Maung Aung said.

"But, of course, if we could expand the roads and upgrade the infrastructure, surely we shall consider allowing motorcycles and bicycles to ride everywhere in Yangon."

It would be welcome news for many residents.

In North Dagon township, an industrial area on the outskirts of the city's bounds, motorcycle taxis are common and a viable moneymaking enterprise.

Ko Aung Aung is one of dozens of men who line the roadside waiting to be hired, mostly by people needing to connect to bus stations or reach their workplaces.

Like him, many of these riders are young migrants to the city and willing to run the legal gauntlet on a daily basis to earn a basic wage. He has never been arrested for riding but had a run-in with police during one of their "crackdown" periods, which he says happen every few months.

"One of the police officers made me stop at about 9pm, asking me where I was going. He asked me: 'Do you have a licence?' After talking a lot I had to pay 10,000 kyats (US$7.50) but I avoided getting arrested," the 32-year-old from Rakhine said, explaining that the fine was about his normal daily wage.

"We just think of ourselves as illegal and we are ready to run away if the police come."

San Htay, a local businesswoman, is one of their enablers. She owns five motorcycles and rents them out to riders to transport people for 2,000 kyats (US$1.50) per day.

She is often called late at night to the police station to pay a fine to release one of her motorcycles confiscated by officers. "If you pay, they will give it back," she said.

"Of course I'm concerned, but I have no other way to make money so I take this risk. This way I can earn to help feed my kids."

Just how seriously police take enforcing the law seems to vary, by time and place. In North Dagon, the situation is inconsistent; taxis operate in clear sight and motorcycles belonging to police staff are visibly parked inside the local precinct, proof that a lack of transport options affects everyone in the community.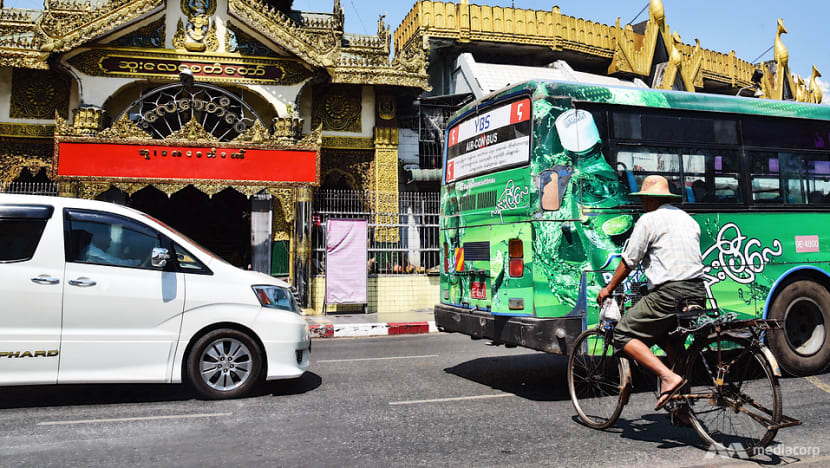 "There are traffic jams and they never decrease, even on the weekends. It's affecting my career. I'm late to my office and late to my appointments," said local resident Kyaw Lin Htoon, who works in the downtown area.

His dream is to be able to ride his own motorcycle to work, but believes that authorities are looking at alternative long-term plans.

For now, instead of allowing more vehicles on the road – in any form – they are trying to drastically improve commuter options.

Despite the possible traffic-easing effect motorcycles would have on the entire road network, even green city experts are divided about the issue.

Jean-Marc Brule from local non-government organisation Green Lotus, which specialises in green master planning, is strongly against allowing motorcycles back on the roads.

"It would be a disaster. You take a wrong solution, producing more pollution, to ease a little bit of congestion," he said. "It would produce individualism, air pollution and it will make decision-makers not take the right options for public transport."

The answer, he suggests, to helping Yangon's traffic nightmare, is less road infrastructure and a wider range of commuting options.

That appears to be on YRTA's agenda, despite the continuous building of new roads and flyovers.

But David Allan, the founder of Spectrum (Sustainable Development Knowledge Network) disagrees with Brule, suggesting human nature dictates that people will always choose efficiency – and motorcycles are a flexible solution.

"You have to give people a lot of choice," he said. "There's simply no way that public transport system can ever be designed in such a satisfactory way that it can meet the needs of Yangon."

Of course, the greenest option of all, bicycles – guaranteed not to pollute the city or cause traffic jams – are also on the prohibited list.

Throughout outer districts they are used by many short-distance commuters, but doing so is still not that safe and practical for inexperienced riders, according to the president of Bicycle Network Myanmar, Kyaw Min Oo.

"They don't understand much about the traffic rules and sometimes they're riding on the wrong side of the road and it can be very dangerous," he said.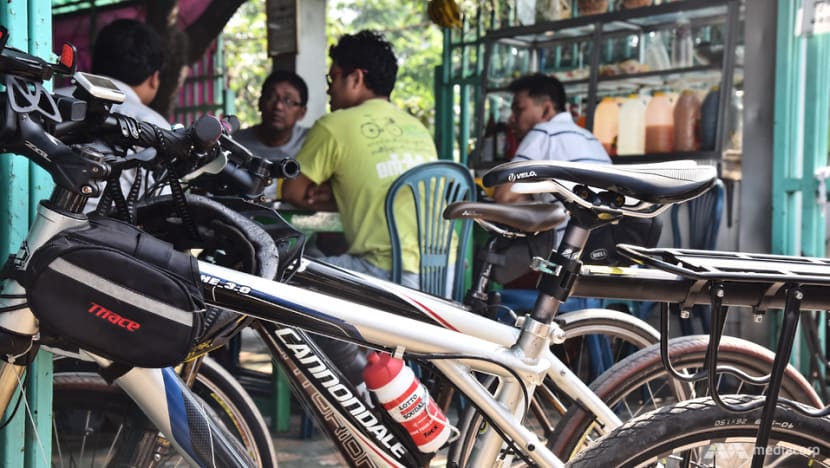 That can be difficult when they also face the wrath of impatient drivers and traffic police.

"In our country, we are overwhelmed by the car culture," he said. "The traffic police believe the bicycles disturb other traffic. And the class of those who can drive a car is on the upper side and the bicyclists are grassroots, so there is a wealth divide."

As a sports-oriented group though, he does admit that they can normally explain their way into riding in the downtown area, something that could lead to the arrest of a normal cyclist.

Those on two wheels in the early morning near Sule Pagoda choose to take their chances. Who knows? One day the streets might belong to them.