Bersatu lodges report with Malaysia's anti-graft agency against PH, BN for alleged 'lavish' GE15 campaign spending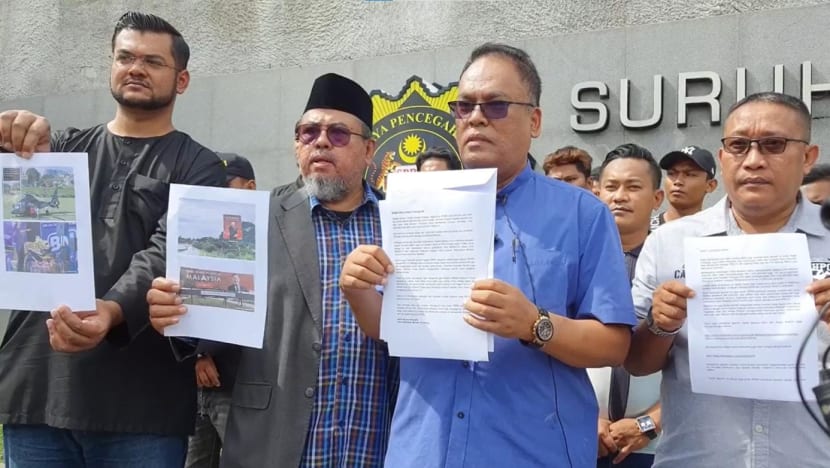 KUALA LUMPUR: Parti Pribumi Bersatu Malaysia (Bersatu) has lodged a report with the country's anti-graft agency against Pakatan Harapan (PH) and Barisan Nasional (BN), accusing the two coalitions of "lavish" spending during the recent 15th General Election (GE15). 
Puchong Bersatu chief Mohd Shukor Mustaffa said that PH and BN had used large quantities of posters and flags during the GE15 campaigning period, on top of holding grand talks.
Speaking at a press conference outside the Malaysian Anti-Corruption Commission (MACC) headquarters on Tuesday (Feb 7), Mr Shukor also claimed that Prime Minister Anwar Ibrahim had used a "luxury helicopter" while campaigning during the elections. 
Mr Anwar is the PH chairman.
"We hope that a comprehensive investigation by MACC can be carried out on PH and BN, especially against Anwar and his family," said Mr Shukor, adding that immediate action must be taken by the anti-graft agency. 
Mr Shukor further questioned how Mr Anwar and his daughter, Ms Nurul Izzah Anwar, are able to live lavishly despite not taking any pay in their posts as prime minister and senior economic and finance adviser to the prime minister respectively.
"Who funds them? Is there a tycoon backing the family? 
"This raises questions on the true sources that fund PH and BN under the leadership of Anwar and Zahid," he said, referring to Ahmad Zahid Hamidi, who is the deputy prime minister and BN chairman. 
In a reference to the ongoing investigations against Bersatu which had its bank accounts frozen, Mr Shukor said that allegations against the party were only attempts by Mr Anwar and Ahmad Zahid at disadvantaging the party in the state elections set to be held in the coming months
"Various accusations and insults were thrown at Bersatu to build a negative perception (of the party), especially at a time when we are getting closer to the six state elections," he said. 
Authorities are currently investigating Bersatu for allegedly embezzling billions of ringgit during the COVID-19 pandemic.
This came after MACC chief commissioner Azam Baki announced that the agency has frozen several Bersatu bank accounts as part of its investigation.
On Dec 6, Mr Azam said he had opened an investigation into the alleged embezzlement of RM600 billion (US$142 billion) in funds used by the previous government during the pandemic from 2020 to 2022.
This was when Bersatu's leader Muhyiddin Yassin was prime minister, and the Perikatan Nasional (PN) coalition led the government.
Calls for an official investigation into the stimulus spending during the pandemic grew due to perceptions that PN - of which Bersatu is a component party - had run a well-funded election campaign leading up to GE15 on Nov 19 last year.
Following protests from several Bersatu members on the party's frozen bank accounts, Mr Anwar said on Monday that political parties need not fear the MACC probe if they are free from corruption. 
"If you are clean, you don't have to be afraid," he said, as quoted by The Star.