China's new premier Li Qiang adopts conciliatory tone towards US at debut news conference
This was in contrast to Chinese President Xi Jinping and new Foreign Minister Qin Gang, who had sharp words for Washington over the course of the nation's parliamentary meetings last week.
China's new premier Li Qiang adopted a conciliatory tone towards the United States while speaking at his debut news conference as head of China's cabinet on Monday (Mar 13).
This was in contrast to Chinese President Xi Jinping and new Foreign Minister Qin Gang, who had sharp words for Washington over the course of the nation's parliamentary meetings last week.
In a softening of tone, Mr Li pointed out that bilateral trade between China and the US reached a record high last year, and said that the two can, and must, cooperate.
"In recent years, some in the US have been trumpeting the idea of decoupling with China and sometimes it could become quite a hot topic in the media. But I wonder how many people can truly benefit from this kind of hype," said Mr Li, who took only one question on foreign affairs.
"China and the United States are closely intertwined economically. We have both benefited from the other side's development. Encirclement and suppression is in no one's interest."
HARSH WORDS FOR THE US
In comments to delegates last week, Mr Xi had made rare direct mention of the US, accusing Washington of trying to contain China.
"Western countries, led by the US, have implemented all-round containment, encirclement and suppression of China, which has brought unprecedented and severe challenges to our country's development," President Xi had said.
Foreign Minister Qin Gang had echoed Mr Xi's remarks, warning the US of "catastrophic consequences" if Washington continued down the wrong path.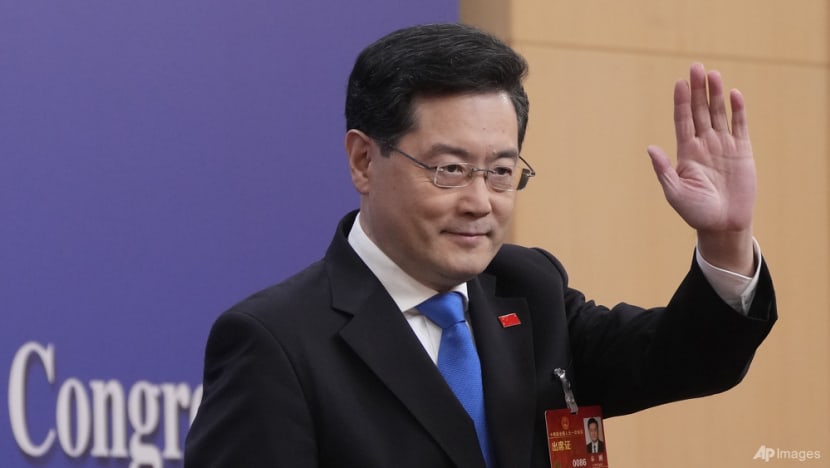 "If the US does not hit the brake, but continues to speed down the wrong path, no amount of guardrails can prevent derailing, and there will surely be conflicts and confrontation," said Mr Qin. "Who will bear the catastrophic consequences?"
ROOM FOR COMPROMISE?
As China wrapped up its National People's Congress (NPC) after a week during which its parliament rubber stamped an unprecedented third term for the Chinese president, analysts said there are signs that China is willing to improve relations with the US despite the strongly-worded comments. Mr Li's gentler tone is one example.
"If the US wants to go ahead with what China sees as containment and encirclement, China will compete on all fronts," said Associate Professor Chong Ja Ian, from the National University of Singapore's Department of Political Science.
"(But if) Washington is willing to step back, then (China sees) some room, some leeway for compromise."
At the moment, however, "it seems either party wants to step back" and there looks to be more contestation between the two powers, Assoc Prof Chong told CNA's Asia Tonight.
AUKUS SUBMARINE
The US and its allies are forging ahead with a mega submarine deal that has incurred China's ire.
The leaders of the US, Britain and Australia on Monday unveiled details of an agreement that will see Canberra receive nuclear-powered submarines.  
The so-called AUKUS pact, conceived in 2021, is seen as an effort by the three countries to counter China's ambitions in the Indo-Pacific region.
China views the alliance as driving an arms race that would destabilise the region, with a Chinese foreign ministry spokeswoman saying the alliance "provokes military confrontation through military cooperation".
"The Chinese perceive this to be targeted at them, at sort of hemming them in," said Assoc Prof Chong, adding that the pact is said to be committed to information sharing and technology exchange, and not necessarily confrontational.
"This gives us a picture of how complicated China's relations with the outside world are. They really want cooperation to spur their economy. However, they're deeply, deeply suspicious and sceptical of the intentions of some of these other actors."
GLOBAL INFLUENCE
Chinese President Xi, at the closing of the meetings, vowed to bolster security and transform the nation's military might into a "Great Wall of Steel" to protect its national interests.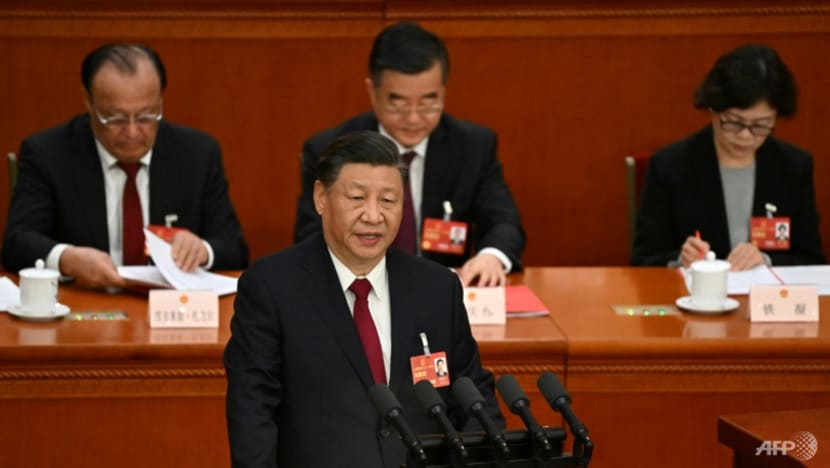 The government has ramped up its defence budget, which has in recent times outpaced its economic growth.
Mr Xi has called for China to play a bigger role in global affairs, saying: "We should strive to build a community of shared future. China's development benefits the world."
"(China) should actively participate in the reform and construction of the global governance system … and promote global security initiatives," he said in his closing speech during the meetings.
Analysts said they are seeing an increasing push from China to assert its influence on the global stage.
"In Mr Xi's speech, he wants to be a global leader... (China wants to) have influence in different regions and also be seen as a peacemaker," said Dr Alfred Wu, associate professor at the National University of Singapore's Lee Kuan Yew School of Public Policy.
Beijing recently brokered a peace deal between Saudi Arabia and Iran, which saw the two oil-producing rivals agreeing to restore ties and reopen embassies seven years after relations soured.
"No doubt China (is striving) to be an alternative to the US-dominant system," said Dr Wu.