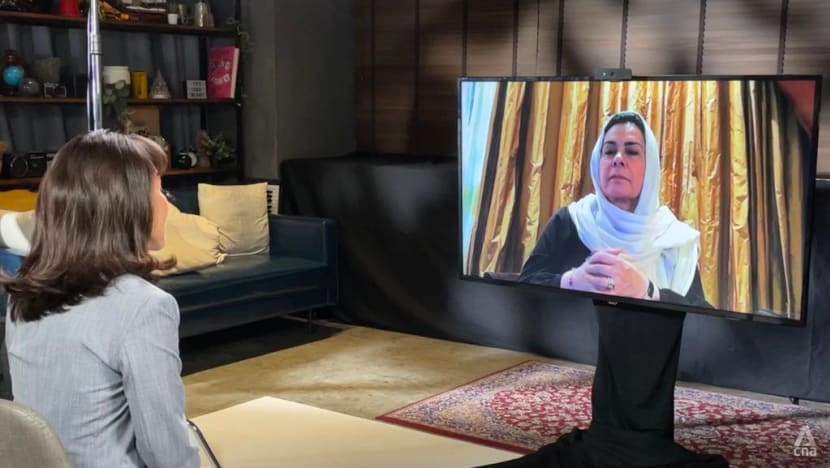 SINGAPORE: Veteran Afghan women's rights activist Fatima Gailani, the most senior female negotiator in the failed Afghan-Taliban peace talks, remains headstrong and hopeful that women will be allowed to participate in public life in Taliban-ruled Afghanistan.
Even as reports surface that Taliban fighters are beating women who are out and about in the streets, Gailani insisted the young male Taliban fighter in the street will have to accept women's participation in public life.
"Don't forget that these young men in the streets of cities of Kabul or other big cities like Herat, they have never had an encounter with a woman. They were raised in madrasahs, and from there, they went to the battlefields," explained Gailani in an exclusive interview with CNA on Monday (Sep 6). 
"They have to get used to the reality of normal life."
The interview premiered on CNA's flagship one-on-one interview show "In Conversation" on Thursday (Sep 9) night. 
The Taliban adopt an ultra-conservative interpretation of Islam that includes segregation of the sexes in public life. 
But Gailani was quick to stress that she does not condone the actions of those young Taliban fighters. "No, it is wrong because if the Taliban leadership were not sure, they shouldn't have made those promises that they have made."
During the Taliban previous rule of Afghanistan from 1996 to 2001, most women were forbidden to work, girls were banned from education, and punishments such as beatings, amputations and public executions were carried out.
In 2001, the United States and its allies invaded Afghanistan to topple the ultra-conservative Taliban government whom they accused of harbouring Al-Qaeda, the extremist group that was behind the September 11 terror attacks on New York and Washington, DC.
But now, the Taliban leadership is keen to convince the world that they will adopt a softer touch as they seek to establish an Islamic emirate founded on Syariah law. The Taliban has said that women will be allowed to work and have an education, and that women will have their rights "within the framework of Islamic law", although it is not clear what that means. 
In response to reports that Taliban fighters were attacking women out in the streets, the Taliban asked women to stay home from work in the meantime because its fighters were not yet trained to respect them.
Still, Gailani expressed confidence that the situation on the ground would "go towards normalcy" once a regular police and army force had been established. 
In recent days, multiple reports of the Taliban whipping, shooting, and arresting protesters and journalists have emerged. 
The United Nations human rights chief Michelle Bachelet has also voiced concern at reports of grave abuses, including summary executions, by the Taliban.
While Gailani appreciated the situational nuances of Taliban-rule, she stood firm on her advocacy for women rights. "Should we lower our expectation? Absolutely not." 
"Women of Afghanistan are strong. They will prevail," asserted Gailani.
Since the Taliban seized power, female protesters have been out in the streets in major cities across Afghanistan, raising their voices to preserve the gains made in women rights over the past two decades. 
The Taliban have since outlawed protests. 
Gailani, 68, is the most senior of the four female negotiators from the now-collapsed Afghan government in failed peace talks with the Taliban. 
In February 2020, the United States, under the Trump administration, signed a peace deal with the Taliban which called for the withdrawal of American troops from Afghanistan. This US-Taliban peace deal excluded the then-Afghan government. 
When asked if the Taliban have ever rejected her position at the negotiating table, Gailani revealed that all four of the female Afghan peace negotiators were "dealt with great respect" by the Taliban. "They were answering our questions and addressing us, exactly equal to all our male colleagues."
Gailani said she needs to take an optimistic view and is looking for the Taliban to act on their promise that women will be educated, allowed to work and participate in politics.
The Taliban have ordered university women to wear an abaya robe and niqab covering most of the face, and has ordered classes to be segregated by sex or at least divided by a curtain. The Taliban's education authority also ordered female students to be taught by other women, but if that was not possible then "old men" of good character could fill in.
Gailani pointed out that Afghanistan cannot ignore women given that the country now has many educated women.
Tens of thousands of female students are now enrolled in universities. The number of girls in secondary education has also jumped. According to UNICEF, the United Nations' agency for children, nearly 40 per cent enrolled in 2018 compared with 6 per cent in 2003. 
Gailani argued the Taliban have no basis to bar women from going to work. She made the case for women who are the breadwinners of their families, including some who are widows. "On what Islamic law you're preventing them to work? You can't."
Data from the International Labour Organization shows that female labour force participation rate as a percentage of female population ages 15 to 64 in Afghanistan rose from 15.5 per cent in 2001 to 22.74 per cent in 2019.
TALK WITH AN OPEN HEART FOR PEACE
Gailani called for conversation between Afghan women and the Taliban elite, stressing the Taliban should understand that Afghan women "do not want anything further and outside what we are entitled as Muslims and Afghans".
Striking a conciliatory message of peaceful co-existence and national unity, Gailani urged the Taliban to have "an open heart". "Let's not see each other as a victor and the one who had fallen. No. We are the people of Afghanistan. We cannot get rid of each other."
With Afghanistan facing a collapse of basic services and a shortage of food supplies, Gailani acknowledged that achieving peace will not be easy but insisted that it is not impossible.
The UN World Food Programme has sounded the alarm that Afghanistan is running out of food by this month. By mid-2022, up to 97 per cent of Afghanistan's population is expected to be living on no more than one dollar a day, warned the UN Development Programme. 
"If we are dedicated, and with the help of international community to take care of the humanitarian side of things, not allow anyone to be hungry, I think we will have our future. We will have a chance of peace," said Gailani who served for 16 years as president of the Afghan Red Crescent Society.
But Gailani emphasised that peace will not happen without an inclusive government. "Only when we see an inclusive government, a fair government, a government that I feel, when my heart calls it 'this is the Afghan government', then we can achieve it (peace)."
The Taliban have announced an interim Cabinet – with no female representation. Analysts point out the Taliban appear not to have changed from its previous rule with the just-announced interim Cabinet being filled by the old guard of Taliban hardliners. The man who was appointed Acting Interior Minister has been on the United Nations terror list since 2007, and has a US$10 million bounty on his head by the FBI. 
The road to peace has proved long and elusive but Gailani is still pressing on and not losing hope – even after more than forty years of personal struggle, starting when she was 26 years old.
"We should not give up. I will not give up. And people like me, who are staying in Afghanistan, should not give up."
Watch 'In Conversation' with Fatima Gailani, former president of the Afghan Red Crescent Society and Afghan peace negotiator.
Days after the shocking collapse of the Afghan government and the messy departure of US troops, the Taliban is now in power in Afghanistan. Can Afghans save Afghanistan? Find out on In Conversation.
Thumbnail image: World Humanitarian Summit. OCHA  Berk Ozkan