Hong Kong shores up defences against extreme weather events like typhoons, storm surges
Climate scientists have predicted that global warming will fuel more intense typhoons in Hong Kong and that the frequency of severe storm surges will increase.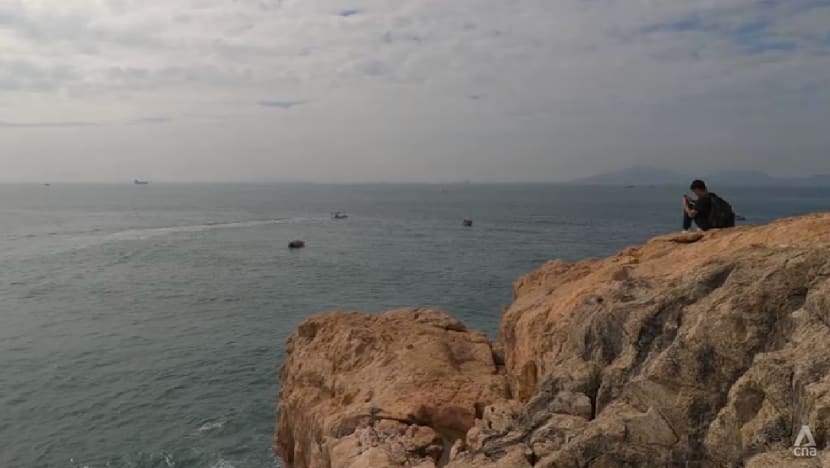 HONG KONG: Madam Yeung Sze Yuk has lived in the fishing village of Lei Yue Mun all her life. The 86-year-old had never feared losing her home or the seafood store she runs by the edge of the water – until 2018.
In September that year, Super Typhoon Mangkhut ravaged Luzon, leaving over 100 dead, before battering Hong Kong with wind speeds of 175km/h.
The Hong Kong Observatory issued a signal 10 alert – the highest warning for a typhoon in the city. The sheer force of the storm shook skyscrapers and sent boats crashing into the coastline.
The storm surge at 2.35m was a record high since 1954, bringing the city to a standstill and resulting in losses of more than half a billion US dollars.
"I was so nervous and scared when I witnessed the strong waves and water gushing into the house. I've never seen such an impact my whole life," Mdm Yeung told CNA.
Hong Kong is no stranger to typhoons, but Mdm Yeung said that they have never been so devasting until Typhoon Mangkhut hit. Her losses amounted to about US$17,000.
"Some seafood, water generators, four refrigerators, a washing machine, and a TV were all damaged due to the flooding. The cabinets were all soaked and even got mouldy. I had to replace everything and even repave my floors."
Mdm Yeung now props her cabinet and appliances up on a platform. She's even single-handedly laid brick walls around her terrace to prevent water from flowing in.
EXTREME WEATHER EVENTS TO COME
Such defences are now a necessity, as the typhoon may not be the last of the extreme weather events to impact the city, with the world's ocean temperatures hitting a record high last year.
Climate scientists have predicted that global warming will fuel more intense typhoons in Hong Kong and that the frequency of severe storm surges will increase.
When that happens, Mdm Yeung's makeshift barriers will not stand a chance. The 10 per cent of Hong Kong residents who live less than 5m above sea level will also not be spared.
But Hong Kong is working to improve its chances against another similar occurrence. With major development projects like the ambitious Northern Metropolis coming up, the city now has a fresh start to build sturdier defences.
WEATHER-PROOFING THE CITY
Under its 2050 Climate Action Plan, authorities will strengthen coastlines by building more rock walls and breakwaters to cushion the impact of waves.
They have also set aside US$153 million for an inter-reservoirs scheme aimed at reducing flood risk in new developments. It links Kowloon Byewash Reservoir and Lower Shing Mun Reservoir.
Private developers will also have an increasingly critical role to play, especially as new towns like the Northern Metropolis are in the pipeline. This includes installing typhoon-resistant windows to guard against extreme storms and fortifying buildings with flood barriers in low-lying areas.
"We actually use low carbon materials in our development stage. We engage an independent consultant to also work with us to have the climate risk assessment to cover over 170 properties in Hong Kong and that includes new and existing buildings," said Ms Melanie Kwok.
Ms Kwok is assistant general manager of sustainability at Sino Group.
Buildings in the city are also getting a green facelift through urban farming, which Ms Kwok said helps promote decarbonisation and reduce heat.
The group has 19 farms in Hong Kong and one in Singapore, spanning across 56,000 sq m. It has also installed more than 3,000 solar panels across its properties.
But climate resilience goes beyond just adaptive infrastructure, said Ms Kwok.
"Biodiversity is actually part of climate change as well and the ocean is a very important resource to regulate the climate in the earth," she said.
SHORING UP AQUATIC SYSTEMS
Aquatic ecosystems like mangroves and coral reefs can serve as natural flood barriers to reduce wave energy and protect coastal communities.
However, years of rapid coastal development and the pollution that comes along with it has taken a toll on the coral health system – they are now sparse, a dull brown, and some of them are fragmented.
Associate Professor David Baker at Swire Institute of Marine Science said: "Corals were mined heavily in Hong Kong to produce slaked lime. We have a combination of factors like destructive fishing practices (such as) dynamite fishing.
"Pollution of all different kinds from sedimentation to nutrient pollution from sewage. So essentially, you can imagine Hong Kong as a microcosm for the world. Every problem that coral reefs face globally you can find them right here."
The waters are much cleaner now, as authorities have banned benthic trawling – dragging a net across the very bottom of the ocean – and improved wastewater management.
But years of environmental damage has already been done.
Dr Baker therefore co-founded Archireef, which restores degraded ecosystems through 3D printed tiles.
"We use the tile as a substrate to attach fragments. That way, we can give them a head start at colonising the tile itself," said Dr Baker, who is also the organisation's chief scientist.
The surface of the tile is modelled after platygyra, a coral in Hong Kong, which is resistant to sedimentation stress.
"In urban reef environments, we have a big challenge, which is sedimentation. There is a lot of sediment in the water. We wanted to make sure that the tile was porous, so that sediments can naturally pass through it and not accumulate on the surface while we want the corals to grow."
Dr Baker knows that restoration is not a scalable solution for coastal protection just yet. It will take time.
"But by fostering the overall biodiversity and by creating conditions, through which more corals can be produced, they can achieve that over a longer timescale."
His team is now on the lookout to expand to more project sites.