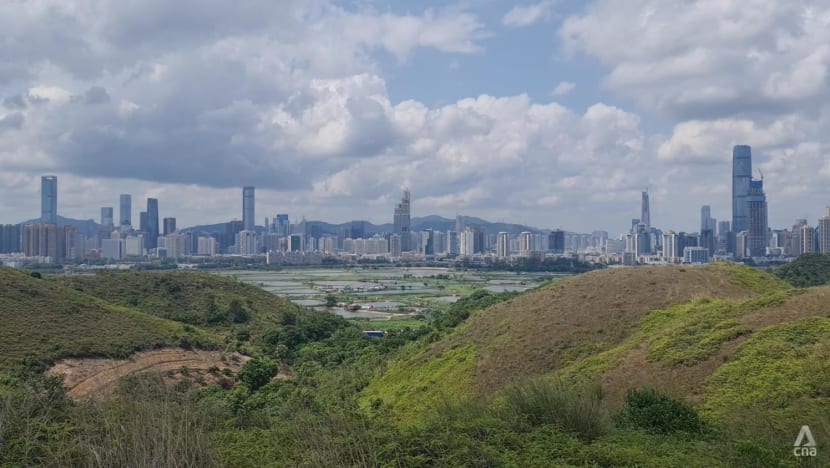 HONG KONG: Fanny Wong, 48, has lived in Ma Tso Lung village nearly her whole life. 
"When we were kids, we played in the fields, ran around and watched older brothers fish in the river," she recounted.
It is an idyllic lifestyle, far removed from the dense urban maze of Kowloon and Hong Kong Island.
The village is in a remote part of the New Territories, just along Hong Kong's northern border. Eighty per cent of villagers have relocated to nearby towns but Wong is among a handful who chose to stay, even if that means driving over 40 km to Causeway Bay for work daily.
"There are several families living together across generations. This complex is not a luxurious residence, they are just built by the neighbours," she told CNA, pointing at the wide single-storey brick houses in the small village. 
There are vegetable patches in the backyard, ripe with spring onions, bananas and cucumbers.
In the distance, the towering skyscrapers of mainland city Shenzhen line the horizon; offering a glimpse into Ma Tso Lung's future. 
The village has been zoned for development under Hong Kong's ambitious Northern Metropolis plan, which will transform 30,000 ha of rural land into a high-technology hub. 
The project is also part of efforts to alleviate the city's pressing housing needs, by building 926,000 residential units which will house up to 2.5 million people. 
Housing shortage has been a long-running problem in Hong Kong. As the electoral college prepares to pick a new Chief Executive on May 8, all eyes are on whether the new leader would make quick headway in addressing this issue.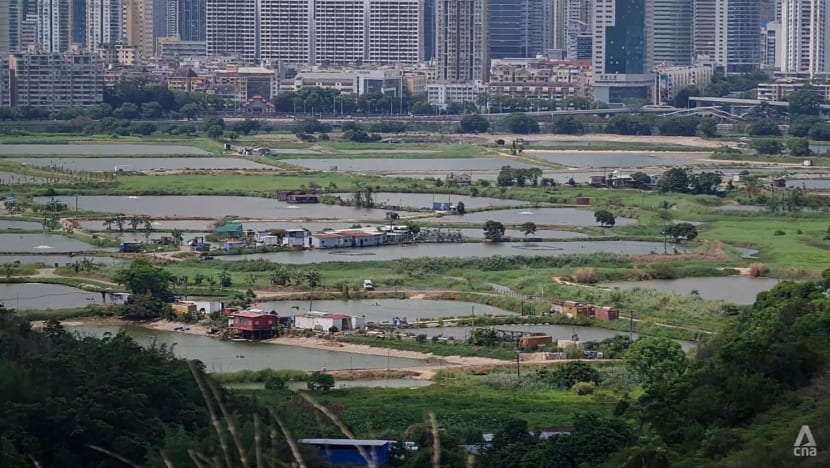 HOUSING SITUATION REMAINS DIRE
Previous administrations have pledged to increase overall supply but Hong Kong's housing situation remains dire. 
As of last December, families wait an average of six years for a public housing rental flat, a record high in 23 years. There are 127,100 inadequately housed households in the city; these include those in subdivided flats and temporary shelters on rooftops.
The stakes are higher now, following calls from Beijing to resolve the problem by 2049.
Outgoing Chief Executive Carrie Lam first mooted the Northern Metropolis project during her policy address last year, setting a timeline of 15 years. 
Former number two official John Lee, who is the sole nominee for the upcoming Chief Executive election, has vowed to see it through. It forms part of his commitment to prioritise public housing policies if he gets elected.
In his election manifesto, Lee proposed setting up a Task Force on Public Housing Projects and a Steering Committee on Land and Housing Supply.
While he has not committed to any specific targets, he has already set a first deadline for the task force. Within 100 days of the new administration, it must release concrete steps on how to speed up the construction and allocation of public housing.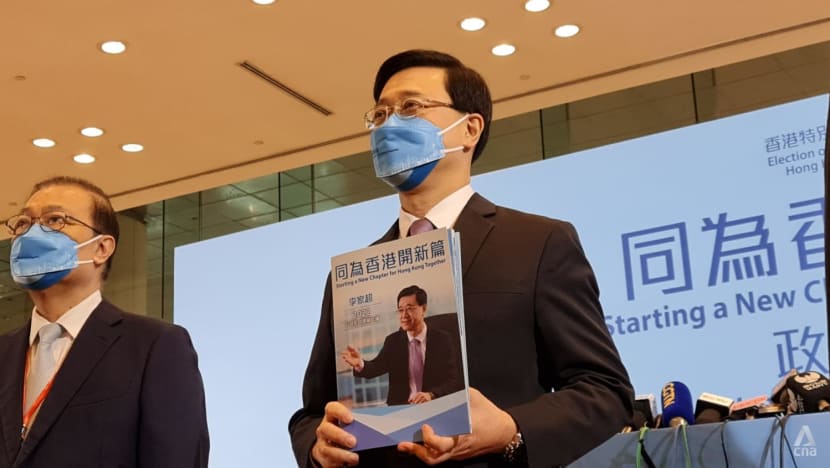 One analyst told CNA that the problem lies in affordability and not just supply. 
"The monetary authority requires a minimum of 50 per cent down payment. And most young people cannot afford it. Even a lot of people who've lived on a reasonable income cannot afford to accumulate that amount," said Ian Brownlee, the managing director of urban development consultancy Masterplan Limited.
"So, if that deposit was reduced to say something like 10 per cent, like it is in some parts of the world, then that will match that affordability."
Can Lee crack the code?
He already has prominent tycoons like Li Ka-shing, the founder of CK Hutchison Holdings and Lee Shau-kee, founder of Henderson Land, sitting on his advisory panel. Tapping on their expertise would be a natural course of action.
Brownlee said: "The first thing we must do is to create a subsidy for people to live in existing flats. Then they don't need to be on the waiting list. We can generate activity in the private sector to build flats, and we can provide subsidies for people to get those flats. So there are different ways of solving it."
However, Hong Kong's development projects are complicated processes that take time to materialise.
For instance, studies to transform the site of the city's former airport at Kai Tak, as well as surrounding estates into Hong Kong's second business district, started in the early 90s. 
It was meant to provide 50,000 residential units, including 12,600 public housing units upon completion.
Today, the 320 ha project is still not completed, bogged down by a judicial review on reclamation and other matters, as well as lengthy consultations. 
Northern Metropolis is 94 times bigger and the hurdles may be even higher.
"RESULTS-ORIENTED APPROACH" 
Lee announced his candidacy by driving home the point that he will take a "results-oriented approach" to his policies. 
With no specific targets for his housing policies at the moment, it remains to be seen how this will pan out. But Brownlee believes that his approach could make a difference. 
"The Hong Kong Police Force is structured in the way it works. It has targets and the way it is managed is quite efficient."
Lee spent over three decades in the police force before becoming under secretary for security in the CY Leung administration. That working style could speed things along.
Brownlee recounted that in the 70s, the city was building new towns like Sha Tin, Tsueng Kwan O and Yuen Long.
"It was a focused project; our objective was to provide housing sites within the timeframe. If we didn't perform, we were held to task," he said.
"Now John Lee has proposed that we set up another office to look at the Northern Metropolis. Over the last 20 years, there has not been a focused delivery of the requirements. It has been spread across many departments which has different targets as well. So, a dedicated office will be a big help."
RESIDENTS CALL FOR MORE CONSULTATIONS
In Lee's bid to simplify the development process, residents in Ma Tso Lung are concerned that their voices will not be heard. 
"There should still be consultations, and we hope the new government will have more chances to hear us out. We have a strong view that there can be a combination of urban housing elements and rural community elements in the new development plan," Wong said, gesturing at the wetlands next to the village, which is a well-known spot for migratory birds.
She added: "We understand that Hong Kong needs more housing units. We are sad to see many people are living in small flats.
"But while we are building homes for those in need, are we still thinking of those who have been living here for decades? Preserving the landscape is a valuable resource to Hong Kong as well."
The issue of land ownership in the New Territories also adds to the complexity of developments in the north.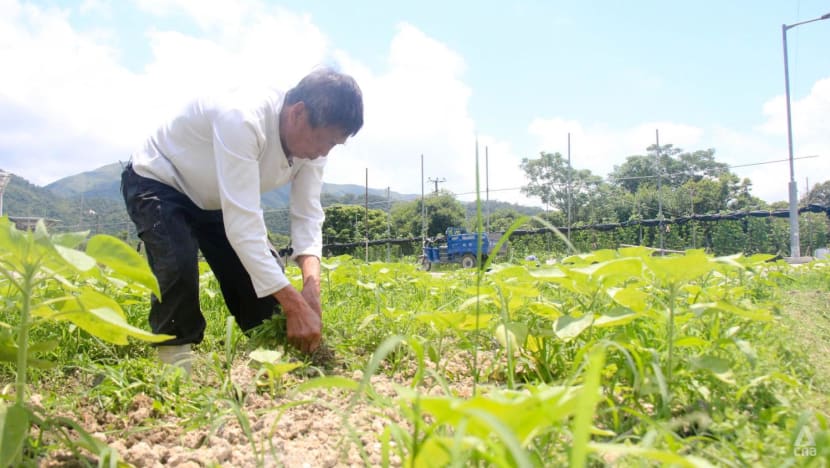 At nearby San Tin for instance, farmer Leung Yat Shun has 30 landlords. 
"There are lots of interest groups. If the government can compensate their loss at a reasonable price, it will be easy. Problem is the first step; we have procrastinated since the handover of Hong Kong to China," Leung said.
His farm is near the future site of San Tin train station. The district is earmarked to be the tech hub of the Northern Metropolis and a key engine of growth for the Greater Bay Area comprising cites in Guangdong, Hong Kong and Macao.
Leung's family has toiled on Shun Sum Yuen Farm for over 50 years. He knows he must move at some point, but he has not received news on when he needs to vacate the site.
With no fixed timeline yet, his life is in limbo.
From behind the trees, Shenzhen's buildings gleam in the scorching midday sun.  
Leung is wistful as he gazes at them. "I am not worried about my future. All I want is for the government to honour its promises, (and) do good for our next generation. This is the most important."