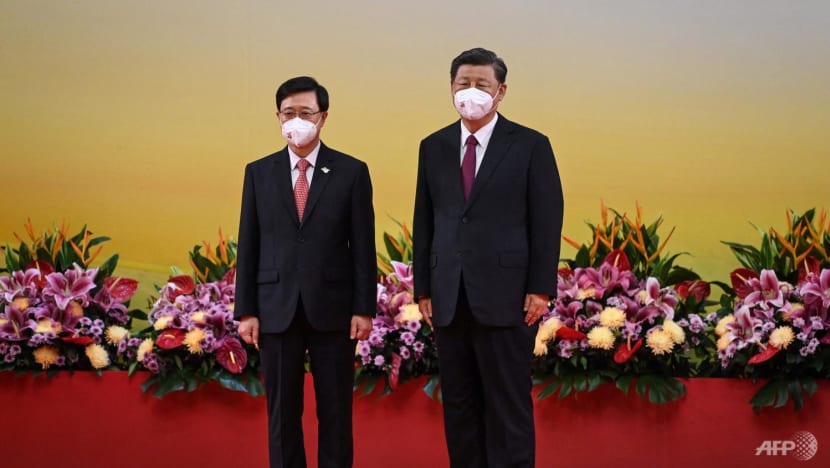 HONG KONG: China's President Xi Jinping on Friday (Jul 1) swore in John Lee as Hong Kong's next chief executive - the first security policy expert to run the China-ruled international financial hub since its handover from Britain in 1997.
Lee, 64, a former probationary police inspector who rose to become deputy commissioner over a 33-year career, has been a divisive figure in Hong Kong in recent years. 
He oversaw the police response to the city's huge democracy protests in 2019.
In his inaugural speech as Hong Kong leader, Lee highlighted his twin political and economic priorities, saying Hong Kong needed to enhance its competitiveness in finance, trade and shipping while ensuring stability.
"The rule of law is a cornerstone and core value of the city's success," Lee told an audience, including Xi, in the same harbourfront convention centre where, a quarter of a century ago, British officials handed the city back to China.
He also said that the national security law has brought stability to Hong Kong after anti-government protests in 2019.
Thanking Beijing for its support, Lee said: "It is the greatest honour for me today to shoulder this historic mission given to me by the central authorities and the people of Hong Kong."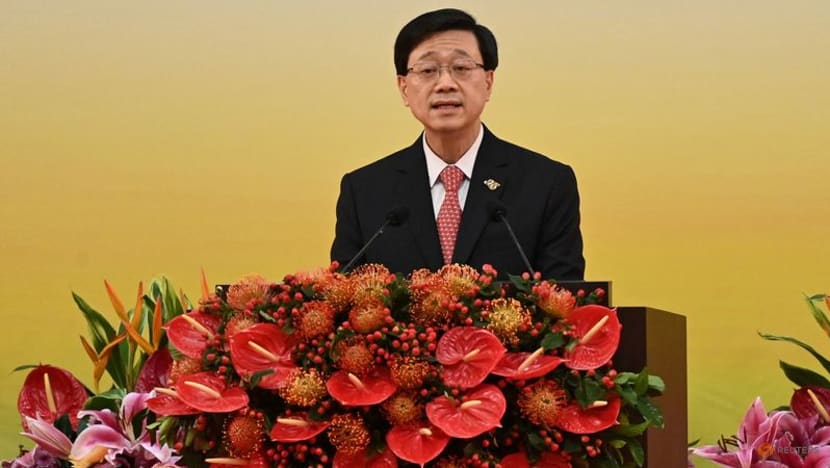 Lee was the only candidate in a Beijing-backed one-horse race to succeed outgoing leader Carrie Lam.
Before him, all of Hong Kong's leaders were either career civil servants with broad policy expertise, or business leaders.
All have struggled to reconcile the needs of China's Communist Party leaders with the desire of many regular Hong Kongers for Western-style freedoms and democracy under a One Country, Two Systems style of governance that promised the city wide-ranging autonomy when it was handed back to China in 1997.
Lee's appointment has sparked concern that Beijing could further tighten its grip on Hong Kong.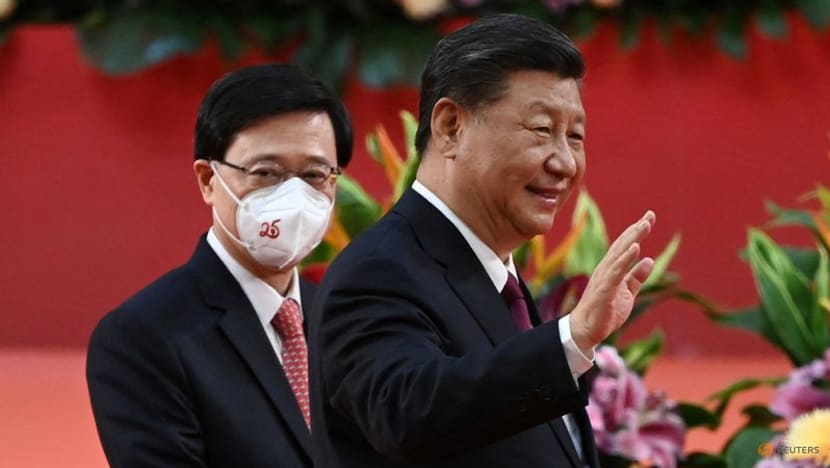 In 2019, when Lee was secretary for security in charge of all disciplinary forces, he was among leaders who tried to ram through a contentious Bill to allow extraditions to mainland China for trial, despite growing public anger and protests.
The Bill was later suspended but by then the demonstrations had snowballed into a full-blown movement demanding full democracy and greater autonomy from China.
In August 2020, after China imposed a national security law on Hong Kong, Lee - who helped set up a new national security police division with unprecedented investigative powers - was sanctioned by the US alongside 10 others for "fundamentally" undermining freedoms and allowing "China's security services to operate with impunity".
Lee and Chinese officials have repeatedly defended the law, saying it has restored stability.
Insiders say Lee's unwavering commitment to that role won China's confidence at a time when other Hong Kong elite were seen as insufficiently loyal or competent.
"John Lee is the one that the central government knows the best, because he was in constant contact and interaction with the mainland," pro-establishment lawmaker and prominent business figure Michael Tien told AFP earlier this year.
Lee, a Catholic, grew up poor in Sham Shui Po - one of wealthy Hong Kong's working-class districts - but made his way to an elite boys' school run by Jesuits.
Peter Lai, a former banker and classmate, described him as a clever and fashionable teenager who grew long hair and wore flared trousers.
Most of his contemporaries went to university, but Lee turned down an offer to study engineering to join the police.
He later told a pro-Beijing newspaper he was motivated by being bullied by neighbourhood hooligans.
Two former classmates gave a more practical reason - the police force offered a stable career for Lee and his pregnant wife Janet.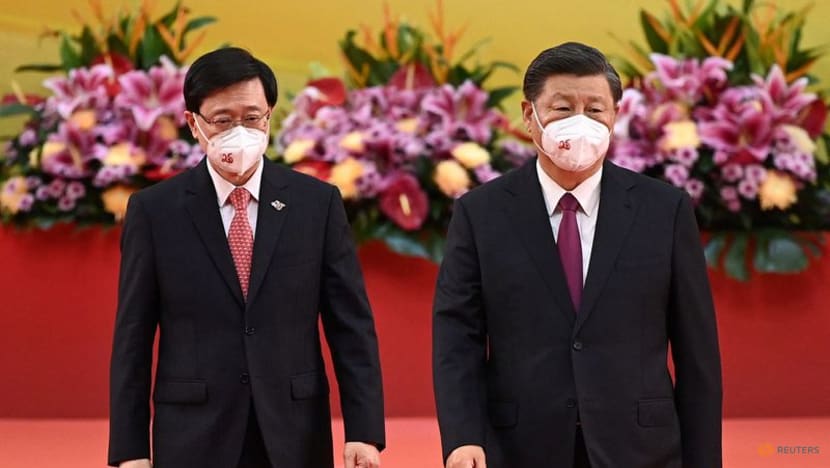 Lee has not spoken much about his family and has dodged questions about whether his wife and two sons still hold British nationality, something he renounced when he joined the government.
As events began on Friday morning, Lee's new social media accounts posted a picture of his wife fixing his tie, thanking her for "silently supporting me and taking care of the family over the years".