Small Hong Kong businesses affected by redevelopment plans call for clearer conservation blueprint
Among the decades-old businesses that have been affected in one way or another by the Northern Metropolis project are a sawmill, an oyster farm and a soy sauce factory.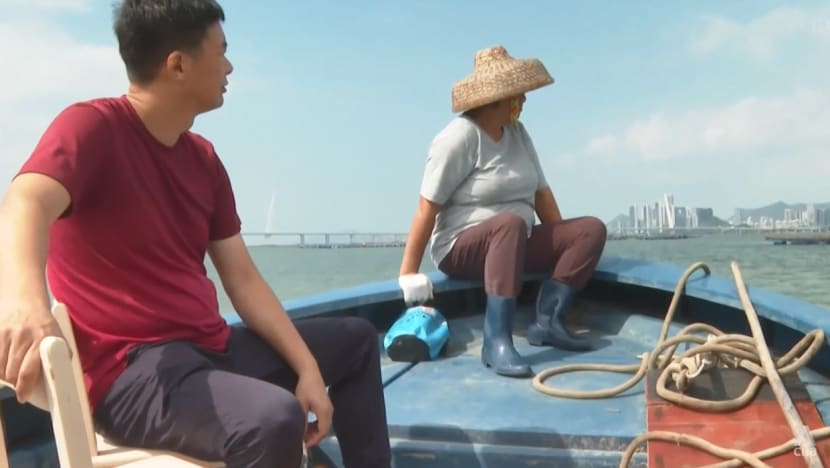 HONG KONG: Owners of businesses lying on land zoned for development under the Northern Metropolis project have called for a clearer conservation blueprint from the government, ahead of chief executive John Lee's first policy address on Wednesday (Oct 19).
The future of these firms, many of which come from traditional industries, hangs in the balance as the government pushes ahead with the ambitious project seen as pivotal to the city's economic integration with China.
The Northern Metropolis project aims to create a new tech hub by linking several existing towns and developing rural areas in Hong Kong's northern district. It is meant to be a key feature in the Greater Bay Area.
Among the businesses that may become collateral damage is the Chan Cheung Kee oyster farm in the fishing village of Lau Fau Shan.
Although it has been allowed to stay open as the government works towards improving tourism there, Ms Linda Chan, who runs it with her mother, is anxious about whether nearby development will affect the environment that oysters thrive in.
"Oysters depend on weather, sea water and the natural environment to grow … the natural environment is hard to be immune. It will be affected to a certain extent," she told CNA.
"We feel worried yet helpless. We don't know what effects this will cause. We also have no idea what we can do. There are too many uncertain factors which leave us no choices."
She hopes to be able to negotiate with the government and come up with a proposal that benefits all parties, with minimal impact on the natural environment and the industry.
ANCESTRAL TRADE
Relocation is not an option for the farm. The Deep Bay, where her family grows its oysters, is the perfect place for the business as it is where brackish and freshwater meet, said Ms Chan.
While oyster farming is done on a small scale in Hong Kong, it is "very special and has abundant traditional historical value", she said, pointing to the fact that the city even has an oyster species in its name.
The farm supplies more than 20,000 dried oysters a year to local restaurants, and exports to countries like Singapore and Malaysia.
Ms Chan's mother, To Ngan, is apprehensive about losing the trade that has run in his family for generations.
"I don't want to lose the legacy of the industry that our ancestors left behind for us," said the 73-year-old, adding that her ancestors have been in the oyster industry for 700 years.
"I will continue to work in this industry until the day I can't walk and work. I truly don't want this industry to disappear, even (though) we are not making a lot of money now. I insist on holding on to this oyster farming industry."
Mr Brian Wong, a researcher at the Liber Research Community, said that the government is thinking of how to tap into the cultural resources in the area for cross-border tourism.
"If that really happens, then places there will get more touristy and that may not necessarily be beneficial to the communities there," he said.
"And worst of all, is that the government does not even have a policy to factor in the preservation of the local communities there, because there are a lot of ancient villages, and also the remaining local village industries."
THE NEED FOR CONSERVATION
Other businesses that have been affected are an ice cube factory that produces 40 per cent of ice for restaurants in Hong Kong, and a 70-year-old soy sauce factory which, according to Mr Wong, is closely connected to the city's agricultural past and local cuisine industry.
"There's no holistic approach on preserving, accommodating and assisting these small entrepreneurs who still wish to continue with their business and cultural practices in the face of relocation," he said.
Mr Wong noted that much of the supply to Hong Kong comes from mainland China and there might be further disruptions to the logistics chain with China's zero-COVID policy.
"If we do not preserve these industries, then our resilience will be further weakened," he said.
END OF AN ERA
While the oyster farmers fret over their potential fate, other businesses have already faced the axe.
After its lease was extended twice, Hong Kong's last sawmill operator, Chi Kee Sawmill & Timber, closed its doors in September, ending 75 years of operation in Ma Tso Lung. Public calls to turn it into a museum had fallen through.
The factory's owner, Mr Wong Hung-kuen, has since found a new site nearby, but the five-year lease means he is still running on borrowed time.
Mr Wong, who gives old wood new life, is not ready to give his business up.
"The reason why I persist in keeping this factory is because I believe Chi Kee has its significant historical value and tasks to be completed," he said.
There are more young people interested in exploring woodworking in recent years and he has held carpentry classes and workshops for them, he added.
"It is very important for Hong Kong to develop in diversity. It's hard to arouse the (interest of the) young generation by only focusing on property and finance aspects. We need these talented youngsters to stay in Hong Kong. Without them, Hong Kong will only be shrinking," he said.
Additional reporting by Jojo Chan