Indian PM Modi wraps up Australia visit with new agreements on migration, green hydrogen
Observers say the visit reflects both nations' eagerness to build tighter alliances as they seek to deter China's growing assertiveness in the region.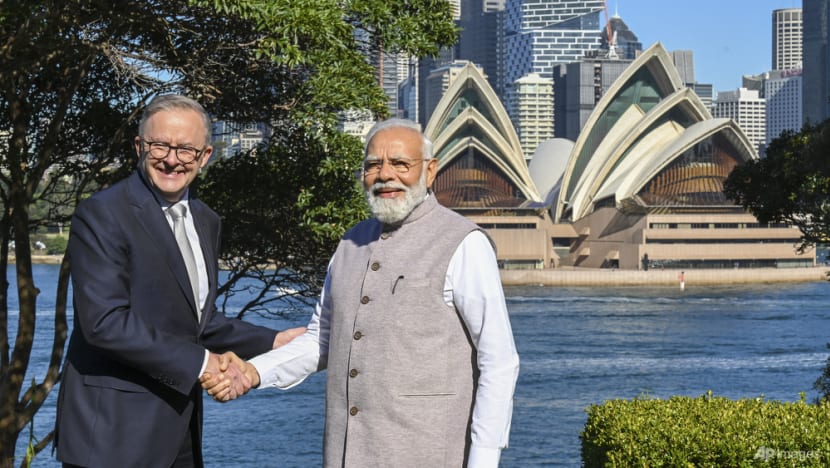 SYDNEY: Indian Prime Minister Narendra Modi wrapped up his three-day visit to Australia on Wednesday (May 24), following a rock star reception and new agreements on migration and green hydrogen.
Observers said the visit comes as the two nations seek to forge closer relations in the face of rising tensions in the region.
Mr Modi and his Australian counterpart Anthony Albanese discussed economic ties and security cooperation, as well as the impact of Russia's war with Ukraine on developing countries.
The prime ministers announced a new migration agreement that aims to "promote the two-way mobility of students, graduates, academic researchers and business people".
Analysts said employers coping with labour shortage in Australia and Indian youth seeking opportunities abroad will welcome the deal.
"The two countries are trying to strengthen their trade and investment relations, and further grow their business ties. Hence, easier travel between the two nations is definitely a plus," University of Mary Washington's Political Science and International Affairs Professor Surupa Gupta told CNA's Asia First on Thursday.
The two sides also established a green hydrogen task force to expand collaboration on clean energy, and discussed increasing cooperation on mining and critical minerals.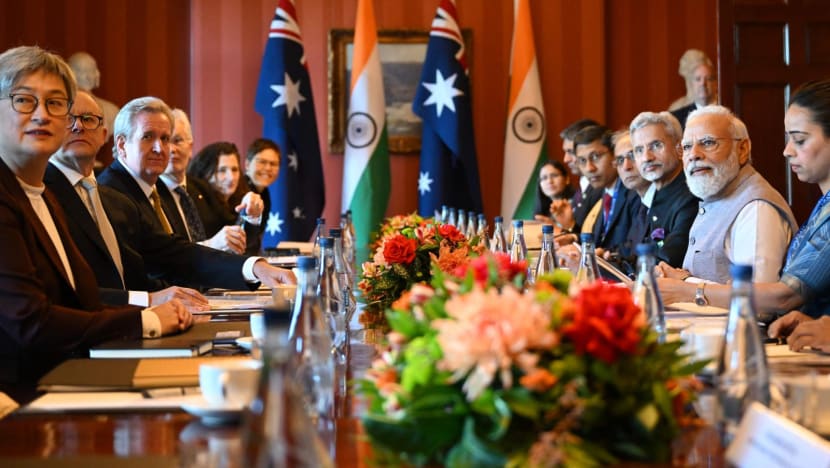 They are also working towards a comprehensive economic cooperation deal, for which they hope to complete negotiations by the end of the year. Bilateral trade between India and Australia is expected to double to about US$50 billion by 2035.
Mr Modi also said that he raised the topic of a series of attacks on Hindu temples in Australia, to which Mr Albanese assured strict action would be taken.
The Indian leader's visit was originally planned for a summit for leaders from the Quad group of nations, which along with Japan and the United States, is seen as an alliance working to counter China's rising influence in the Indo-Pacific region.
However, talks between the grouping were held on the sidelines of the Group of Seven (G7) summit last weekend in Tokyo instead, as US President Joe Biden had to return to Washington to deal with a debt ceiling crisis.
MODI'S DIPLOMACY BLITZ
Mr Modi decided to press on with his Australian trip, visiting the nation for the first time since 2014.
He was given a tremendous welcome by Mr Albanese, who heaped praise on his Indian counterpart and introduced him as a "dear friend" to rapturous applause on Tuesday at a Sydney sporting arena packed to its 20,000 capacity by Australia's Indian diaspora.
Australia is home to about 750,000 people who claim Indian ancestry, the nation's fastest growing ethnic minority.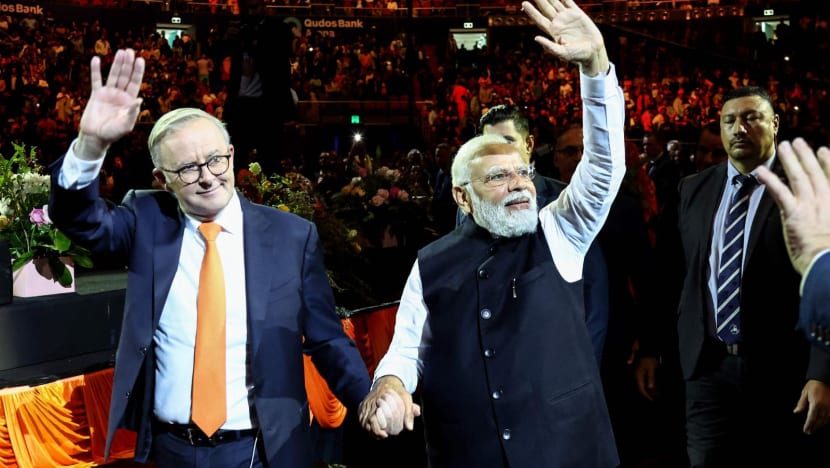 Mr Modi has embarked on a flurry of diplomacy activities as he looks to boost his appeal, after losing a state election in Karnataka to the main opposition party last week.
Before Australia, Mr Modi visited Papua New Guinea, where he met 14 Pacific island leaders and pledged his support for the region.
Next month, he will meet President Biden as he travels to Washington for a state visit.
FORGING CLOSER TIES
Observers said Mr Modi's trip to Sydney, made just two months after Australian PM Albanese visited India, reflects both nations' eagerness to build tighter alliances as they seek to deter China's growing assertiveness in the region. 
CNA938's interview with James Schwemlein, nonresident scholar at the Carnegie Endowment for International Peace
"China's economic coercion towards Australia in recent years, and the clashes along the Indian-Chinese border, are driving these two countries closer together quickly," said Mr James Schwemlein, a nonresident scholar in the South Asia programme at the Carnegie Endowment for International Peace.
Australia has been looking to diversify its export markets, after diplomatic ties with its biggest trading partner China soured in the past few years.
Meanwhile, India is struggling to cut its import dependence with its neighbour on the back of a surging trade deficit.
However, experts said China will likely remain the largest trading partner to both nations, and efforts to significantly reduce economic ties to China continues to be an "aspirational dream".
"There's no question that India's potential economically is a strong one – a democratic, fast growing, large country with a highly educated population and yet still relatively low wage labour," Mr Schwemlein told CNA938's Asia First.
"Competitively, India is an important way to respond to China. But (replacing China) is not something that is close to occurring today."