Trapped beneath ruins for 2 days, 5-year-old boy grapples with trauma months after West Java quake
CIPONGKOR, West Java: As soon as he heard the sounds of strangers approaching, Azka Maulana Malik rushed to his father's lap, crying while burying his head in his father's chest. 
"You have to excuse him," Azka's father Muhammad Eka told CNA, explaining that being in the presence of strangers reminded the 5-year-old of the time he was rescued from the rubble of his earthquake-torn house after spending two days underneath tonnes of concrete, steel and debris.
Azka is a survivor of the 5.6 magnitude earthquake which devastated the Indonesian regency of Cianjur on Nov 21 last year. The tremor killed 603 people, including Azka's mother Eti Suryati and his maternal grandmother Endah, who like many Indonesians went by one name. 
"There are many things which can bring back memories of his ordeal," his 38-year-old father said inside Azka grandmother's tiny wooden home in Cipongkor, a remote village at the edge of an electric dam around a two-and-a-half-hour drive from the quake-torn Cianjur regency where the family used to live.
Hearing loud noises frightens Azka while the slightest vibration in the wooden home where he now resides is enough to startle him. 
Azka, his father continued, would often gaze at the ceiling while trying to sleep, worrying that the roof above his head might rain down on him at any time. 
The boy was at times so paranoid that the ceiling might collapse he would insist on spending the night in his orange tent – decorated with images of his favourite cartoon characters – which has become a permanent fixture on his grandmother's front porch.
"He wouldn't sleep otherwise," Eka said of Azka's preference to spend time outdoors. "But he is a strong boy," Eka said, confident that Azka would someday get over his trauma.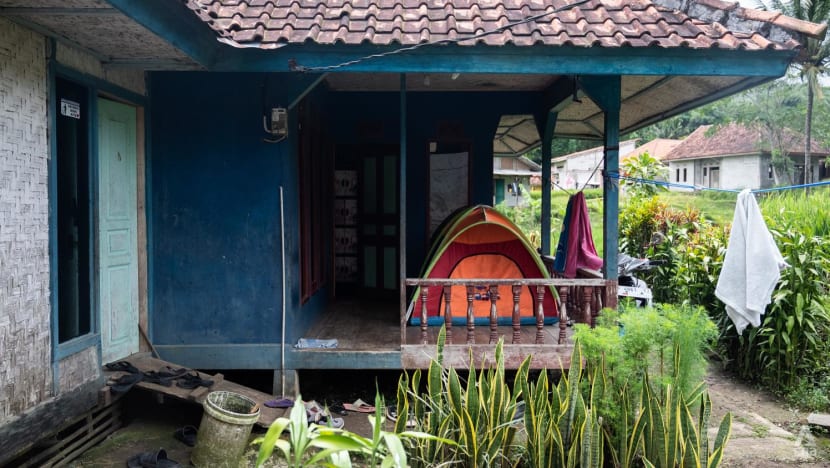 TERRIFYING ORDEAL
Scientists believe that a previously uncharted fault line runs directly beneath Rawa Cina, a village in Cianjur where the family used to live and where Azka's mother, Suryati hailed from.
Around 80 per cent of the houses in Rawa Cina were completely destroyed when the quake hit at around 1.30pm on Nov 21. Most were levelled to the ground. 
Azka was with his mother and maternal grandmother when the quake struck. His father, Eka had been out of town for work that fateful day while his teenage sister, Elsa Rahmawati was returning home from school.
The boy could not remember much about the 5.6 magnitude earthquake itself, Eka said, or when the second level of his home collapsed onto the floor below where Azka was lying in bed watching videos on his tablet. 
The quake had thrown Azka off his bed along with his favourite pillow. The bed frame and the pillow were what saved Azka from being crushed by the concrete.
For two days, Azka was virtually immobilised under near pitch-black conditions. His head and much of his body were pinned by the weight of the rubble. But he was able to move one of his arms. This allowed him to grab a water bottle that his mother liked to put next to his bed, allowing him to stay hydrated.
"I cried for mommy. I cried for kakak (older sister). I cried for grandmother. But nobody came," Eka said, recounting what Azka told him about the ordeal. The boy was even more terrified when there were aftershocks.
MIRACULOUS RESCUE
Eka was 200km away for work when the quake hit. When news reached him that an earthquake had devastated Rawa Cina, he took the first bus to Cianjur, arriving at around 8pm that evening.
He then scoured the quake-torn village, desperately trying to identify where his house could be amid all the rubble and chaos.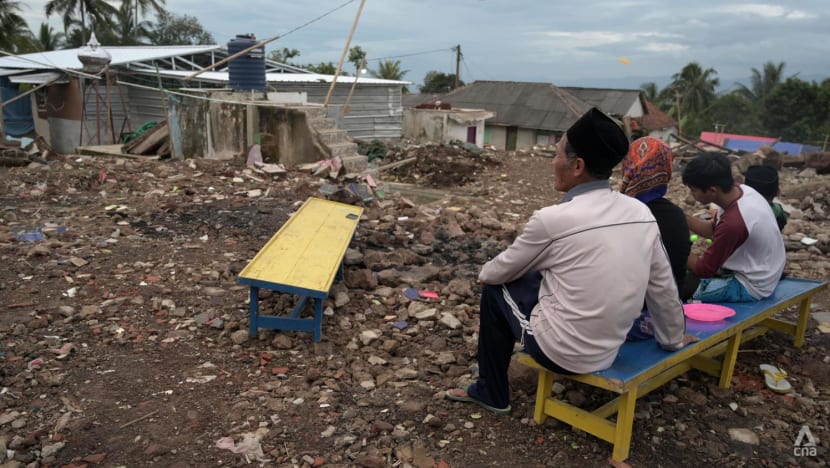 "I was able to pinpoint my house from its green tile and my red leather jacket which I liked to hang at the front porch of my house," he told CNA.
Eka was hopeful that his family had somehow survived but his hopes were dashed when rescuers pulled his wife's lifeless body from the ruins at around 4am the next day.
When he thought about Azka, he was prepared for the worst. "How could a child survive such devastation?," he remembered thinking, particularly after rescuers moved many lifeless bodies from nearby ruins.
Two days after the quake hit, just when all hopes seemed lost, one of the rescue workers caught a glimpse of Azka. For a moment, the rescuer was unsure if the boy was dead or alive until Azka opened his eyes and stared back at him. It took several hours before Azka was finally rescued.
Azka made headlines across Indonesia and was hailed as a miracle as well as a sign of hope during Cianjur's darkest days.
With Azka gaining fame as the boy who beat the odds, medical workers, volunteers, fellow survivors as well as ministers and other dignitaries wanted to meet him.
Rawa Cina residents told CNA that Azka's miraculous rescue also brought much-needed public attention from relief workers and public officials to the devastated village.
With a majority of the houses, buildings and schools completely destroyed in Rawa Cina, the government is currently trying to relocate residents of the remote village to a safer area and provide them with free houses.
LONG ROAD TO RECOVERY
Doctors told Eka that his son appeared to have no serious injuries although, for a short time, Azka had trouble breathing having spent two days surrounded by thick and humid air laden with dust and fine particles from the ruins. But it is the psychological scars that are more worrying.
Azka's sister Elsa is also suffering from psychological trauma. "To this day, she wouldn't set foot in Cianjur. Not even to visit her mother's grave," Eka said, adding that she also developed a phobia towards multi-storey buildings, fearing that they might collapse on her.
For now, Azka and Elsa seem to be adjusting well at their new home, a house in a remote village surrounded by rice fields where their father grew up.
"Azka seems to be enjoying the time spent playing with his cousins. He made new friends at school," Eka's mother Cucun, who also goes by one name, told CNA. "He feels safe here because he is far away from the earthquake and the devastation."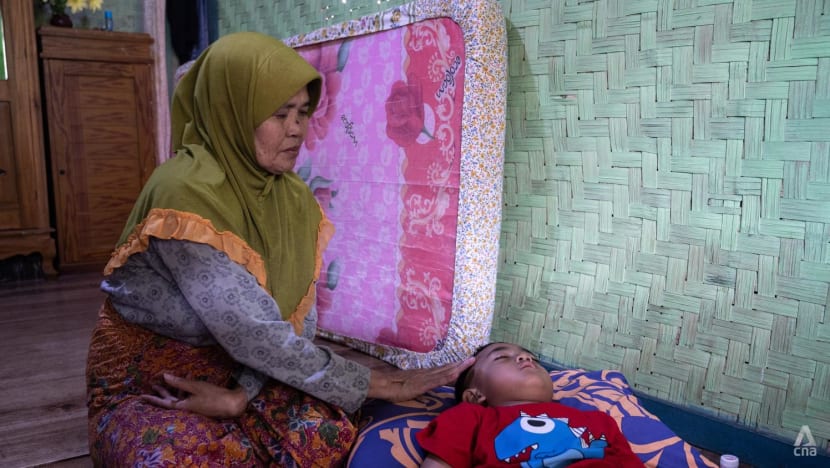 Azka, his paternal grandmother said, had also come to terms with the loss of his mother. "He likes to eat seblak, because it reminded him of his mother who sold seblak at a stall in front of their old house," she said, referring to a savoury and spicy dish native to West Java.
"He likes to water the plants because that was what his mother did every afternoon when she was alive."
Still traumatised from his time alone underneath the rubble, Azka would not let Eka out of his sight, preventing the construction worker from finding work.
"With his mother gone, he became very attached to me. He wouldn't leave me alone. I too will never be away from him, at least until he is healed (from the trauma)," Eka said as Azka fell asleep on his lap. 
"How could I ever leave this boy? I would never leave him. He is my lucky charm."
Read this story in Bahasa Indonesia here.