Indonesia's dairy exporters say products are safe for consumption amid foot and mouth disease outbreak
Companies that export to Singapore, including Greenfields and Cimory, say they have implemented stringent food safety measures.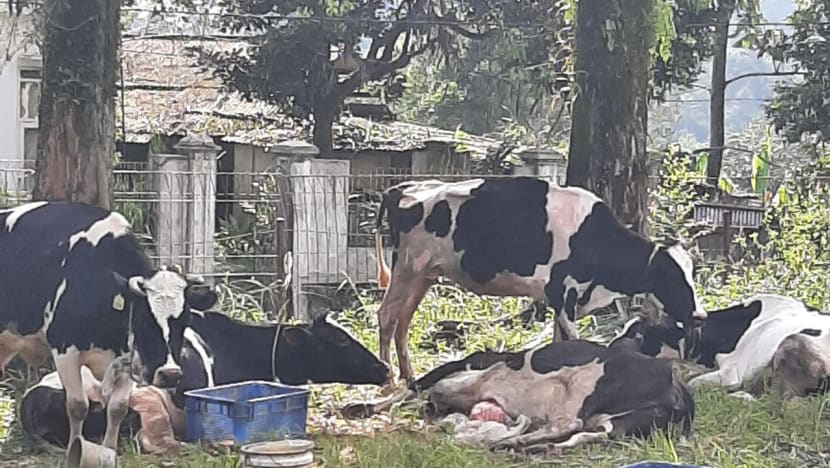 JAKARTA: Dairy companies in Indonesia, including those that export to Singapore, have said that their products are safe for consumption amid an outbreak of foot and mouth disease (FMD) among livestock in some parts of the archipelago.
Responding to CNA's queries, PT Nestlé Indonesia said all its dairy products such as pasteurised milk, sterilised milk and powdered milk do not contain active FMD virus. This means that the risk of live FMD virus in the company's products is negligible, it said. 
"All fresh milk raw materials for Nestlé products go through a high-temperature processing process that ensures the quality and food safety of our products.
"Therefore, all Nestlé dairy products are classified as safe for consumption," said Sufintri Rahayu, the corporate affairs director of PT Nestlé Indonesia.
According to Nestlé Indonesia, more than 90 per cent of its products are consumed domestically. It was unable to give a breakdown of the main export markets.
As of Friday (Jun 17), Indonesia has recorded at least 180,000 FMD cases in 18 out of 34 provinces. These 18 provinces have around 7 million cows in total. More than 54,000 livestock have recovered, with over 900 deaths.
Indonesia was declared free from FMD in 1986. But at the end of April, authorities found instances of the disease in East Java and the cases have since spread in the archipelago.
According to the World Organisation for Animal Health (WOAH), FMD affects cattle, swine, sheep, goats and other cloven-hoofed mammals.
Animals infected by the disease typically show signs of fever followed by blisters between the toes and on the heels, mammary glands and the lips or tongue. This hampers them from walking, standing, feeding and eating.
On Tuesday, the government started a mass vaccination programme for cattle, beginning with East Java, which has recorded the highest number of FMD cases. 
"Through this vaccination, we hope to help prevent the spread of disease, especially in dairy farming centres and breeding areas," said Mr Nasrullah, a director general of livestock and animal health with the Ministry of Agriculture when launching the programme at a dairy farm in Sidoarjo, East Java.
The government said it will prioritise healthy cattle in areas where there are a lot of FMD cases, given that it has limited vaccines at the moment. 
According to Mr Nasrullah, who goes by one name, animals which have recovered from FMD would have some form of immunity against the virus.
Adult livestock usually recover from FMD, according to WOAH. Deaths are uncommon except in young animals.
GREENFIELDS IMPOSES "STRICT BIOSECURITY MEASURES"
The head of dairy farm development and sustainability at PT Greenfields Indonesia told CNA that it exports liquid milk, yoghurt drink, a variety of cheeses and whipped cream to Singapore.
In a written statement, Mr Heru Prabowo wrote: "All milk that we use for our dairy products has gone through pasteurisation and UHT (ultra-high temperature) processes, thereby making it safe for consumption."
He noted that research by the American Dairy Science Association states that FMD is not a public health threat and that dairy products are safe for consumption as long as they go through pasteurisation and UHT process.
He pointed out that both Indonesia's Health Minister Budi Gunadi Sadikin as well as former regional director of the WHO South-East Asia region, Tjandra Yoga have clarified that FMD is a livestock disease.
"It is not contagious to humans and thereby won't harm humans," Mr Prabowo stated. 
There are more than 18,000 cattle at PT Greenfields Indonesia's farms. The company has three farms, all in the East Java province. There is a farm in Malang regency and two in Blitar regency.
Mr Prabowo added: "Greenfields dairy farms have implemented very strict biosecurity measures from day one of the outbreak in Indonesia. These measures are aimed at reducing the transmission of the disease to the farms."
Mr Prabowo explained that Greenfields' factories are in close proximity to the farms and there is no risk of exposure once the milk enters its tankers, as the company is in control of its entire supply chain. "The farms to date have not been hit (by FMD)," he added.
Greenfields also implements very strict procedures such as cleaning all vehicles in the farms from top to bottom and implementing additional cleaning of the milk tankers, Mr Prabowo said.
"There is also compulsory clean clothing and footwear daily for all workers. There are no visitors (allowed)," he added.
Mr Prabowo also told CNA that Greenfields welcomes the government's initiative to accelerate the FMD vaccination programme.
He said that the company has actually implemented its own vaccination initiative. "This means that we purchase the vaccines through official associations that are appointed and recommended by the government," he explained.
Meanwhile, dairy producer PT Cisarua Mountain Dairy (Cimory) told CNA that it exports yoghurt to Singapore and ensures that the products are pasteurised and heat-treated.
"They are free from pathogenic or harmful bacteria," said the company's president director Farell Sutantio.
"The same goes for most, if not all, packaged food products produced in Indonesia as the BPOM (Indonesian Food and Drug Agency) requires us to ensure sufficient heat or thermal treatment to ensure the product is safe," Mr Sutantio told CNA.
CNA understands that Cimory does not have its own farms.
But as animals that have contracted FMD will not be able to produce milk, the milk available on the market would have come from those that are disease-free, said veterinarian Nanang Purus Subendro, who is also the head of the Indonesian Cattle and Buffalo Breeders Association (PPSKI).
"In principle, FMD is not contagious to humans," Mr Nanang told CNA.
Data from the Indonesian trade ministry shows that in April, the country exported about 352.5 metric tonnes of non-concentrated milk and cream to Singapore. Around 10.3 metric tonnes of buttermilk and yoghurt were shipped to the neighbouring country.
Both PT Greenfields Indonesia and Cimory said that they are unable to disclose the volume of their exports to Singapore.
Indonesia does not export beef to Singapore, said the Ministry of Agriculture in response to CNA's queries.