'Not trendy anymore': As the pandemic eases, buyer's remorse is fuelling dog abandonment in Indonesia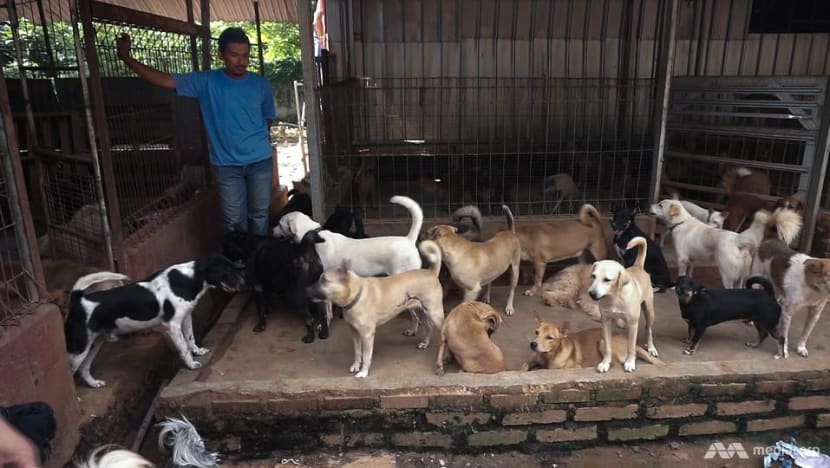 JAKARTA: Inside an unassuming two-storey home in southern Jakarta, and hidden from the main road by a 4m-tall brick wall, are cages containing around 20 dogs, all bred so they can be sold for a profit.
For the past two years, their owner Paulus has been trying his hands at dog breeding, a hobby which started because of the COVID-19 pandemic and the subsequent series of lockdowns that followed.
"It was a coincidence really. I posted a picture (on social media) of me and my German shepherd and suddenly, I got a DM (direct message) asking if I'm willing to sell my dog. I told the guy no and he later asked, 'Would you be willing to sell his sperm?'" Paulus told CNA.
Paulus, who declined to reveal his full name because he has not obtained the necessary permit for his dog breeding business, said he was paid 5 million rupiah (US$339) for his dog's sperm.
"I realised now that the offer was actually too low because my dog has all the desirable characteristics. But that experience made me want to know more about the business of dog breeding," he recounted.
The pet breeding business has been booming because of the pandemic as people spend more time at home, several breeders and pet shop owners told CNA. At the same time, prices have ballooned between 300 per cent and 400 per cent.
"There are now more and more first-time pet owners. There are now more and more amateur breeders," Putra Gunawan, a dog lover who owns 20 pit bulls and bull terriers, told CNA.
The breeding business has many unwanted consequences, activists and dog lovers warned, ranging from the proliferation of genetic diseases to overpopulation.
"There are first-time pet owners who over time become bored and abandon the dogs or throw them away and let them fend for themselves on the streets," said Hardiansyah, a staffer at a dog shelter in Jakarta.
Hardiansyah, who like many people in Indonesia goes by one name, said the number of stray and abandoned dogs admitted into his shelter has increased by as much as 30 per cent compared to before the pandemic.
"It is putting a lot of burden on our shelter," he said, adding that his shelter is now housing at least 1,500 dogs.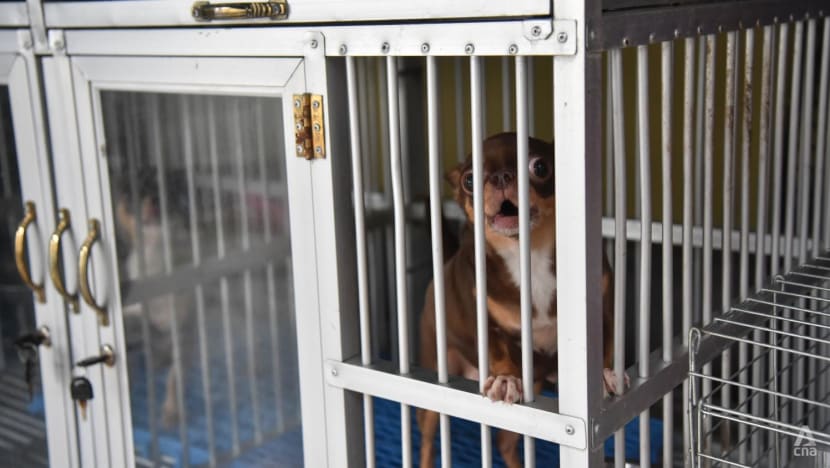 HIGH

DEMAND FOR CERTAIN BREEDS 
Pet breeding can be a lucrative business, said Putu Dewi, who has been breeding dogs since 2008.
"I have sold puppies for as much as 15 million rupiah (US$1,018) each. Older dogs, particularly ones with certain characteristics and those which have won numerous dog shows and contests, can command as much as 50 million rupiah (US$3,395)," she said.
Demand for pet dogs has spiked, particularly during the early days of the pandemic.
"There were times when you had to put a down payment for a specific breed of dog because breeders cannot keep up with the surging demand," dog lover Kiara Suseno said.
Suseno noted that trends for a particular breed come and go. "When the movie Cruella came out (in 2021), everyone wanted a dalmatian. The same thing happened when the movie Hachiko came out (in 2009), everybody wanted an akita. The problem is what happens to these dogs when that trend has passed," she said.
Suseno added that the trend to own a pet is starting to pass now that the pandemic is easing. 
"For some, the only reason why they got a pet is because they spent a lot of time at home. Now that it is no longer the case, there are cases of neglect and abandonment," she said. 
Dog lover Gunawan highlighted another problem which seems to be proliferating during the pandemic: first-time dog owners adopting breeds which are unsuitable for them.
"There are people who want big, aggressive dogs because they look cool. However, some of these people have never owned a pet before and once they know how difficult these dogs can be, they give them up to a shelter," he said.
Gunawan also noted the number of instances where dogs had to be put down by their owners. 
"Some dogs are inherently active. When they don't receive the care and attention they deserve, they get stressed and misbehave and sometimes bite humans or other animals," he said, adding that such cases are rising.
Dog breeder Dewi also acknowledged the problem but claimed that she is picky about the customers she accepts to make sure that the dogs will not end up being abandoned or abused. 
She is also happy to buy back a dog from owners experiencing buyer's remorse, Dewi added. 
"Not all breeders would do that and not all breeders are so choosy and discerning about the type of dog and who they sell them to," she said.
"Some breeders are also tricksters, trying to pass a sick dog for a healthy one. These things are why many dogs end up in a shelter."
RISING CASES OF ABANDONED DOGS
Dog breeder Paulus disagreed that breeders like him are part of the problem. "We don't breed (just) any kind of dog. We breed and raise purebreds that cost millions of rupiah. I don't think owners would just abandon or mistreat a dog after spending all that money," he said.
However, the dog breeder admitted that there are customers who experienced buyer's remorse, particularly after the dogs they bought matured to become problematic pets.
"I usually recommend that they find their dogs a new home, maybe reach out to a friend or a relative. If all else fails, they can hand them over to an animal shelter," he said.
Susana Somali, the owner of Jakarta's Pejaten Animal Shelter said there are many purebred dogs in her facility.
"Some of these dogs are taken here because their owners passed away and the owners' children don't want to take care of them," she said.
"But there are those who had owners for several months only because the owners got tired of them or because they are not trendy anymore. Sometimes the owners would tie their dogs to our front gate and leave without saying anything."
Shelter worker Hardiansyah said his shelter received around 100 calls a month from animal lovers informing the shelter of dogs in need of rescue. Some of these dogs, he said, are abandoned by their owners.
"The number of these calls has increased exponentially since the pandemic began," he said.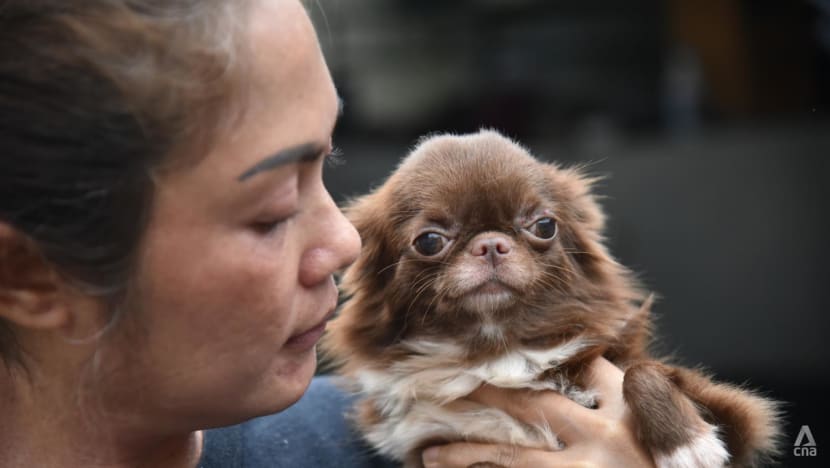 WRONG IDEA ABOUT DOG BREEDING
Dog breeder Dewi said business has gradually returned to the way it was before the pandemic.
"All breeders I know have started to advertise their dogs on social media again. Before, demand was so great they didn't have to," she said, adding that prices have also gone down.
Breeder Paulus however is optimistic that there is still room to grow the business. 
"There are people who weren't pet owners before but discovered the joy of having a dog because of the pandemic," Paulus said. 
He added that these are the people who might want to get a second dog or convince their friends to own a pet. 
Dog lover Gunawan said he is worried that some breeders will be less discerning and choosy of what dogs they sell and who they will sell them to.
"They might want to cut their losses and sell them for cheap to anyone willing to buy them," he said.
Shelter worker Hardiansyah said it is important to educate the public about the issue, especially in dispelling the wrong idea perpetuated by some breeders that only purebreds are better.
"This is why most people who came to our shelter looking to adopt a dog said they prefer purebreds. This means mixed breed dogs will likely never get adopted," he said.
"We have to educate the public that mixed breed dogs are just as cute and just as loving and loyal as purebred ones and that there are many which are now at animal shelters across the country, waiting for someone to adopt them."