Indonesia begins chicken exports to Singapore; first shipment contains 50 tonnes of frozen chicken
Under a business-to-business agreement, Charoen Pokphand Indonesia will supply 1,000 tonnes of chicken meat to Singapore until the end of the year.
JAKARTA: Fifty tonnes of frozen chicken were exported from Indonesia to Singapore on Wednesday (Jul 13). 
This is the first shipment of products under a new arrangement for Indonesian companies to export chicken to Singapore. 
Charoen Pokphand Indonesia (CPI), which is a subsidiary of Thailand-based food conglomerate Charoen Pokphand, said that it has secured a contract with a Singapore importer to supply 1,000 tonnes of chicken meat until the end of the year.
"Hopefully (Indonesia's) poultry export to Singapore will be sustainable and continue to grow for years to come," said CPI's president commissoner Hadi Gunawan Tjoe at a ceremony to mark the occassion.
"We hope that this first shipment to Singapore will boost the national poultry industry and open the way for Indonesian poultry products to penetrate the global market further."
Indonesian Agriculture Minister Syahrul Yasin Limpo, who was also present at the ceremony, said: "Singapore has a high standard for their food imports. I hope that this shipment will boost confidence of other countries towards Indonesian food products."
The minister also told reporters that President Joko Widodo has prioritised Indonesia's domestic needs and national food security.
"Right now, we are experiencing an oversupply of chicken which enables us to export our chicken products overseas," he noted. 
"This will inspire producers to boost their production so that we can continue to enjoy such surplus, fulfil the global demand for poultry products, while still maintaining our food security and stability of prices domestically."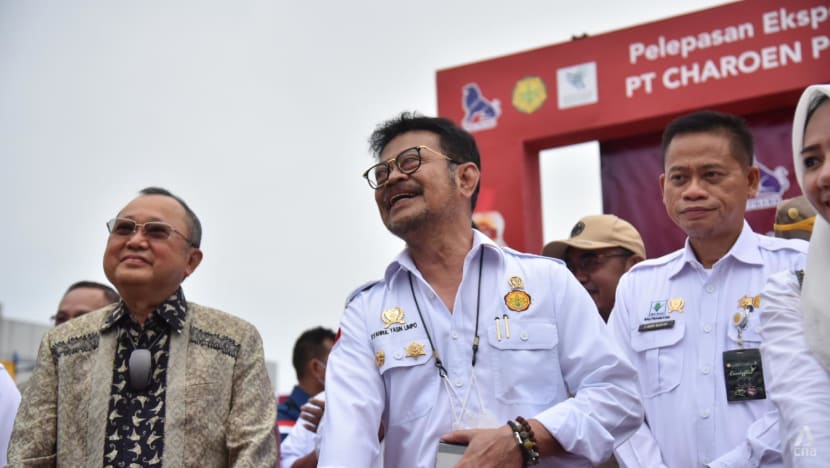 Besides Singapore, CPI has also exported chicken and chicken products to Japan, Timor-Leste, Papua Guinea and Qatar.
According to the Singapore Food Agency (SFA), three companies from Indonesia had been given permission to export chicken meat and chicken meat products into the country.
Two of the companies are Indonesian subsidiaries of Charoen Pokphand, while the other is a subsidiary of Indonesian frozen food giant Japfa Comfeed.
It is not yet known when the other two companies will begin exporting their products to Singapore.
The Indonesian Agriculture Ministry said earlier this week that there are 12 other Indonesian companies which are currently seeking permission to export chicken products to Singapore. All applications have been submitted to SFA.
The SFA has said that individual establishments and farms needed to be evaluated and approved, with detailed documentary evaluations and on-site audits for verification, before they are given permission to export food to Singapore.
Singapore imported 214,400 tonnes of chicken meat last year, about a third were from Malaysia.
Malaysia has put in place an export ban of up to 3.6 million chickens a month, following supply and pricing issues domestically, with some chicken traders selling whole chickens above the price ceiling to cover their costs.
Following the export ban, Singapore announced that it will source chickens from other places, including Indonesia and Thailand.
The SFA announced on Jun 30 that it has added Indonesia as a new source for the import of chilled, frozen and processed chicken.
Speaking to CNA, CPI's president director Thomas Effendi said the contract to export 1,000 tonnes of chicken is valued between 30 billion rupiah (US$2 million) and 40 billion rupiah.
"The 1,000 tonne agreement is just the beginning ... We would still like to grow our market share. We believe this figure will grow bigger. How big it will be, we cannot say but Singapore is a big market," he said.
He added that CPI is currently in talks with a second Singapore company to export more chickens. 
Mr Effendi added that CPI is also aiming to export live birds to Singapore.
"We do have the resources to export live chickens because we have a farm in Batam. We are looking for ways to get ourselves certified to export live chickens," he said.