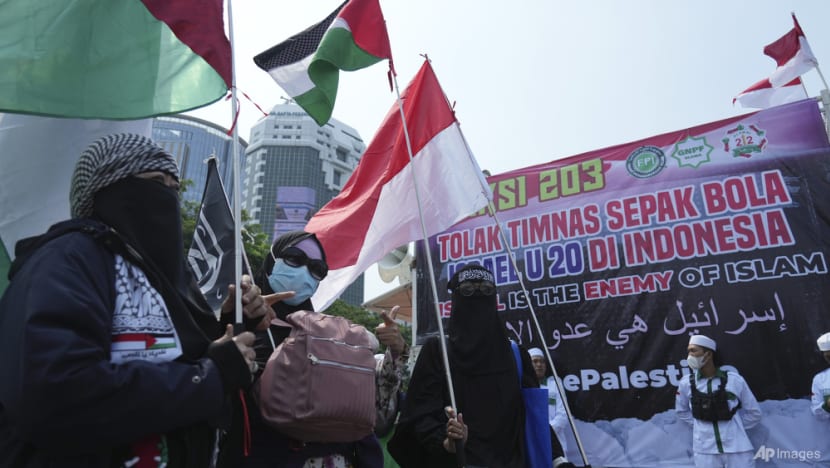 JAKARTA: Indonesia's Football Association (PSSI) chairman Erick Thohir on Wednesday (Mar 29) said he is scheduled to meet with officials from the sport's governing body FIFA in Qatar amid concerns that the Southeast Asian nation could lose its rights to host the upcoming U-20 World Cup.
"Thank God (we) have arrived in Qatar. All members of the team are ready to meet (and) negotiate with FIFA. Hopefully, there is a way out (and) how (both sides) can provide the best solution for the current situation. 
"(I) ask for prayers from the people of Indonesia," Mr Thohir said in a video posted on his Instagram account.
He, however, did not specify whom he was meeting in the Gulf state nor his travelling companions. 
FIFA had earlier postponed, and then cancelled the tournament's group draw event. It was originally slated for Mar 31 in Bali. The decision came after the resort island's governor, Mr Wayan Koster, sought to forbid Israel from competing in the U-20 World Cup in a Mar 14 letter to the country's Ministry for Youth and Sports.
Israel is one of 24 countries which qualified to compete in the tournament.
Mr Koster is not the only politician to openly criticise Israel's participation in the event. On Mar 23, Central Java Governor Ganjar Pranowo in a written statement said that he is lobbying the central government to stage the U-20 World Cup "without Israel present".
The two Indonesian provinces each have one stadium chosen as the venue for the U-20 World Cup, which was slated to be held between May 20 and June 11.
Several Muslim groups have also staged demonstrations rejecting the Israeli team.
Indonesia, the world's most populous Muslim-majority country, does not have any formal diplomatic ties with Israel.
FIFA's decision on Monday to cancel the group drawing event prompted many football pundits to doubt whether Indonesia will get to retain its rights to host the country's first-ever FIFA tournament.
On Tuesday evening, Indonesian President Joko Widodo said he had instructed Mr Thohir, who is also a cabinet minister, to win back FIFA's confidence and stated that Israel's participation in the event has nothing to do with Indonesia's foreign policy.
"Please don't mix sports and politics," the president popularly known as Jokowi said in a video message streamed on his office's YouTube account.
"I hereby guarantee Israel's participation has nothing to do with the consistency of our foreign policy position toward Palestine, because our support for Palestine is always strong and sturdy."
Jokowi said hosting the tournament would be a big honour for Indonesia.
"All elements in the country have worked hard to make sure that Indonesia can become the host of the U-20 World Cup and in October 2019 we finally won the FIFA appointment," Jokowi said.
"This is a big honor to Indonesia as we won the trust to host the U-20 World Cup, to manage a sporting event which has the biggest number of fans in the world."
The Southeast Asian country is hoping that hosting the tournament will rebuild its reputation tarnished by last year's stampede at a football stadium in East Java. The incident killed 135 people, making it the world's second worst stadium disaster in history.
Mr Muhadjir Effendy, the acting sports minister, told a parliamentary hearing on Tuesday that he is confident the tournament will proceed as planned.
"There are still possibilities," he said. "FIFA is very appreciative, understanding of what's happening in Indonesia."