JAKARTA: Indonesia is bracing for the possibility of widespread forest and land fires this year as scientists predict the return of the El Nino weather phenomenon in the second half of 2023.
"We are already seeing an upward trend on instances of forest and land fires, even though we are still transitioning from the rainy season to dry season," Indonesian National Disaster Mitigation Agency (BNPB) spokesman Abdul Muhari told a discussion on Tuesday (Jun 6).
Mr Muhari said there were four cases of forest and land fires in early May. This number has since risen to 16 by early June. The fires occurred in parts of Sumatra and the Indonesian side of Borneo, he added.
"If it is already like this during the transition period (between the wet and dry seasons), we can imagine what it will be like at the height of the dry season," the disaster agency spokesman said.
For decades, widespread forest and land fires in Indonesia have been responsible for thick and hazardous haze that travelled for hundreds of kilometres into neighbouring Singapore, Malaysia and parts of Thailand, affecting the health of millions of people.
The last major forest and land fires in Indonesia occurred in 2019. That year, more than 162,000 hectares of peatlands and forests were burned, emitting a record 624 million tonnes of carbon dioxide and other greenhouse gases into the atmosphere, BNPB data showed. 
The 2019 forest and land fires coincided with two weather phenomenons which resulted in a prolonged drought in the archipelago nation: El Nino in the Pacific and the so-called positive Indian Ocean Dipole (IOD) event, where the Western part of the Indian Ocean becomes unusually warmer than the rest of the ocean and thus pushing air away from Indonesia.
Cases of forest and land fires dropped significantly over the last three years because of the La Nina weather phenomenon which caused more rainfall. Last year, forest and land fires affected around 20,000 hectares of land, one eighth of what it was in 2019, according to data by BNPB. 
However, the World Meteorological Organization (WMO) said there are signs that the warm weather phenomenon El Nino will be back this year. Models made by the organisation suggest that a positive IOD could also make a return and exacerbate El Nino's drying effect.
Mr Urip Haryoko, a climatologist at Indonesia's Meteorological, Climatology and Geophysics Agency (BMKG) said Indonesia could be experiencing a prolonged dry season that could last until March or April of next year.
"The driest period … will be felt in the months of September and October," Mr Haryoko told CNA, adding that during that time the sun will be its closest to the equator which straddles along Indonesia.
BNPB spokesman Mr Muhari said the country will be particularly prone to forest and land fires during the period.
"We have to be prepared for forest and land fires," BNPB spokesman, Mr Muhari said.
PREVENTION IS KEY
Speaking to reporters at the sideline of a conference in Singapore on Tuesday, Indonesia's coordinating minister for maritime and investment affairs Luhut Binsar Pandjaitan said the country is preparing "very well" for the possibility of transboundary haze this year.
"We have climate modification technology. This is (so) we can make early rain in order to prepare a pond, so we have enough water to stop a fire," Mr Luhut said. 
"Haze is not really an issue anymore, I believe."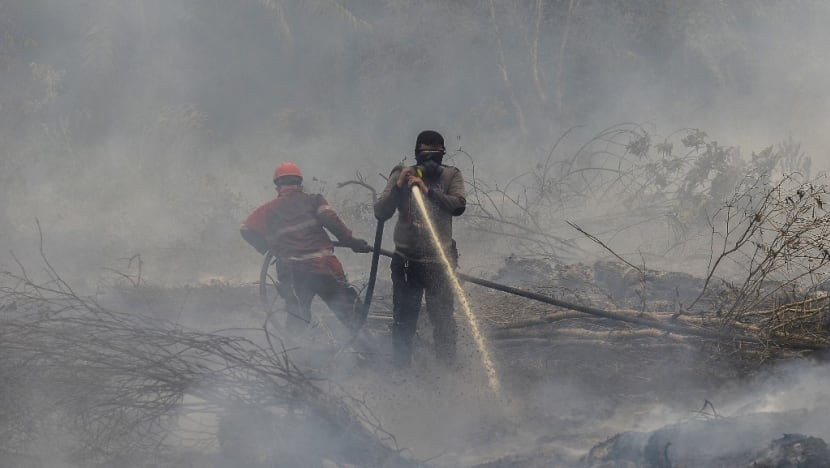 Mr Muhari, the BNPB spokesman, said efforts to combat forest and land fires will be focused on six Indonesian provinces: South Sumatra, Jambi, Riau, West Kalimantan, Central Kalimantan and South Kalimantan.
These provinces are considered to be prone to forest and land fires.
Four of these provinces - South Sumatra, Jambi, Riau and West Kalimantan - have declared forest and land fire emergency statuses, allowing central government officials in Jakarta to intervene and allocate the manpower and resources needed to combat the fires.
Historically, the majority of the fires in the six provinces occurred on peatlands, which can be difficult to contain. Peatlands have layers of partially decayed vegetation and organic matters deep beneath the surface.
"Even if we can put out a fire on the surface (of peatlands), underneath it could still be smoldering. This can last for months. They still emit smoke even if there is no visible fire. This is why emission of CO2 (in a peatland fire) is very big," Mr Muhari said.
"That is why we need to prevent fire from starting. Even if there is fire, contain it as early as possible before it spreads further."
PREPARATION UNDERWAY
Mr Thomas Nifinluri, director of forest and land fire mitigation at Indonesia's ministry for the environment and forestry said the ministry is joining forces with other institutions to combat the fires.
The ministry is working with the Indonesian National Research and Innovation Agency to identify the so-called hotspot areas and to conduct cloud seeding - a weather modification technique to increase a cloud's ability to produce rain.
"We will conduct cloud seeding to promote rain particularly in peatland areas," Mr Nifinluri told CNA, adding that weather modification will help peatland to be soaked in rainwater and thus be less prone to fire.
The ministry, Mr Nifinluri said, is currently inspecting whether high risk provinces have the necessary manpower, equipment and infrastructure to adequately mitigate forest fires quickly and efficiently.
Ministry officials, he added, are also conducting joint patrols with the military and civilian volunteers upon receiving reports of a forest fire breaking out from local communities.
"We will intensify steps to prevent (forest and land fires) through patrols in areas prone to forest and land fires so that if a fire is located it can be mitigated early on," he said.