Jakarta people are digging their own wells for water, but this makes the city sink faster
CNA looks at why people are extracting their own groundwater and what is being done to tackle the problem.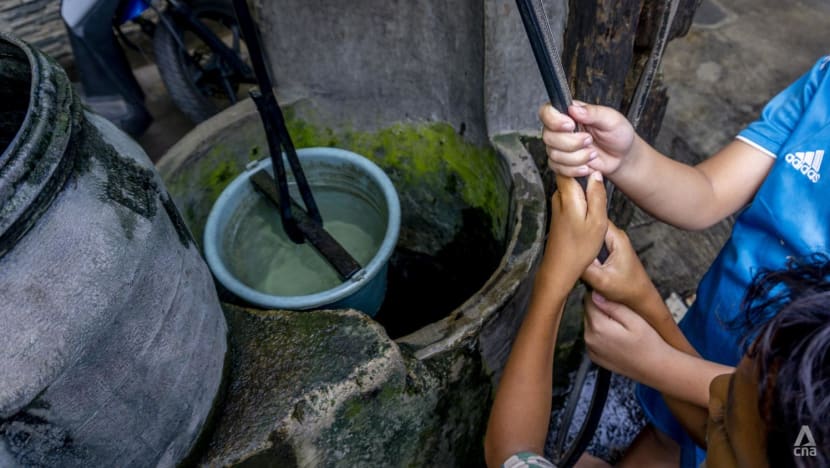 JAKARTA: After years of putting up with occasionally poor water quality and supply disruptions of piped water provided by the city authorities, Sigit Hariyanto decided to take matters into his own hands. He began pumping water from the aquifer beneath his home.
"Sometimes, the water was milky-white and reeked of chlorine. Other times, it was murky brown and filled with mud," he told CNA, referring to the piped water.
The last straw came in 2019 when a pipe used to distribute water into his neighbourhood broke. This caused the area with around 200 houses to be without clean water for around 10 hours.
The 42-year-old marketing manager said workers had to dig a well 40m deep, before their drill reached an aquifer with water clean enough to be used for daily consumption.
Excessive groundwater extraction is the leading cause of land subsidence. In Jakarta, which sits largely on loose and unconsolidated soils and sediments, groundwater extraction has caused the city to sink at a rate of up to 26cm a year, making the Indonesian capital one of the fastest sinking megacities in the world.
Today, more than 90 per cent of Jakarta's coastal areas sit below sea level, making the city prone to coastal flooding. Rivers also cannot discharge their water into the sea without the help of large pumping stations, worsening Jakarta's fluvial floods which affect thousands of residents each year.
Although the city government has identified engineering and regulatory solutions, solving the groundwater extraction problem may be easier said than done.
"People have been digging wells and extracting groundwater for generations in Indonesia. It is hard to change this behaviour. It is hard to make them understand the consequences of their actions because (land subsidence) happens gradually over the course of many years," Nila Ardhianie, the director of Amrta Institute for Water Literacy told CNA.
To make things worse, only 900,000 homes, offices and factories have access to municipal water, according to data from the city's piped water distribution company PAM Jaya. The rest of Jakarta's 11 million population had no choice but to rely on groundwater.
According to the Indonesian statistics agency, Jakarta has 2.4 million landed homes, more than 200,000 apartment units, 130 shopping malls and thousands of office buildings in 2020.
On average, a Jakarta household is estimated to spend between 200,000 rupiah (US$13.38) and 500,000 rupiah per month on piped water. 
SURFACE WATER SAFETY IS A PROBLEM
Ironically, Jakarta is actually surrounded by bodies of water. There are 13 rivers which cut through the city, discharging water into the Java Sea on the northern coast of Jakarta. The city is also home to 117 flood retention ponds and basins.
However, these bodies of water are heavily polluted by industrial and domestic waste. This makes the water unsafe for consumption.
Nirwono Joga, an urban planning expert from Jakarta's Trisakti University said: "The fact that Jakarta is flooded every year, means Jakarta has too much water at certain times. However, our water management system is bad."
According to a 2019 study conducted by the Jakarta Environmental Agency, 96 per cent of the water from Jakarta's rivers are severely contaminated by solid waste, heavy metals and bacteria. These rivers also feed the city's flood retention ponds and basins.
One of the root causes of water pollution is that Jakarta lacks the presence of a dedicated waste water management facility.
"If you look at the sewers in Jakarta, almost all of them lead to the nearest rivers and basins. There are also illegal squatters along the river banks and basins and people dump their trash and waste straight into these bodies of water," Joga noted.
"Desalination is also not feasible. Because all the trash and waste end up in the sea. This is why rivers, basins and the sea have not been used as our primary sources of water."
Due to severe pollution in the rivers and basins, 94 per cent of the piped water in Jakarta has to be piped in from the neighbouring provinces of West Java and Banten.
Ardhianie of Amrta Institute said the city needs to start looking for alternatives. "Even if we increase water production from Jatiluhur Dam (in West Java) and Karian Dam (in Banten), they will not be enough to serve the entire population of Jakarta," she said.
Elisabeth Tarigan from the Jakarta Water Resource Agency said the city is planning to optimise its flood retention ponds so that they can act as reservoirs and build more water treatment facilities.
Currently, the bodies of water located in Jakarta can only supply 6 per cent of the city's piped water needs.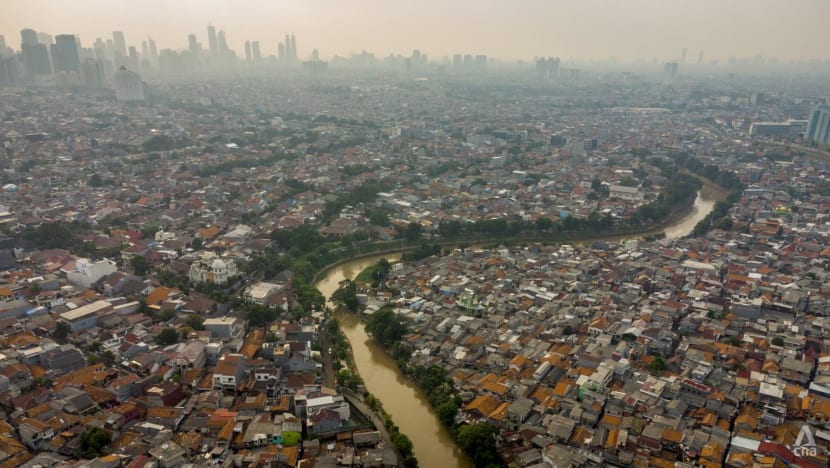 "Right now, not all residents of Jakarta use piped water. We do realise that. We also realise that we need to increase supply so more people will use piped water," Tarigan, who is the agency's water conversation coordinator, told CNA.
"We are currently building more water treatment facilities in our retention basins. We want to optimise what we already have first."
Jakarta now has six water treatment facilities.
She added that the city is currently building six more water treatment facilities capable of filtering out all the contaminants. Two of these facilities are scheduled to be fully operational next year.
UNRELIABLE PIPED WATER
To improve the reliability of piped water supply to residents, Tarigan said the city is expanding its piping network, which currently covers 65 per cent of Jakarta's 661 sq km area.
"Our target is to cover 100 per cent of Jakarta by the year 2030. This will require a lot of money because Jakarta is already well developed. (This is) costlier than building infrastructures in an undeveloped area," she said.
Some have questioned whether this is a realistic target.
Firdaus Ali, an environmental engineering expert from the University of Indonesia, noted that it took Jakarta 25 years to go from 54 per cent piped water coverage area to 65 per cent currently. 
"We still have 35 per cent left. How are they going to do that in eight years?" he said during an interview with CNA.
And even if all of Jakarta is connected to the municipal water network, there is no guarantee that groundwater extraction practices will stop.
"The reasons why residents of Jakarta are reluctant to use municipal water and continue to extract groundwater (are because) up to today, there is no guarantee on the quality, quantity and continuity of the (piped) water," said Joga of Trisakti University.
"Residents are complaining that the quality of the (piped) water is bad. The quantity during the dry season is very limited. And the third is (supply) continuity, particularly during the dry season."
Sadikin, who like many Indonesians goes by one name, said many residents in his neighbourhood prefer to use traditional hand-cranked water wells to wash themselves, do their laundry and clean their dishes, even though the houses in his area have access to piped water.
"The water is much cleaner and the wells never run out even during the dry season," he said. "Piped water is sometimes dirty. During the dry season, the water flow slows to a trickle, sometimes it stops flowing completely."
THE GROUNDWATER IS DEPLETING
Sadikin's neighbourhood, where many low-income factory workers reside, is one of the remaining areas where people still use hand-cranked water wells. For wealthier homes, they extract groundwater using long pipes and electric pumps.
The 57-year-old said there are seven water wells in his neighbourhood, most of which were dug in the 1970s, back when Jakarta was still sparsely populated.
The city's population has more than doubled in the last 50 years, resulting in more widespread groundwater extraction. Meanwhile, green open spaces where rainwater is absorbed have been converted into houses, buildings and roads. This has reduced the ground's ability to recharge the aquifers.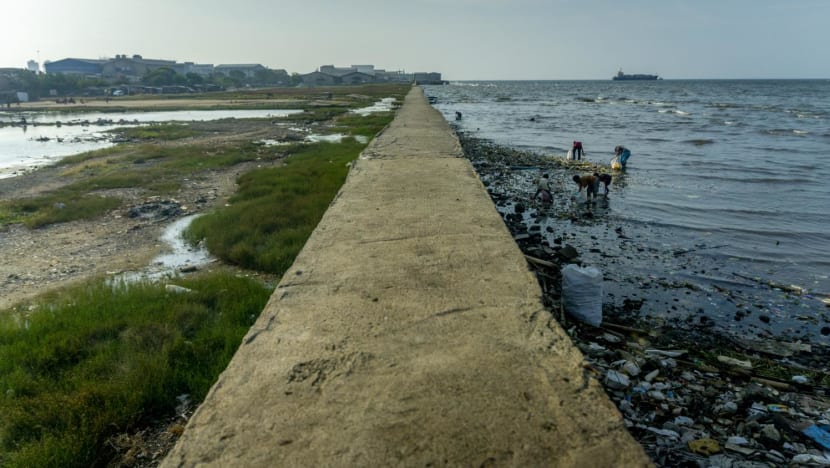 Heri Andreas, an expert on Geodesy – the study of how the Earth's geometry changes over time – said: "As a result, people are digging deeper and deeper to reach underground aquifers."
He said that in the past, people were only extracting water from what is known as unconfined aquifers, or subterranean water sources that are closer to the surface.
"Unconfined aquifers have atmospheric pressure so extracting them will not affect land subsidence much," he said.
"However, Jakartans today are extracting the deeper confined aquifers as the shallower ones have already been depleted."
Because confined aquifers have greater water pressure that pushes the soil above it and keeps it in place, extracting water from these aquifers would cause the ground to subside. Once the land sinks, the process is irreversible.
CITY GOVERNMENT IDENTIFIES SOLUTIONS
The city government is cognisant that this problem has to be tackled quickly.
Muslim Muin, a hydrodynamics expert and advisor to Jakarta governor Anies Baswedan said that the authorities are trying to mitigate the problem by building vertical drains.
"If each house is equipped with a vertical drain, a 100 sq m house can absorb 300 cubic metres of rainwater per year. And storing the water underground prevents it from evaporating. If that much water is absorbed, what's the problem if people are extracting just a bit?," he told CNA.
The Jakarta government has so far built 72,000 vertical drains across the city and Muin claimed that land subsidence has slowed in areas where such drains are present.
Tarigan of the water resource agency added that a regulation is in place to limit the use of groundwater.
The 1998 regulation stipulates that residents must secure a permit before they can extract groundwater. However, compliance is often an issue.
"We will start enforcing this regulation but we will do so gradually in areas where people already have access to piped water. We will sanction them so people will switch to piped water," she said.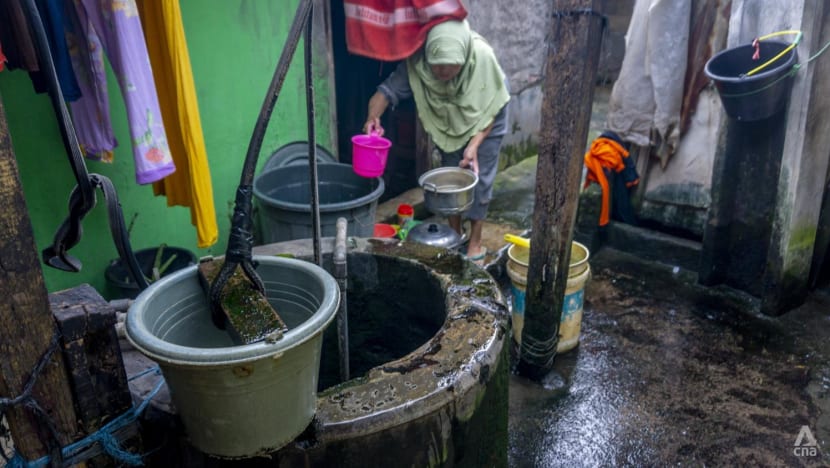 Starting next year, the city will bar the use of groundwater in nine commercial districts.
"These areas are fully covered by our piped water network and they will become zero groundwater extraction zones. We will start with these areas and continue to expand this policy to other areas," she said.
However, geodesy expert Andreas said the government should focus on finding a reliable alternative to groundwater extraction first.
"The responsibility to supply water rests on the government. It is written in our Constitution. The government must provide residents with a viable alternative. If the government cannot do that, then how are they supposed to stop people from extracting groundwater?" he said.
Editor's note: An earlier version of this article wrote that a 100 sq m house fitted with a vertical drain can absorb 3,650 cubic metres of rainwater per year. The hydrodynamics expert who was interviewed has clarified that such houses can absorb 300 cubic metres of rainwater per year.