Fighting fire with fire: Jakarta police combat illegal motorcycle racing by staging legal events
CNA's Nivell Rayda looks into the world of illegal motorcycle racing on the streets of Jakarta, and how the authorities are trying to stamp out the problem.
JAKARTA: The race track was alive with the cheers of spectators and the ear splitting sound of revving engines as racers in heavily modified scooters competed against each other.
It had been drizzling all morning, leaving the asphalt track somewhat slippery. But 33-year-old Aden Lintar was undeterred as he rode across the finish line and left his competitors in the dust.
Lintar is an experienced racer and he was very familiar with the 500m stretch of the Jakarta street where the event was held in late January, having raced there numerous times.
The only difference was that this time, he was donning a proper racing suit decked with logos of the company sponsoring him, instead of a pair of worn out jeans and a hoodie jacket. And unlike his previous races, he did not have to worry about being caught by the police.
Up until a few years ago, Lintar used to race illegally on the streets of Jakarta and the surrounding suburbs. Since he was in seventh grade, he had been racing his motorbike for money nearly every weekend, often in the dead of night to avoid the authorities.
He said he lost count of the number of times he was arrested. "We knew that we were breaking the law. We knew we were (racing) illegally," he told CNA.
"Why illegal racing exists is because there are no facilities," Lintar explained, adding that during his illegal racing days, there were hardly any places and events where motorcycle enthusiasts like him could compete safely.
In an attempt to curb illegal motorcycle street racing, the Jakarta Metro Police has been staging formal races since last year. A late January event was the fifth staged by the Jakarta police, attracting more than 1,000 participants, the majority of whom were former street racers like Lintar.
Meanwhile, several municipal governments are starting to emulate the Jakarta police's move and stage their own formal racing events to tackle the problem in their respective cities.
"I prefer competing in formal races because they are safer. We don't have to worry about getting arrested or running into incoming traffic or pedestrians crossing the streets," Lintar said.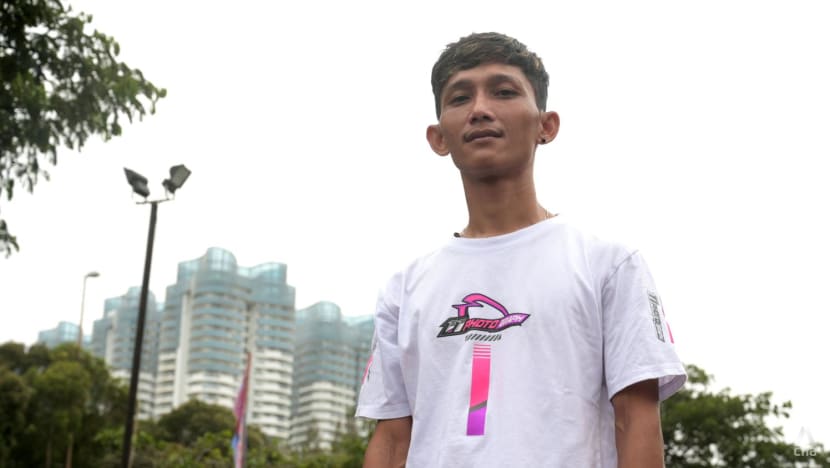 RISKY BUSINESS
Jakarta's traffic police director Latif Usman told CNA that there are at least 39 locations where illegal street races often occur and they are the focus of regular police patrols. The frequency of such races, he claimed, has been declining since formal events were staged more regularly.
"These (illegal) racers are endangering their own lives and ordinary motorists and pedestrians," the police senior commissioner said, adding that since they were held in secret, it is hard to put a number on the times these races ended in fatalities or accidents.
Former street racer Okky Ananda told CNA that since there are virtually no rules, illegal races are much riskier than legal ones. "Three of these people are dead now," Ananda said while showing a photograph of him and four friends participating in an illegal race.
Participants of an illegal race rarely don any safety gear, Ananda said, adding that some do not even bother to wear a helmet. Then there is the risk of hitting other vehicles or pedestrians.
Sometimes racers also cheat by intentionally kicking or ramming their motorbikes to get their opponents to lose their balance and fall. "None of this would happen during a legal race," he said.
The 23-year-old has been racing since he was in fourth grade and over the years he has had five major accidents. "The left side of my body is like Robocop. It's all metal and pins," Ananda quipped.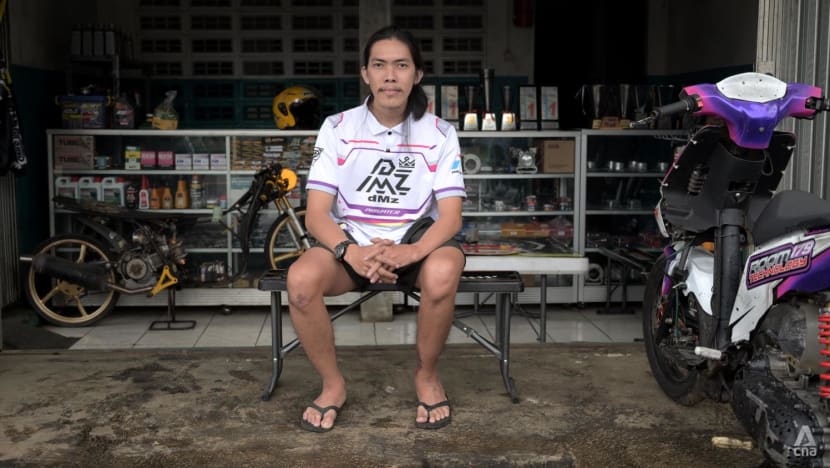 His last accident happened in late 2021, when he lost control of his motorcycle and skidded off the tarmac before slamming into a concrete wall. He suffered several fractures and had to be hospitalised for weeks.
Ananda, who now walks with a limp, never raced again since his last accident. Since then, he opened his own motorcycle shop and currently manages a team which competes in formal races.
PROBLEM HAS NOT BEEN ERADICATED
Aside from staging formal races, the police are also increasing patrols in major streets across Jakarta, closely watching motorcycle groups as well as encouraging residents to blow the whistle on planned illegal races. But this does not mean that the problem has been eradicated.
Anecdotally, former street racers such as Ade Andrian said that there seems to be fewer illegal races for now. "It is not like before. Every Saturday night, (a given) street would be occupied by dozens of motorcyclists eager to race each other (in the past)," he told CNA.
But Andrian said there are still instances of illegal races being staged on the streets, although they now involve a very limited number of participants to avoid police detection. "But the ones involving huge crowds of racers are rare nowadays," the 23-year-old said.
Former street racer Ananda also said that illegal races are still being held, particularly head-to-head races involving two rival teams.
"Social media is exacerbating the problem. Even after I went legit, people still leave comments or slip me a DM saying 'that's a cool looking bike, bet you can't beat mine' and challenge me to an illegal race," he said, referring to the direct messaging feature of his social media account.
"I just ignore them. My illegal racing days are behind me now."
Ananda said illegal races still have their appeal, as they offer an instant adrenaline rush for novice riders. For the more experienced ones, such races are a chance to earn a substantial amount of money through bets.
"When it comes to money, illegal racing is more lucrative. In all the (legal) races that we've been in, the prize money never exceeded 5 million rupiah (US$325). During my illegal racing days, I could easily pocket 40 to 60 million (rupiah) for a single win," he recounted.
But participating in legal races has its own advantages: Bringing much needed exposure to his newly established shop. "I have customers from as far away as Central Java (province). All that because we keep winning (the legal) races," Ananda said.
Meanwhile, Andrian, who had been racing since he was in seventh grade, said legal races have allowed him to have a steady income. He is now employed by a racing team which pays him each time he races as well as a bonus if he wins.
"In illegal races, you can win big but you can also lose big. That is not a good way to make a living if I want to one day support a family," he said.
MORE FACILITIES NEEDED
Motorcycle racer Lintar said that not everyone dreams of signing a contract with a racing team and becoming a professional racer.
"There are motorcycle enthusiasts who just want to see how fast their bikes can go. Some just want that adrenaline rush. That's why some still choose illegal racing over legal ones. We also need to facilitate them," he said.
Currently, the Greater Jakarta area only has one racing circuit in Sentul, nearly 50km south from the city centre. The Sentul International Circuit is open to the public twice a week.
"It is too far away for some people. It doesn't have to be as big (as Sentul) but if every city has (a drag circuit), I am convinced there won't be any illegal races," he said.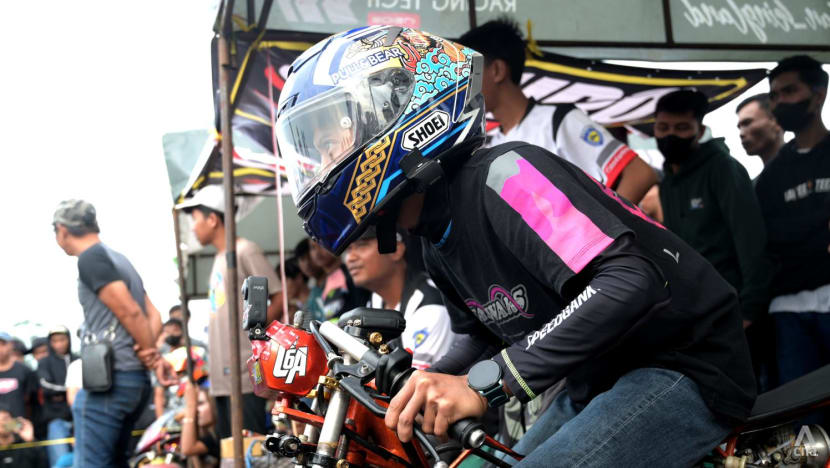 Meanwhile, former street racer Ananda said organisers should also make formal racing events more lucrative and yet affordable for those who want to participate. "Right now, the registration fee is too hefty for a lot of people and the prize money is not that big," he said.
Jakarta police chief Fadil Imran has noted these concerns and says that he is currently working on finding solutions.
In his opening remarks at the late January racing event, Imran promised to stage similar races more regularly. The police general added that he was also in talks with other government institutions and organisations to build Jakarta's own racing circuit which he said would be accessible to all automotive enthusiasts.
"It is my dream that in 2023, there will be a dedicated facility, a drag racing circuit in our capital city … so that as days go by we can further eliminate illegal races," the Jakarta police chief said.
"Hopefully, (similar races) can be staged at every regency and city (across Indonesia) and become a regular programme."