'It happened almost overnight': Pandemic revives passion in model car racing among Indonesia hobbyists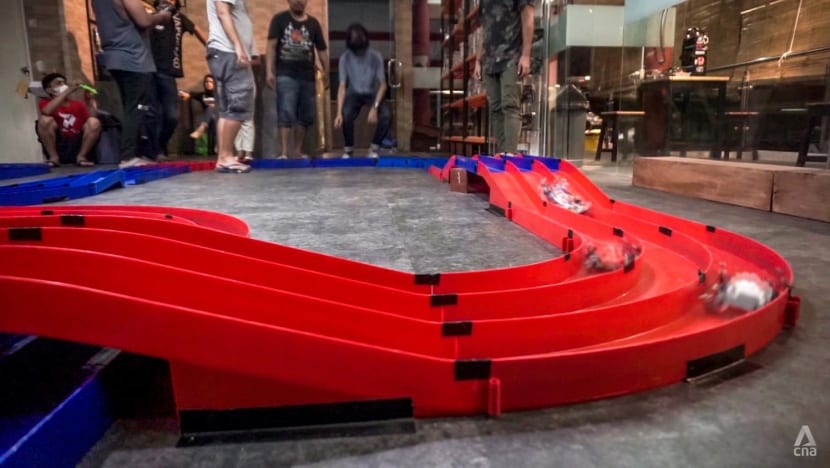 JAKARTA: The four-wheel drive cars raced down the straightway and headed into a jump as their electric motors made a high-pitched buzzing sound. For a split second, the three cars were in the air.
But there was a sharp right-hand corner up ahead, just centimetres from where the cars were supposed to land. One of the cars failed to get a good landing, tumbled down the track nose first and flipped into the air before crashing.
The car's owner, Al Sulthany was gutted, screaming in disbelief that his prized car had crashed so early in the race. But the 32-year-old was unhurt, except for his now bruised ego while the car had only sustained minimal damage. After a few adjustments, the car was racing again.
Sulthany is a model car racing enthusiast who has been racing his battery-powered plastic car, known as Mini 4WD, almost everyday for the last one year. His favourite racing spot is inside a store located on the second story of a petrol station in the outskirts of Indonesian capital Jakarta.
The store, which only opened last month, was buzzing with the sound of tiny electric motors and model cars bouncing and bumping down the track. 
The Mini 4WD shop is also filled with the cheers of players who successfully defeated their opponents or the grunts and frustration of those who saw their cars crashing before they could complete a full race.
At the store's balcony were dozens of players making tiny adjustments to their cars or adding metal, plastic or carbon fibre parts and accessories which they think might help their cars run faster and more smoothly.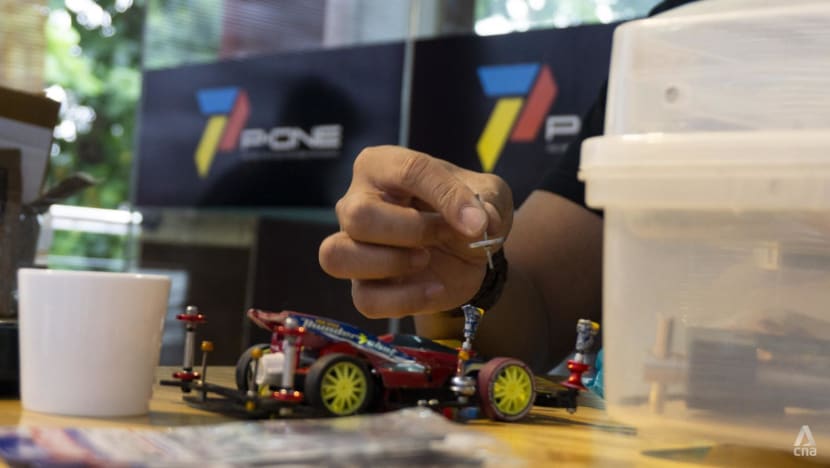 "That is the fun of it," Sulthany told CNA of his Mini 4WD racing hobby.
"When you race your car only to see it losing or crashing, it intrigues you. It tests your creativity and skills. You make tiny adjustments. You add or take away parts. And when you finally make your car faster and more stable than anybody else, that is the best feeling in the world."      
Mini 4WD, introduced by Japanese model kit maker Tamiya, first became popular in Indonesia in the early 1990s but declined in popularity with the proliferation of cheap, low-quality models and died off completely before the start of the millennium.
Only a handful of die-hard enthusiasts could still be found playing with Mini 4WD in the 2000s and the 2010s.
Then the COVID-19 pandemic happened and the subsequent lockdowns that followed inspired many to find a new hobby.
"Many people turned to Mini 4WD, especially millennials who grew up playing Mini 4WD as children," Bey Sastramihardja, the co-owner of Mini 4WD shop Bosku Garage, told CNA.
"It happened almost overnight. Suddenly, the price of a Mini 4WD kit skyrocketed. There was a period when racing tracks were completely sold out," the 36-year-old continued.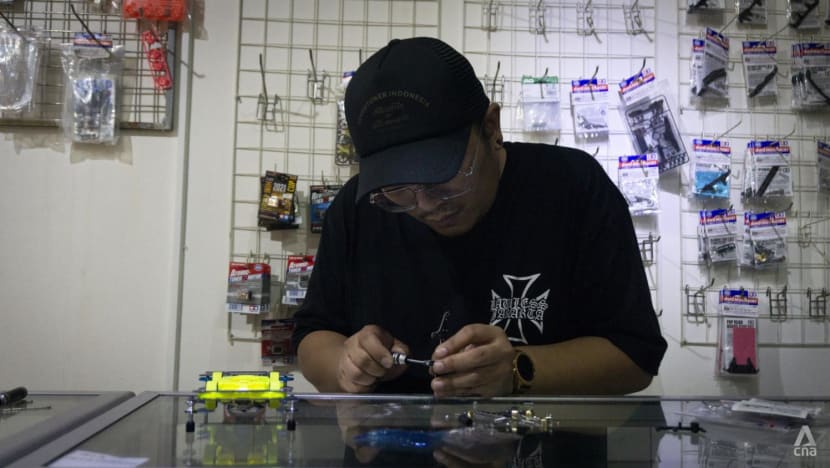 "Parents work together to build (a Mini 4WD kit) with their kids or with their friends. Clubs are cropping up as well as a circle of friends who decided to play (Mini 4WD) together… And then musicians with huge social media followers started to play. Next thing you know (Mini 4WD) was booming all over Indonesia."
Looking ahead, hobbyists are hoping that this surge in interest could pave the way for Mini 4WD to become a professional sport in the future.
NOSTALGIA FACTOR
Bimo Pradikto, a 33-year-old businessman, said as a boy he could only afford to buy basic Mini 4WD kits while his more affluent friends were able to buy parts and upgrades which helped them to win races and competitions.
"I played as a kid but my allowance was small. Most of the time, I would only watch as other kids play," he told CNA. 
"Now I have my own business and my own money, so during lockdown I thought: 'why don't I play again?' You can say it was payback."     
Pradikto said he eventually bought several model cars and accessories and built his own track at home. "I was so hooked, I decided to build my own team and participated in races," he recounted.
Sulthany said he also played Mini 4WD as a kid but gave up on his hobby when entered junior high school. The freelance photographer picked up his model cars again during the pandemic, because he had more spare time as events and weddings were postponed or called off entirely during lockdowns.
"I watched YouTube of people playing (Mini 4WD). It just so happened I still have (Mini 4WD) from when I was little. I rebuilt them and I was hooked," he said.
Graphic designer Doli Tobing said he was initially hesitant to pick up his childhood hobby again.
The 43-year-old last played with Mini 4WD around 30-years ago and he was overwhelmed when he tried to keep up with decades of technological advances and breakthroughs in the circuit.
"I was shocked with how far (Mini 4WD) has come since the last time I played it," he told CNA adding that there are now new models, configurations and accessories which were not around in the 1990s.
But Tobing said he was intrigued to know more, meeting up with old friends who played Mini 4WD as adults because of the pandemic. He often met up with them at hobby shops and Mini 4WD tracks while his 9-year-old son tagged along.
"It was my son who said that he wanted to get his hands on (Mini 4WD)," he said. Eventually, both father and son were hooked.
GOOD BUSINESS
The boom proved to be good business for Fajar Aditya, who co-owns Bosku Garage Mini 4WD shop along with Sastramihardja.
As someone who has been playing Mini 4WD regularly since 2014 and won numerous national and international championships, people have been reaching out to the 36-year-old for his knowledge and skills in building competition ready cars.
"Business has grown two or three-fold since the pandemic began," Aditya told CNA.
"When I was starting out in 2014, there were maybe around 20 people who regularly played (Mini 4WD). There was only one place in the whole of South Jakarta where you could play (Mini 4WD)," he said.
"Today, almost every hangout area like those in South Jakarta have their own communities and small clubs. The growth has been exponential."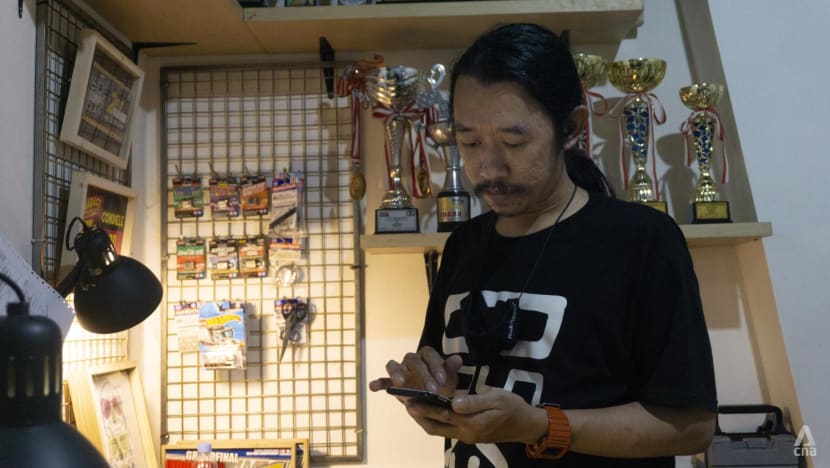 Aditya said a client can spend anywhere from 1.5 million rupiah (US$ 105) to 7.5 million rupiah (US$ 525) to build competition ready cars.
The Mini 4WD shop owner believes that the industry would continue to grow as more places began building their own Mini 4WD tracks and competitions are being held more regularly.
"If it weren't for these competitions (Mini 4WD) would not be as big as it is today. It would just be another toy that people play at home or a collection sitting at someone's shelves," he opined.
"What draws people to playing (Mini 4WD) is the competitiveness involved. It pushes our creativity. We get to explore our wildest imagination. That's what I like about it."
Sastramihardja, the other co-owner, said sponsors are also taking notice of Mini 4WD's comeback.
"Even an informal race between two influencers can be watched by more than 20,000 viewers on Instagram and they generate a lot of money from big sponsors," he said.
The enthusiast also noted that with more and more companies willing to sponsor Mini 4WD events and competitions, organisers are promising bigger and bigger prize money which in turn attracts bigger crowds.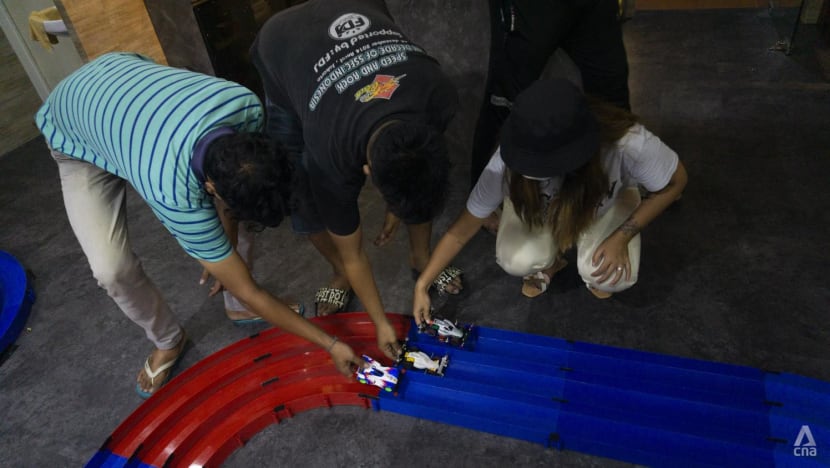 Businessman Pradikto, who is also a car rally driver and a racing organiser, said the prize money offered by Mini 4WD competitions have been so lucrative that more and more real car hobbyists like himself are turning to Mini 4WD racing.
"(Real car) rallies cost a lot of money. You spend a lot of money to build the cars and have them shipped. Organisers also spend a lot of money to stage the event, obtain permits, buy insurance and so on. And the prize money is small," he said.
Pradikto noted that rallies for real cars are for the joy and pride of the hobbyists and they are not likely to break even or make a living from participating in competitions. 
He added that this was not the case with model car rallies.  
"In (Mini 4WD) you spend a relatively small amount of money and the prize money is bigger than a real-life rally. You have (Mini 4WD) competitions with a total prize of 50 million (US$3,499), even 100 million (US$6,998)."  
PAVING THE WAY FOR THE FUTURE
Mini 4WD's sudden popularity also attracted the attention of the Indonesian Motor Association (IMI) which in September 2021 officially recognised Mini 4WD as part of the sporting organisation's motorsport gaming division.
Before this, according to Pradikto, anyone could stage their own competition and call it a national championship with no standard ules and regulations.
At the same time, big firms were also hesitant to sponsor events because of the absence of a formal organisation managing them, he said.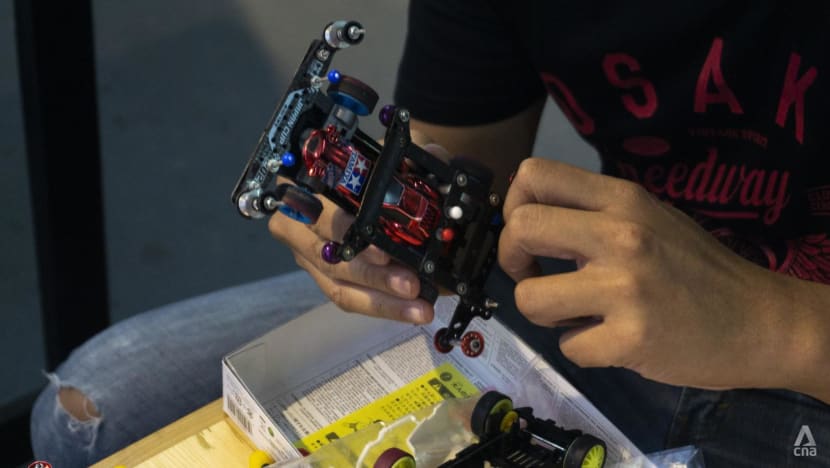 Pradikto is a director with IMI and has lobbied his organisation to include Mini 4WD racing into the sporting organisation.
He said Mini 4WD racing can be run more professionally and no longer as a hobby but instead as an actual sport.
"Everything will be more organised. We will have an official racing calendar. Uniform (competition) regulations. Competitions will also have racing directors and racing committees. We can create an industry," he added. 
The hobby shop co-owner Sastramihardja believed that Mini 4WD could flourish with the help of a sporting organisation like IMI.
He said that the hobby went into decline (in the late 1990s) because Mini 4WD did not have an organisation to run it professionally.
"Everyone was doing their own thing. This time it has to be different," he said, adding that Mini 4WD has the potential to be professionally run like e-sports.
"In the case of e-sports, parents would support their children playing video games all the time at internet cafes. People can also make a decent living through e-sports, through playing (video) games," said Sastramihardja. 
"We are gearing towards that future. E-sports has done it. We are striving to emulate that for Mini 4WD," he added.   
Read this story in Bahasa Indonesia here.