Indonesia wants to bring back tourists; no rush to move to endemic state, says Jokowi
Indonesia and Singapore are set to discuss a travel corridor arrangement in the upcoming leaders' retreat.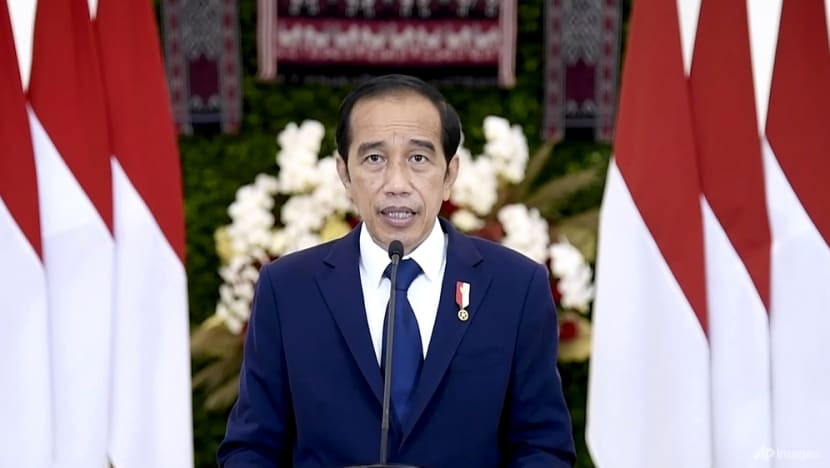 LOMBOK: Dressed in a black racing outfit, Indonesian President Joko Widodo revved his modified Kawasaki W175 motorbike at the starting point of the Mandalika International Street Circuit. 
He had waited for more than an hour for the rain to stop, and he was raring to test the 4.3km race track in Lombok, West Nusa Tenggara province.
On Friday (Nov 12), Mr Widodo launched the purpose-built street track which will be the venue for the upcoming World Superbike Championships next week, and the MotoGP World Championship Grand Prix in March 2022.
Indonesia hopes the race events can help revive the country's tourism industry which has been battered by COVID-19.
"Mandalika is a new destination and we want to promote it so that the whole world knows about Mandalika. We hope this can start to stimulate tourists to come to Indonesia, and we hope this can be a new point of economic growth for Lombok," said the Indonesian leader in an exclusive interview with CNA.
Race organisers have allocated 25,000 tickets for the World Superbike event, and Mr Widodo is expecting spectators not only from Indonesia, but also internationally.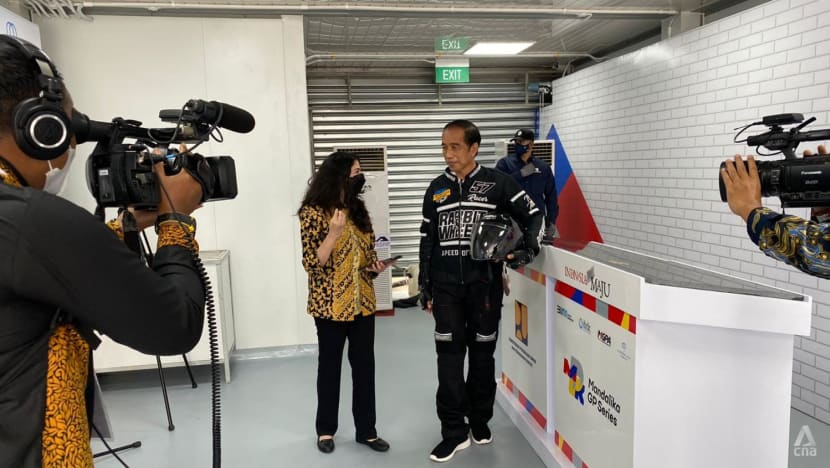 Last month, Indonesia reopened its borders to 19 selected countries, offering a ray of hope to the tourism sector. More efforts to ease border restrictions are expected, as COVID-19 cases come under control in Indonesia.
Mr Widodo said he will discuss with Singapore Prime Minister Lee Hsien Loong how and when the two countries can reopen borders when they meet later this year.
Both leaders are expected to meet in Bintan, Riau Islands province for a Leaders' Retreat.
Jokowi, as the Indonesian president is popularly known, last met Mr Lee in Singapore on October 8, 2019 for the annual meeting traditionally held to foster bilateral relations. They have not had a retreat since due to the pandemic.
"We will discuss a travel corridor arrangement which we hope can be opened, but not everywhere in Indonesia," he said.
"Maybe, (between) Bintan and Singapore, or Bali and Singapore, Jakarta and Singapore, for example. But again, all these have to be gradual," said Mr Widodo. 
On Wednesday, Indonesia and Malaysia agreed to start a travel corridor arrangement between the two countries, with the details to be firmed up later.
NO RUSH TO MOVE FROM PANDEMIC TO ENDEMIC STATE 
On Oct 25, Indonesia saw it's COVID-19 risk status lowered to level one by the United States Centre for Disease Control and Prevention (CDC). 
Despite this, Mr Widodo said he is concerned about the possibility of a new spike in the caseload after the year-end holidays.
This is because Indonesia's vaccination rate is not enough to prevent a new spike in cases, he told CNA.
"Vaccinations in Indonesia, the first dose is still at 61 per cent. That's still not enough," he said.
"For the total number of doses, it's already 211 million that have been administered. But, that is also not enough. So, because of that, (vaccinations) should be complemented by strict COVID-19 health protocols."
Mr Widodo added that the country will not be in a rush to move from a pandemic to an endemic state.
The World Health Organisation defines the endemic stage as a disease outbreak that is consistently present but limited to particular regions, making the spread of the disease predictable.
The government is preparing a strategy on how to live with COVID-19.
Mr Widodo had ordered health authorities to devise a strategy to coexist with COVID-19, focusing on implementation of health protocols through the nationwide use of PeduliLindungi, which is a contact tracing application.
There will also be more targeted testing for epidemiological purposes, and a treatment strategy aimed at reducing fatalities from COVID-19.
"All will be done in stages. We, Indonesia, do not want to rush towards an endemic state. We want to carefully plan. There is a transition from pandemic to endemic. We will move to an endemic situation once we are really ready," said Mr Widodo.