Meet the Indonesian woman who dedicates her life to saving South Kalimantan's proboscis monkeys
Proboscis monkeys have been designated as the mascot of Indonesia's South Kalimantan province. But their numbers are dwindling.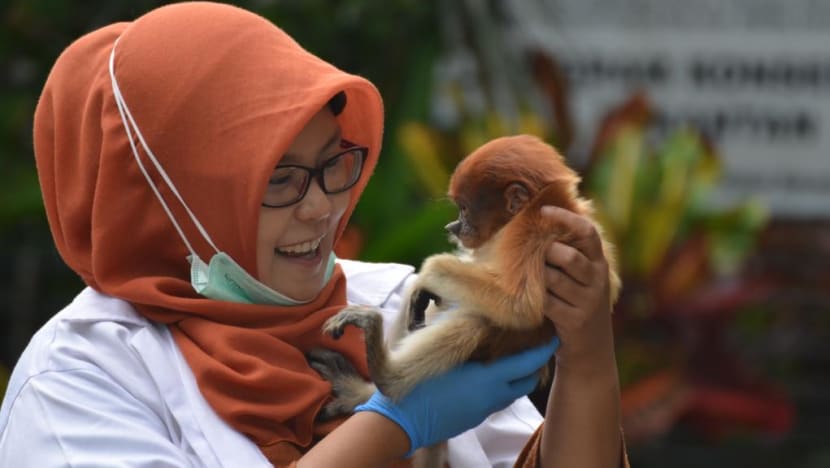 BANJARMASIN: With a huge nose and reddish-brown skin, the proboscis monkey is not everyone's favourite animal.
But Indonesian Amalia Rezeki, conservationist and founder of the friends of proboscis monkey voluntary group, has made it her mission to save the endemic species.
The proboscis monkey is native to Borneo and scattered throughout all five of Indonesia's provinces on the island it calls Kalimantan.
However, it is in South Kalimantan, whose provincial mascot is the proboscis monkey, where the animals could in the past be found in large numbers. They thrived around the mangroves, swamps and coastal forests.
While there are several conservation centres for endangered animals in South Kalimantan, they mostly take care of other animals like orangutans, said Rezeki.
"That is why we are focusing on the proboscis monkeys, and also because I am a native of South Kalimantan," she told CNA.
According to the International Union for Conservation of Nature's Red List of Threatened Species, the proboscis monkey is classified as endangered. 
Its population has decreased by more than 50 per cent in the past 50 years due to ongoing habitat loss and hunting. 
It is estimated there are less than 20,000 proboscis monkeys in the world, surviving mainly on leaves, mangroves and seeds.
According to Rezeki, there were only about 3,200 proboscis monkeys in South Kalimantan two years ago, compared to about 5,000 in 2013.
Concerned with the monkey's declining numbers, she founded the volunteer group Sahabat Bekantan Indonesia (SBI) in 2013 while studying biology for her master's degree. 
Sahabat Bekantan means friends of proboscis monkeys. Bekantan is the Indonesian name for the primate. 
SBI's goal is to save proboscis monkeys from going extinct. 
"It is our responsibility as citizens. We know there are many foreigners in NGOs (Non-governmental organisations helping in the conservation efforts). 
However, it is our (Indonesia's) biodiversity, so we should do something," said Rezeki.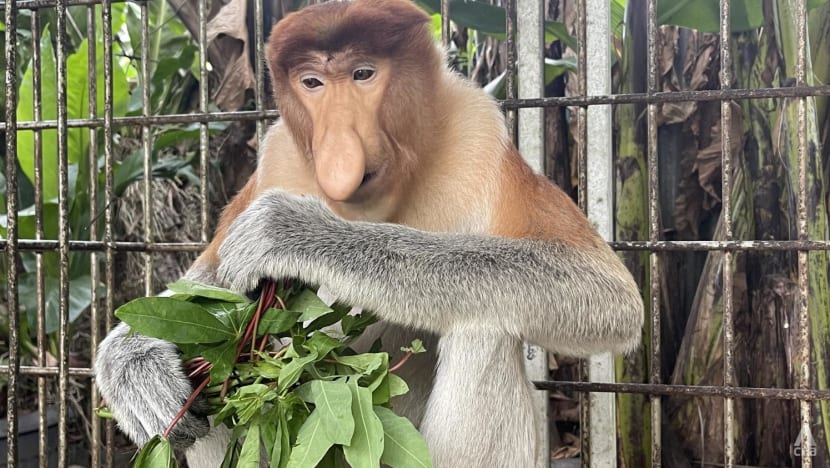 DEFORESTATION AND CRIME
When SBI first started, Rezeki and other volunteers had to use their own money to run their programmes. Today, the group operates as a foundation.
It has a full time staff of 20 people and up to 200 volunteers who help out at the foundation periodically.
Programmes run by SBI include educating the public about the monkey through visits to schools, short courses, internships and volunteering programmes.
The group also has a proboscis monkey rescue centre in Banjarmasin, the former capital of South Kalimantan.
Speaking to CNA at SBI's Banjarmasin rescue centre, Rezeki said that the centre helps to rehabilitate proboscis monkeys rescued from forest fires, illegal trade, and conflict with local population who live near forested areas. 
Since 2015, SBI's volunteers have handled nearly 50 such cases, usually through tip-offs from the public when the monkeys needed to be rescued.
According to Rezeki, there were instances when the monkeys were hit by vehicles, poisoned by local indigenous people who believe their meat is good to consume or to be rescued from people who keep the animal as pets.
"There are many cases. Some suffered from burns, some from physical injuries and trauma."
If the injury is not too severe, they will be treated at SBI's rescue centre by a volunteer vet and then released to the wild in a few months, she said.
But when the wound is too severe, they will be treated at an animal clinic.
"Once there was a monkey with a gunshot wound and 11 bullets on his body. So there are various conflicts.
"We also try to educate people that if you keep a monkey as a pet, it is illegal and they can be imprisoned," Rezeki said.
At the moment, there are four proboscis monkeys at SBI, reflecting a lower number of incidents involving the species. 
"So it is a good indicator because once there were 14 proboscis monkeys here being treated," she said.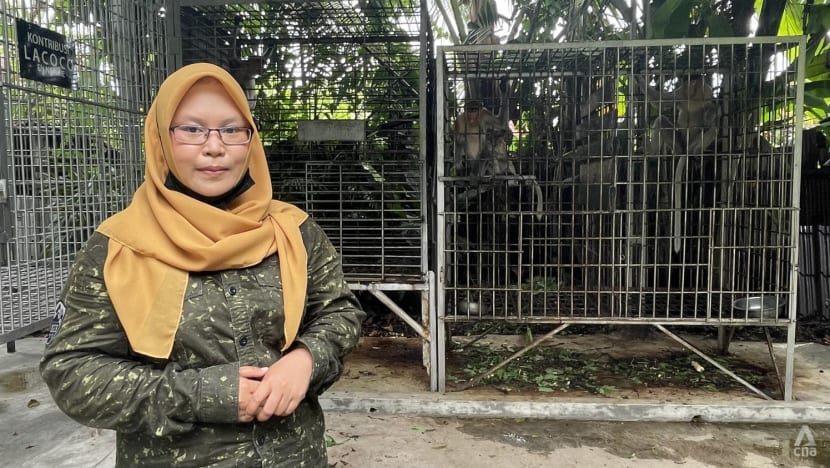 WELCOMING A BABY
In March, the rescue centre even welcomed the arrival of Hanny, a baby proboscis monkey whose name was given by Minister of Environment and Forestry Siti Nurbaya Bakar. This was a rare event at the centre.
Hanny's parents Pedro and Mimin are both being treated at the centre after being kept as pets by locals in separate places.
"Coincidentally we evacuated an adult male monkey and a female adult. They got together, then both had a baby," said Rezeki.
According to Rezeki, this showed that the centre helped to reduce the trauma experienced by both monkeys, so that they did not feel too stressful to have a baby. 
The family of three is now still there with another rescued proboscis monkey, not part of their family.
There are 12 conservation centres for endangered animals in South Kalimantan but Rezeki believes the proboscis monkeys are still threatened because there are not enough shelters to protect them. 
"The threat to the proboscis monkey population comes from the change of land use, forest fires and others.
"So we are trying to protect the buffer zone here because the threat is very high," said Rezeki, who is now also a biology lecturer at Lambung Mangkurat University in Banjarmasin. 
She said that SBI has set up a research centre at Pulau Curiak, a small island in South Kalimantan, where they can release the monkeys into the rainforests.
When they first started the centre in 2018, there were only 14 proboscis monkeys there. Now, there are 33.
The group has also been restoring mangroves at Curiak island since 2015.
"The key to saving the proboscis monkeys is to save their habitats," she said.
Rezeki said that the group will try to restore any mangroves where they find proboscis monkeys in the wild.
"Our dream is that humans can live with proboscis monkeys. Don't let them be considered pests.
"Because many people think they are pests when they enter their garden, even though they are just passing through."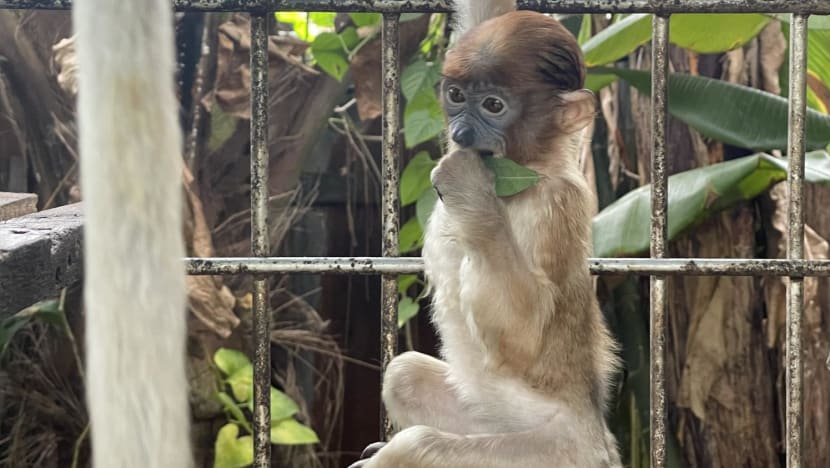 ECOTOURISM TO SUPPORT CONSERVATION
When the group realised that it was not sustainable to rely on their own pocket money to run their programmes, Rezeki and her team developed a proboscis monkey ecotourism programme in 2018.
Under the programme, three villages on Curiak island have been developed as tourist destinations which involve the participation of local villagers. 
As proboscis monkeys are sensitive to outsiders including foreign tourists, SBI limits the number of tourists to a maximum of 100 daily. 
Before the COVID-19 pandemic, there were many foreign tourists who were interested in learning about the monkeys, especially from Australia, Europe and the United States. 
But the programme had to be stopped due to the pandemic in 2020 and when all Indonesia's borders were closed.
When the borders reopened at the end of 2021, SBI decided to pick up where it left off. 
The proboscis monkey, scientifically named as Nasalis larvatus, is a unique creature known to be a prolific swimmer and can dive in the water. 
They are also believed to have many interesting ways of life, including a unique family system which is almost similar to humans, said Rezeki. 
"They have a babysitter system. So when a mother is busy, a younger female will help babysit the baby," she said.
According to the biologist, a proboscis monkey can live up to 30 years, grow up to around 75cm and weigh 25kg.
Rezeki, however, said there are many aspects of the proboscis monkey that need to be studied further.
She hopes that more people would show their concern for the fate of the monkeys and would want more efforts to be taken to protect the animals. 
This includes efforts to conserve their habitat and surroundings by protecting the environment as a whole.   
"We have to show that Indonesians also have great concern for the environment. 
Don't let other people label us as environment destroyers," said Rezeki.   
Read this story in Bahasa Indonesia here.