Indonesia's palm oil export ban beginning Apr 28 to include crude and refined products: Minister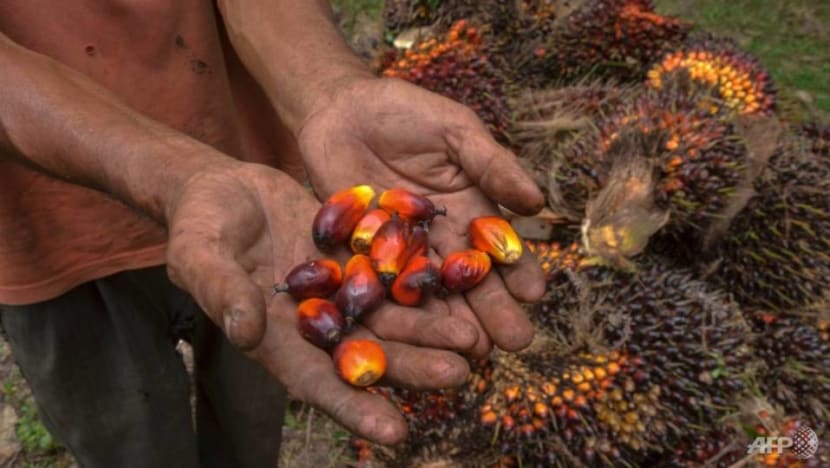 JAKARTA: Indonesia's ban on palm oil exports starting Thursday (Apr 28) will include crude as well as refined products, said coordinating minister for economic affairs Airlangga Hartarto. 
In a press conference on Wednesday evening, he said: "The policy extends to all products be it CPO (crude palm oil), RPO (refined palm oil), RBD (refined, bleached and deodorised) palm olein, POME (palm oil mill effluent) and used cooking oil."
The minister said the instruction came directly from President Joko Widodo after receiving "input and response from the public". 
"This policy ensures all CPO products to be dedicated entirely to ensure the availability of cooking oil at a price of 14,000 rupiah (US$0.97) per litre, particularly at traditional markets and for SMEs," he added.
"The president is committed in putting the people of Indonesia as the main priority for all government policies."
The export ban will last until the price of cooking oil in the country is below 14,000 rupiah per litre, said the minister. 
The Wednesday announcement contradicts earlier reports citing government officials that the export ban would be limited to RBD palm olein and not crude palm oil. RBD palm olein which has been processed is a key ingredient in cooking oil and is used in anything from snacks to ice cream.
On Tuesday, Mr Hartarto stated that the export ban for RBD palm olein will remain in place until the price of bulk cooking oil in Indonesia returns to 14,000 rupiah per litre.
In a separate press conference on Wednesday, Mr Widodo said he understood the consequences of the ban. 
"The ban will create adverse effects. It has the potential to decrease (palm oil) production … I understand the state needs taxes, needs revenue, needs state surplus. But fulfilling people's basic necessities is an important priority," he said.
"As the world's biggest producer of palm oil, it is ironic that we are experiencing a shortage of cooking oil. As president, I cannot allow that to happen. The scarcity has been happening for four months and the government has enacted a number of policies but (they) have not worked. 
"I ask all palm oil businesses to prioritise domestic needs and fulfil people's needs. If domestic needs are met, then I will surely repeal the export ban."
Global prices for crude palm oil have surged by more than 50 per cent since late last year, driven by uncertainty over supply of sunflower seed oil from Ukraine and Russia and the impact of a drought on South American soybeans which prompted manufacturers to turn to palm oil as an alternative. 
This created an incentive for palm oil manufacturers in Indonesia to boost exports, leading to scarcity back home.
In late January, Indonesia tried to control its export output by mandating all producers to sell at least 30 per cent of its palm oil products domestically. The government also introduced a price cap of 9,300 rupiah per litre of crude palm oil sold in Indonesia and set the maximum retail price for palm oil-based cooking oil at 14,000 rupiah per litre.
But enforcement issues and alleged hoarding by profiteers meant that Indonesians have continued to face cooking oil scarcity, with long queues observed in supermarkets and retail shops.
Last month, the government removed both price caps in a bid to incentivise the production of more cooking oil. While the move addressed the scarcity issue, the removal of the retail price cap resulted in cooking oil prices ballooning as much as 70 per cent. 
On Apr 22, Mr Widodo announced that there will be an export ban on palm oil from Apr 28, without mentioning details. 
The export ban has sent importing countries scrambling to find alternatives. Experts have predicted a surge in the prices of goods.