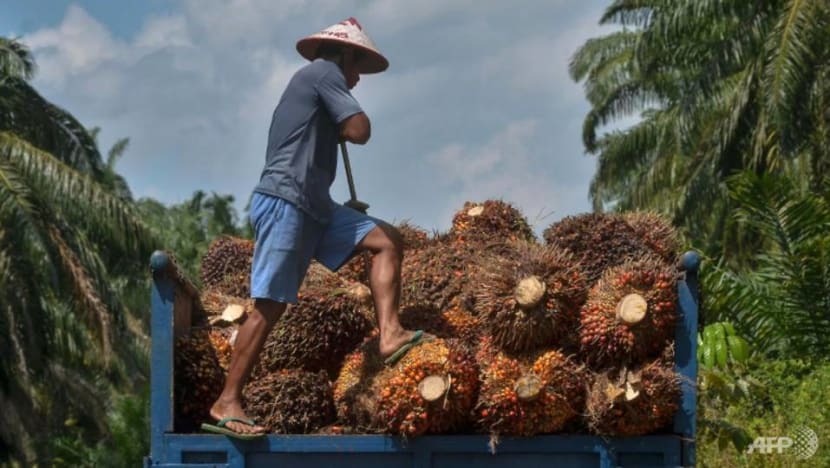 JAKARTA: In a bid to curb the surging prices of cooking oil domestically, Indonesian President Joko Widodo announced on Apr 22 that there will be an export ban on palm oil.
The Indonesian leader, who is known popularly as Jokowi, announced that the ban will take effect this Thursday, without mentioning details.
Subsequently, media reports wrote that the export ban would be limited to refined, bleached and deodorised (RBD) palm olein and not crude palm oil.
RBD palm olein which has been processed is a key ingredient in cooking oil and is used in anything from snacks to ice cream.
Experts interviewed by CNA said the announcement by the world's largest palm oil producer could have far reaching consequences both at home and globally.
Domestically, there is no guarantee that the prices of cooking oil will be brought down, they said. The move could also lead to fiscal pressure, given the significance of palm oil exports to the economy. 
As for global impacts, consumers will need to be prepared for the prices of palm oil - used in anything from cooking oil to cosmetics - to spiral, even as manufacturers race to find alternatives.
WHY THE BAN?
Global prices for crude palm oil have surged by more than 50 per cent since late last year, driven by uncertainty over supply of sunflower seed oil from Ukraine and Russia and the impact of a drought on South American soybeans which prompted manufacturers to turn to palm oil as an alternative.
This created an incentive for palm oil manufacturers in Indonesia to boost exports, leading to scarcity back home.
On Jan 27, Indonesia tried to control its export output by mandating all producers to sell at least 30 per cent of its palm oil products domestically. The government also introduced a price cap of 9,300 rupiah (US$0.64) per litre of crude palm oil sold in Indonesia and set the maximum retail price for palm oil-based cooking oil at 14,000 rupiah per litre.
But enforcement issues and alleged hoarding by profiteers meant that Indonesians have continued to face cooking oil scarcity, with long queues observed in supermarkets and retail shops.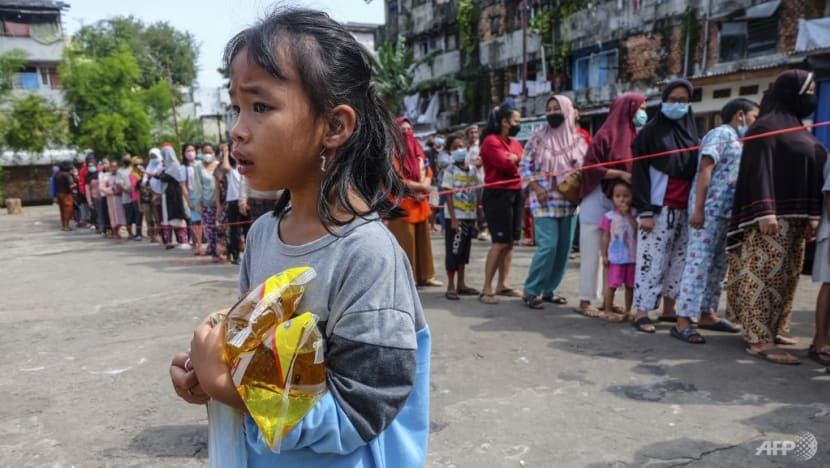 On Mar 17, the Indonesian government removed both price caps in a bid to incentivise the production of more cooking oil. While the move addressed the scarcity issue, the removal of the retail price cap resulted in cooking oil prices ballooning as much as 70 per cent. 
The soaring prices of cooking oil and other necessities is among the issues raised by protesters as they staged several rallies against the government this month.
With the Muslim holiday of Idul Fitri approaching next week, demand for cooking oil is expected to soar.
In a press conference on Tuesday evening, coordinating minister for economic affairs Airlangga Hartarto said that the export ban for RBD palm olein will remain in place until the price of bulk cooking oil in Indonesia returns to 14,000 rupiah per litre.
Commenting on the export ban, Mr Bhima Yudhistira, the director of Jakarta-based think tank Centre for Economic and Law Studies (CELIOS) told CNA: "Jokowi is trying to show the public that the government is not afraid to take drastic actions."
He added: "Jokowi is frustrated that his previous policies have failed to address the shortage but this latest policy is a bit of an overkill."
Meanwhile, the Indonesian Palm Oil Association (GAPKI) said that it will honour the ban but called for the decision to be reconsidered.
"We support every decision the government makes. We will carry out the policy as instructed by the president," GAPKI spokesman Tofan Mahdi said in response to CNA's queries.
"We ask all stakeholders to monitor the impact of the policy. If the policy carries a negative impact towards the continuation of the palm oil industry, we hope the government will evaluate the said policy."
DOMESTIC IMPLICATIONS
According to GAPKI figures, Indonesia produced 51.3 million tonnes of crude and processed palm oil in 2021. Out of this, 34.2 million tonnes was exported.
News of the export ban has caused prices of freshly picked palm oil fruits to slump by between 30 and 50 per cent, according to the Indonesian Farmers Union (SPI).
Public policy expert Agus Pambagio told CNA: "If a ban is in place, there will be an oversupply of palm oil in Indonesia."
"Refineries will be full and producers won't know what to do with the excess supply. Which is why most (producers) are now refraining from buying (palm oil fruits) from farmers."
Mr Pambagio, who is also the co-founder of lobbying firm PH&H, said the export ban will have an adverse effect on 2.7 million small farmers who supply 40 per cent of Indonesia's palm oil output. PH&H has in the past advocated for the interests of palm oil producers.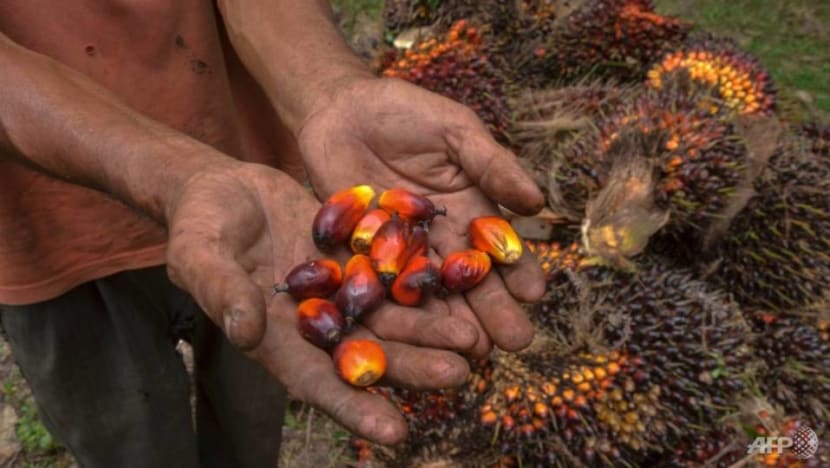 Experts are also worried about the fiscal implications.
According to statistics company Statista, Indonesia's palm oil exports was worth US$28.52 billion in 2021, 44 per cent of which came from refined palm olein.
"We stand to lose billions of dollars each month. The fiscal implication to our non-tax revenue, the effects it will have on our currency are something that the government must think about," Mr Yudhistira, the economist said.
Mr Ahmad Heri Firdaus, a researcher from think-tank Institute for Development of Economics and Finance (INDEF) questioned the ban's effectiveness in addressing Indonesia's cooking oil price surge domestically.
"Palm oil producers will ask: 'what are the incentives for converting all these palm oil surpluses into cooking oil?'. If they don't feel that they will make a profit, they would rather wait and leave (the surpluses) idle until the moratorium ends or refrain from buying from farmers," Mr Firdaus told CNA.
"There is no guarantee that (the price of) cooking oil will return to the way it was."
GLOBAL IMPACTS
According to Refinitiv Eikon data, the top export destinations for Indonesia's palm oil last year included India, Pakistan and Spain.
News of the export ban has sent these countries scrambling to find alternatives. With Indonesia supplying around 56 per cent of the global palm oil demand, finding a replacement quickly might be a tall order.
Malaysia is the world's second largest palm oil producer, accounting for 34.3 per cent of global exports.
Malaysia plantation industries and commodities minister Zuraida Kamaruddin said that Malaysia should be able to increase its production of palm oil with the reopening of the country's borders.
However, industry players have warned that a prolonged labour shortage could hamper Malaysia's output. 
"For palm oil importing countries, a surge in prices of goods would be inevitable. These price hikes could even lead to inflation," said Mr Yudhistira, the economist.
"Some of these countries might even try to retaliate by cutting back or even stopping their exports to Indonesia if the ban drags on for a long time."
Mr Firdaus, the INDEF researcher warned that the ban could damage Indonesia's reputation.
"The ban will affect international confidence towards Indonesia. Other countries will seek for a more reliable source of palm oil or look for alternative in other edible oils," he said, adding that the ban should be revoked.
"The step needs to be reconsidered. The goal is to have enough (palm oil) for domestic needs but the steps taken have wide implications globally and domestically."