Jokowi's 'meddling' admission in Indonesia's presidential polls raises political issues but not against the law
President Joko Widodo's second and last term in office will end in October 2024.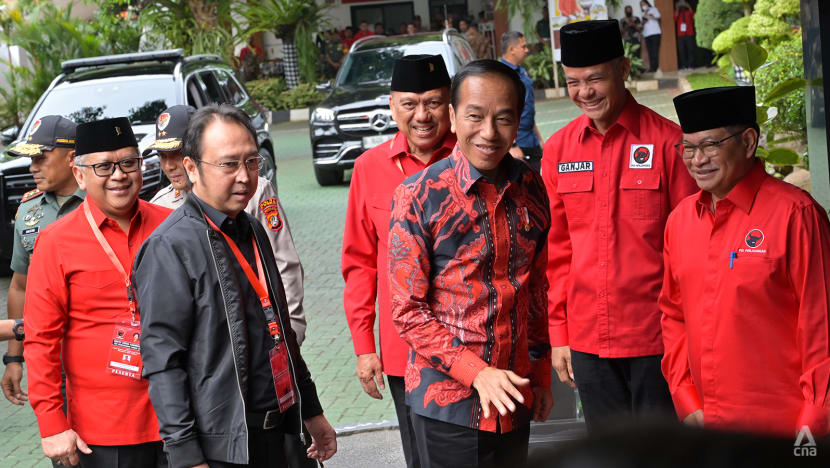 JAKARTA: Indonesia's President Joko Widodo's recent admission that he will meddle in the upcoming presidential election next year has drawn brickbats, with observers saying it raises political issues for the head of state to do so.  
Amid claims that he may not remain impartial, Mr Widodo - or Jokowi as he is more popularly known - defended his stance in playing an upsized role in the upcoming election. 
Using the Javanese word for meddling, "cawe-cawe", Jokowi said during the national meeting of the ruling party Indonesian Democratic Party of Struggle (PDI-P) on Jun 6 that he has the "moral obligation" to do so in order to ensure a smooth transition of power. 
"Regarding meddling, I have already conveyed that it is my moral obligation as president during the transitional period in 2024 so that the national leadership can run well without any ripples that could endanger the nation. 
"If there are ripples, I cannot be quiet," he said. 
Jokowi is constitutionally barred from a third term in office. This means that Indonesians will be electing a new head of state to lead the world's third-largest democracy in February next year. 
Presidential hopefuls will only be official candidates after registering with the election commission in October. So far, three people have been endorsed by various political parties as potential presidential candidates. 
PDI-P has endorsed its member Ganjar Pranowo, the current governor of Central Java. 
Gerindra and its coalition partner, the National Awakening Party (PKB), want Minister of Defence Prabowo Subianto to be the next president. 
Separately, Nasdem - the fourth biggest party in Indonesia's parliament - as well as the Democrat Party and the Prosperous Justice Party (PKS) have thrown their weight behind former Jakarta Governor Anies Baswedan. 
Amid Jokowi's admission that he will meddle in the election, observers say that he is not violating any laws though the optics may not look good from an "ethical perspective". 
LAW CAN'T BE USED AGAINST JOKOWI YET
Political analyst Ray Rangkuti from Jakarta-based think tank Lingkar Madani told CNA that Jokowi's meddling in the upcoming presidential election is not violating any laws just yet. 
Indonesia's 2017 Constitution in regard to the election regulates that state officials, structural officials, and functional officials in state positions are prohibited from carrying out activities that can lead to partiality towards election participants.
Mr Rangkuti opined that since there are no official presidential candidates yet, the law cannot be used against Jokowi. 
"But from an ethical perspective, and from the view to strengthen democracy, it can be said that this meddling is not good," he said. 
Mr Rangkuti added that Jokowi should remain impartial. 
"Although the rules justify it, it is better for the president to remain neutral for the public interest. Because there is not only one presidential candidate. There are three as of today," he said. 
Jokowi has so far seemed to support only two of them, raising the issue of fairness.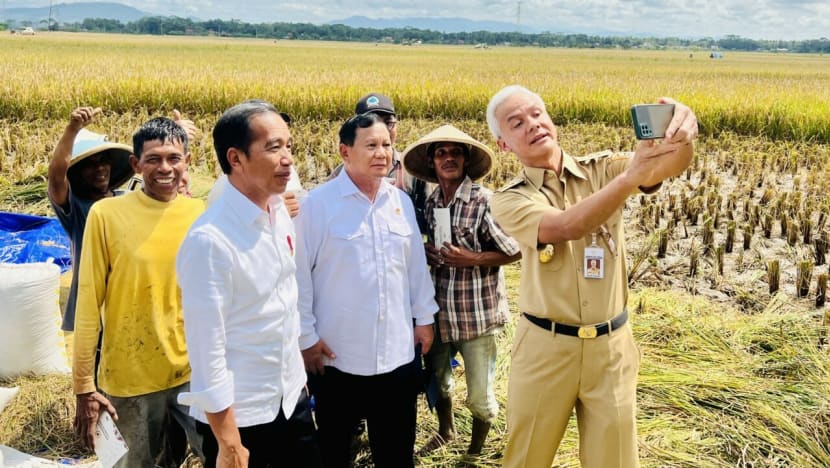 JOKOWI'S STATEMENTS IN THE PAST 
Before Jokowi openly admitted to meddling with the election, analysts had speculated about it as the president had made several comments and held meetings with different political figures. 
This includes meetings with the chairperson of PDI-P Megawati Soekarnoputri, Golkar's Airlangga Hartarto as well as head of the National Mandate Party (PAN) Zulkifli Hasan among others. 
He has also given statements about his favoured choice to be the next president since last year. 
Last November, Jokowi said that the ideal president would have grey hair. Many interpreted it as a sign of the president endorsing Mr Pranowo as the Central Java governor has grey hair. 
On a different occasion, also in November, Jokowi said that 2024 would be Mr Subianto's year. The retired army general has run twice in the presidential election in 2014 and 2019 but lost on both occasions to Jokowi. 
Jokowi also went to visit a paddy field in Central Java with Mr Pranowo and Mr Subianto in March, which some regard as a sign that he is endorsing them. 
The president has so far not given any indications that he supports Mr Baswedan.
On May 2, Jokowi met with the head of six political parties currently in the government, raising questions about whether they were strategising for the upcoming election. 
Jokowi, however, brushed off concerns of intervention by saying on May 5 that they were just having a discussion.
"I am not meddling. Regarding presidential and vice-presidential candidates, it is the matter of parties or coalition of parties, I have said this several times," he told reporters in Jakarta then. 
Yet, on May 29, in an interview with several editors-in-chief of local media, Jokowi admitted that he wanted to meddle. 
"Meddling for the country, for the national interest. I decided to meddle in a positive sense. Why can't I? Can't (I) do politics? No constitution has been violated. For this country, I can meddle," he said. 
REASONS FOR MEDDLING
Jokowi said in the meeting with the editors-in-chief that he would like to meddle in the election so that development in the country would continue despite a leadership transition. 
The palace reacted quickly. In a written statement, the deputy for protocol, press and the president's media secretariat Bey Machmudin explained that when Jokowi said he wanted to intervene, it was because he wanted the upcoming election to be held safely. 
"The president wants to ensure that the 2024 simultaneous elections can take place in a democratic, honest and fair manner. The president has an interest in holding elections well and safely, without leaving social polarisation or conflict in society."
Mr Machmudin added that Jokowi wants the next leader to continue his programmes, such as developing the new capital Nusantara in Kalimantan. 
"The president wants the future national leader to be able to oversee and continue strategic policies such as the development of Nusantara, downstreaming programme, clean energy transition, and others," he said.
PDI-P, of which Jokowi is a member, has also defended the president's stance. 
On Jun 4, its secretary-general Hasto Kristiyanto said Jokowi's concern lies in the need for progress. 
"President Jokowi's concern is the need for a leap of progress. So President Jokowi will intervene in order to maintain this leap of progress," said Mr Kristiyanto.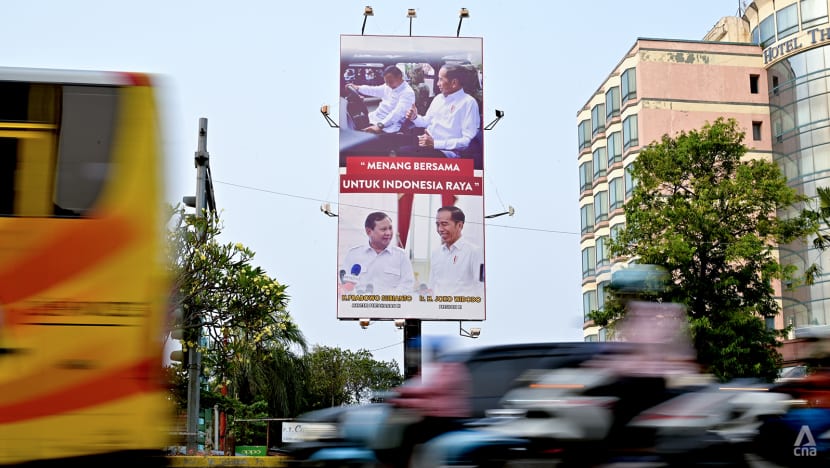 JOKOWI'S MEDDLING A DOUBLE-EDGED SWORD 
Political analyst Yunarto Wijaya from think-tank Charta Politika said there is "no problem" with Jokowi's meddling if the reason is purely to ensure a safe and smooth election. 
He added that Jokowi's meddling could be positive if the aim is to ensure sustainable development, as many new administrations tend to start over and discontinue previous programmes once they come into power.
Nonetheless, he opined that the opposite could be true. 
"But meddling can also be seen negatively as a political alignment for his champion to win," Mr Wijaya highlighted.  
Mr Adi Prayitno, a politics lecturer with Universitas Islam Negeri Syarif Hidayatullah shared the same views. 
He is concerned that Jokowi's support for a particular figure is overly exposed. 
"What is not okay is if the support is overly exposed and conveyed to the public openly. This is not elegant because a president must stand above all classes," he said. 
Mr Prayitno noted that Jokowi had shown his preferences on a lot of occasions. 
"The president has spoken on many occasions. In front of volunteers, in front of parties, this is what has created this noise," he stated. 
"This is polemic. Some candidates openly get endorsed, and then there is one who doesn't."
It could also be dangerous because it could potentially trigger institutions such as the military and police not to be impartial, he said. 
Before Jokowi confirmed his intentions to meddle, potential presidential candidate Anies Baswedan said on May 7 that the state should not interfere with the election, which many interpreted as directed to Jokowi. 
"Let the people be without the influence of the state, without state interference, and let the country be neutral …," said Mr Baswedan. 
The opposition Democrat Party, who is supporting Mr Baswedan, also responded negatively to Jokowi's meddling intentions.  
Its member Syarif Hasan, who is also a Member of Parliament, asked Jokowi not to intervene.
"The Democrat Party views meddling as having a negative connotation. So, it's best as the president of the Republic of Indonesia, our president, the president of the Indonesian people … it's best if you really don't get involved in this matter because many have already interpreted it negatively," Mr Syarief told local media on Jun 7.
In order to prevent Jokowi's meddling in the presidential election from going out of hand, analyst Mr Prayitno said that the public should monitor the situation and voice their concerns. 
"Meddling is okay if he has a personal preference because the president has a political right.
"But what is not allowed is if the support is conveyed too openly and excessively, in every place, every event, talking about the presidential election or showing political closeness to a particular candidate and dislike to a particular one," he asserted. 
Analyst Yunarto Wijaya from Charta Politika hopes Jokowi will take a backseat once the presidential hopefuls have registered with the election commission and become official presidential candidates.
Similar to Mr Prayitno, he also believes that the people have the power to control the situation.
"We as citizens must be involved in overseeing the neutrality of the election. So that whatever the authorities do to intervene or if anyone tries to intervene, we can handle it."