Indonesia developing serum against African swine fever virus after outbreak in major farm near Batam
The Singapore Food Agency in April said that carcasses originating from a consignment of live pigs from Pulau Bulan were found to be infected with African swine fever.
BATAM, Indonesia: Indonesia is developing a blood serum which can provide temporary immunity among pigs against the African swine fever virus after containing an outbreak of the disease in the country's biggest pig farm.
The farm, located on a 1,500ha island called Pulau Bulan in Indonesia's Riau Islands province, is capable of exporting around 240,000 pigs a year to Singapore, according to data from the Riau Islands Agriculture Agency. 
Exports from the island constitute about 15 per cent of the Republic's total pork supply.
The Singapore Food Agency (SFA) said on Apr 20 that pig carcasses originating from the farm were found to be infected with African swine fever, prompting Singapore to stop importing live pigs from Pulau Bulan.
Dr Honismandri, head of the Riau Islands veterinary authority, which monitors animal health in the province, said Indonesian officials were subsequently deployed and confirmed that the virus had spread to much of the farm. 
"The situation right now is under control. There are no more deaths. Only survivors," he told CNA on Wednesday (May 17).
African swine fever does not infect humans. However, it is highly contagious among boars and pigs and has a high mortality rate.
Studies have shown that the virus can survive in pork for long periods after pigs were slaughtered. 
There is currently no vaccine against the disease. 
Dr Honismandri, who like many Indonesians goes by one name, said that of the more than 200,000 pigs that were on Pulau Bulan, 35,000 died from the disease. Workers also culled 119,000 pigs which shared the same compartments - or living quarters - as the symptomatic pigs.
Of the remaining 50,000 pigs, two thirds showed signs of contracting the virus but have since recovered.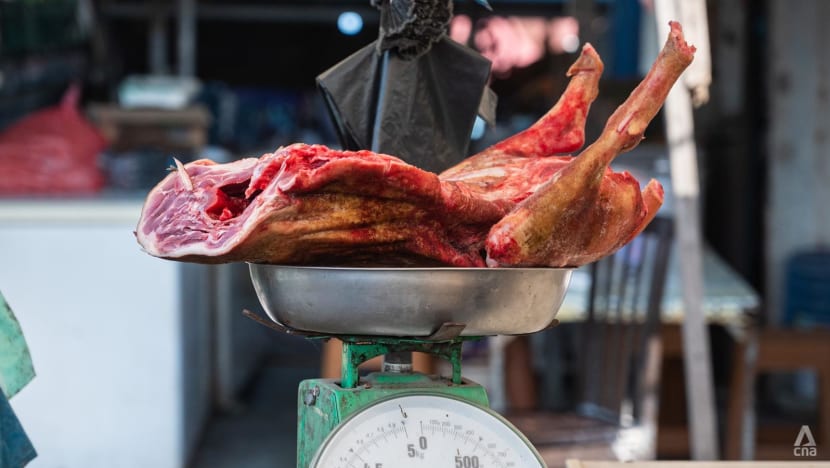 Dr Honismandri said officials are trying to produce convalescent serums from the blood of the surviving pigs. Convalescent serums are blood serums containing antibodies which can provide short-term immunity against infection.
The serum is being developed at a government facility in Surabaya, Indonesia's second biggest city and the capital of East Java province.
"This is an important step to prevent and contain the spread of African swine fever because there is currently no vaccine," he said.
Dr Honismandri added that the same facility has already developed serums from infected pigs in other parts of Indonesia. However, the virus infecting the pigs on Pulau Bulan appeared to have a specific genetic strain not found in previous cases of African swine fever in the country.
Developing a serum from the blood of surviving pigs on Pulau Bulan will ensure the serum's effectiveness against this particular strain of the African swine fever virus, Dr Honismandri noted.
"It will take two to three months until a product is ready. That is the estimate. After that we can begin inoculating (the pigs)," he said.
"We are also exploring potential vaccines. Some countries are developing potential vaccines for African swine fever. If one is proven to be effective we will be working to get our hands on some to be used on Pulau Bulan."
OFFICIALS INVESTIGATING CAUSE
No one lives on Pulau Bulan which since the 1980s has been dedicated exclusively to animal breeding. There are also shrimp and crocodile farms on Pulau Bulan and at one time a chicken farm.
Mr Aris Hadiyono, chief of the local agricultural quarantine office, said PT Indotirta Suaka, which manages the pig farm on Pulau Bulan, has been imposing tight biosecurity measures.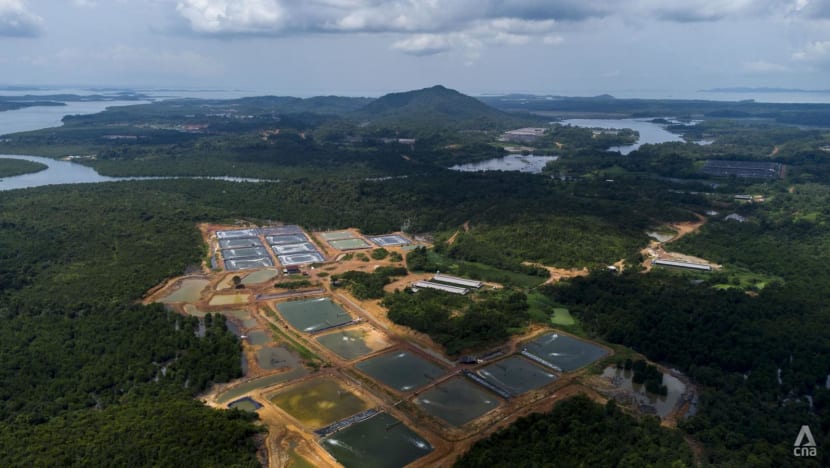 The island only has one access point via a seaport where workers and visitors are told to change clothes and sprayed with disinfectant before entering or leaving the facility.
Pulau Bulan is off limits to the general public with dozens of watch towers constantly monitoring the dense mangrove forests surrounding the island on the lookout for intruders.
With such limited access and workers' movements on the island carefully monitored, Mr Hadiyono said government officials are still struggling to identify how the pigs were infected.
"There can be many possible sources (of infection). Pulau Bulan has no population but the company said there are still many fishermen who fish there, (or) looking for wood. There are still many wild animals: Birds and boars which can become vectors for the virus. It needs to be investigated how the virus got there," Mr Hadiyono told CNA.
The farm divides its 200,000 pig population into different zones which are spread out to prevent the spread of diseases.
However, African swine fever can also be transmitted by ticks and insects and the island also has a native population of wild boars.
"We can keep wild boars away using electric fences, which (the farm) uses, but small insects can be quite difficult (to contain)," Mr Purwanto, one of the quarantine officials leading the investigation on the African swine fever outbreak on Pulau Bulan told CNA.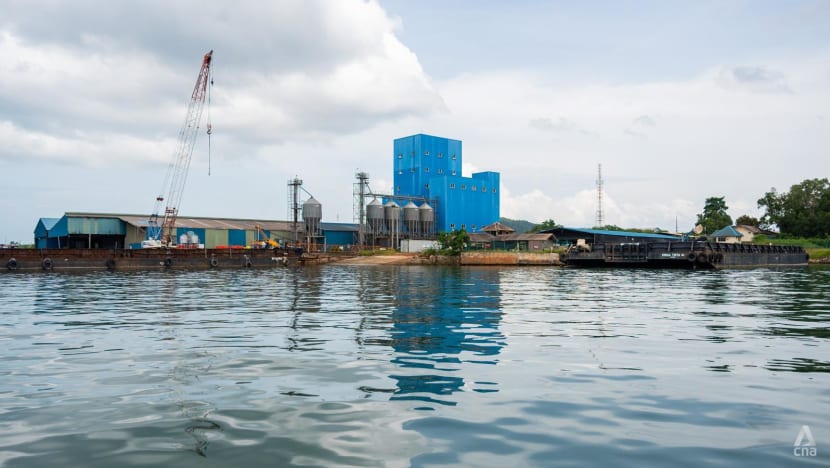 Mr Purwanto, who also goes by one name, said animals such as birds could also be carriers of the virus, particularly from the nearby islands of Rempang, which had a case of African swine fever in 2021.
CNA tried to reach the company PT Indotirta Suaka and visited its office in Batam City on May 15 but representatives did not want to be interviewed.
LONG ROAD AHEAD
With no more pigs showing signs of contracting African swine fever, the quarantine office this month allowed PT Indotirta Suaka to ship pork carcasses to the rest of Riau Islands province.
But it will be some time before the firm resumes its export of live pigs to Singapore.
The SFA said the resumption of livestock production and exports from Pulau Bulan "could take up to a year", adding that Singapore authorities will continue to assess the situation.
Dr Honismandri, the veterinary office chief, said the 50,000 pigs remaining in Pulau Bulan may not be enough to fulfill demands from Singapore until stocks of the animals are replenished.
It is, however, enough to repopulate the island with pigs.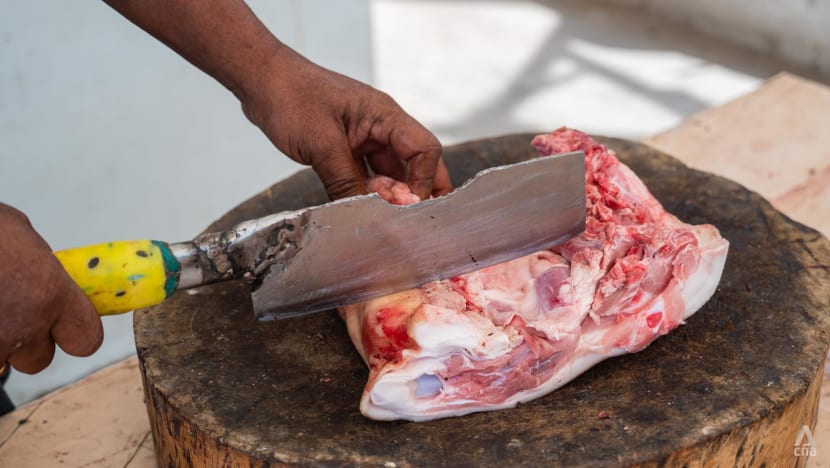 But to err on the side of caution, Dr Honismandri said PT Indotirta Suaka has agreed to delay the repopulation of Pulau Bulan with more pigs until the serum - which is currently being developed in East Java - is ready. 
Mr Hadiyono, the quarantine office chief, said his office is ready to reissue export permits to PT Indotirta Suaka. The certification was retracted when the African swine fever outbreak happened, but Mr Hadiyono stressed that he wants to see some measures implemented.
One recommendation is for each farming zone to have its own jetty which can be utilised should another outbreak occur. The current arrangement means that the single access point can easily become contaminated and become a location for a disease to spread.
Mdm Rika Azmi, chief of the province's food security, agriculture and animal health agency said another recommendation is for the company to set up its own internationally-certified slaughterhouse.
"This way, if it is not possible to export live pigs, the farm has the option to export pig carcasses," she told CNA.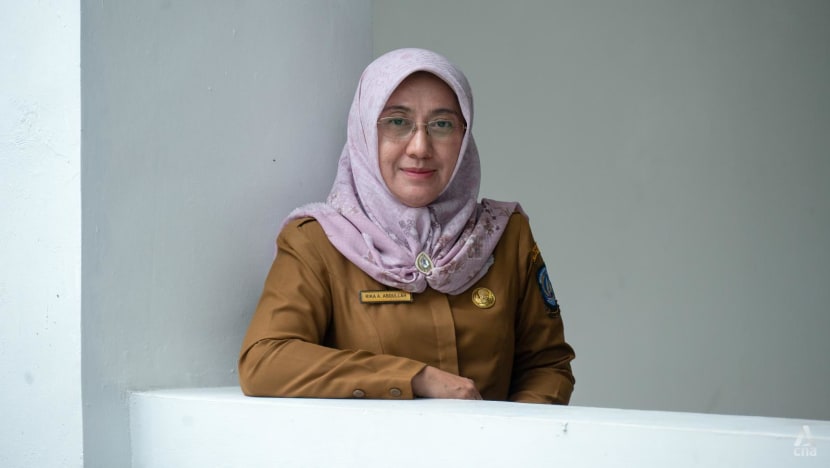 The farm currently has a locally-certified slaughterhouse used to supply meat to vendors and butcher shops in Batam City, a 10-minute boat ride away, and other parts of the province.
RESIDENTS CONCERNED
The quarantine office said the farm currently ships around 2,000 pig carcasses a month to Batam and other places but the recent outbreak may have eroded consumer confidence.
"Some customers are still cautious about the safety of pork meat coming from Pulau Bulan," butcher shop owner Erson Nadeak told CNA. Mr Nadeak owns a shop in Batam.
But there is virtually no alternative. According to data from the local government, more than 90 per cent of pork meat in Batam is supplied from Pulau Bulan with the rest coming from small farmers and individuals.
When the outbreak occurred, Mr Nadeak had to close his shop for days until shipments from Pulau Bulan to Batam were resumed this month.
Meanwhile, residents living near Pulau Bulan are anxious about the possibility of the virus mutating and infecting humans as happened with avian influenza and the coronavirus.
"We are very worried about what this virus might do to us, especially because we live very close to Pulau Bulan," Mr Laurensius, a resident of Pulau Teluk Sepaku, told CNA.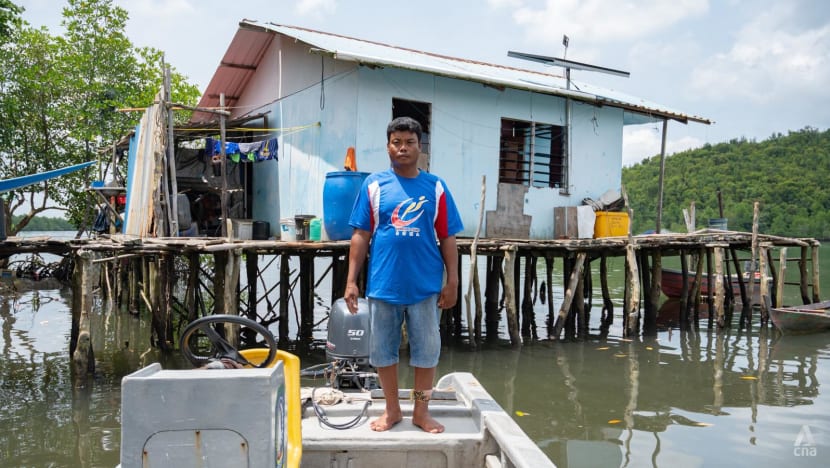 The island and Pulau Bulan are only separated by a 200m channel.
"When the outbreak occurred we could hear the sound of heavy equipment working day and night to bury the infected pigs. But it was the smell that was unbearable.
"It was so nauseating that people vomited and had trouble sleeping at night," he said, adding that the situation has gradually improved.
Mdm Azmi of the agriculture agency said her office will continue to educate the public about the virus. 
"This virus only affects pigs, not humans or even other animals. We urge people to remain calm," she said.
Read this story in Bahasa Indonesia here.