Indonesian government urged to mandate hybrid learning for all amid Omicron; anxious parents keep kids at home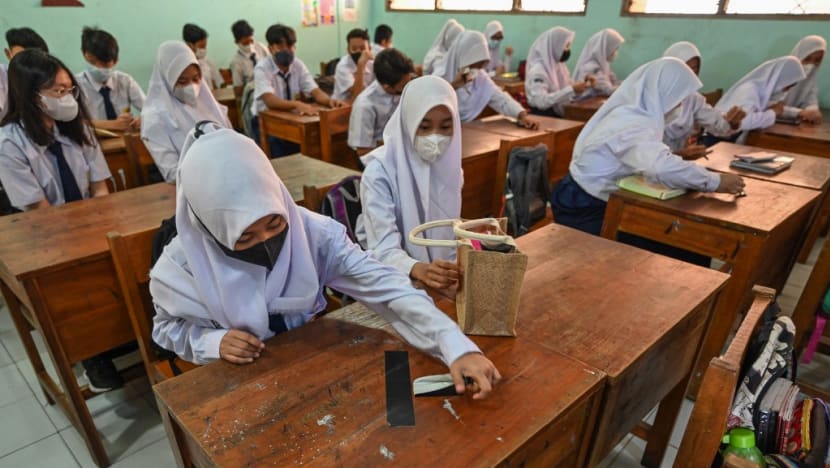 JAKARTA: The Indonesian government has placed more schools under hybrid learning to reduce the number of students in class, but experts and interest groups worried about the Omicron wave said the rules should be tightened further. 
The Indonesian Educators and Teachers Association (P2G) said all schools across the country should introduce hybrid learning. 
"It is not stringent enough because (a school) can still have 100 per cent in-person classes. 
"(The government) should have been firmer by having all schools apply hybrid learning at least until we see a drop in the number of COVID-19 cases," P2G national coordinator Satriwan Salim said in a statement.
The Indonesian government earlier required all students in areas with low and moderate COVID-19 infection risks to attend in-person classes, saying that such classes would help students catch up on their studies which were hindered during the pandemic.
The risk assessments corresponded to the level of Community Activity Restriction known as PPKM, a policy to curb the spread of COVID-19. PPKM is divided into four levels, with Level 4 being the most stringent.
Previously, only schools in Level 3 areas were allowed to adopt hybrid classes, in which half of the students study remotely and the other half attend physical classes. Under such an arrangement, students take turns to study at school but parents can opt for home-based learning for their children.  
Schools in Level 4 were barred from staging physical classes, while in-person classes were held for schools in Level 1 and 2.
On Thursday (Feb 3), the Education Ministry said that they have modified the instruction to allow schools in Level 2 PPKM to adopt hybrid classes as well.
"Starting (Thursday), areas in Level 2 PPKM will be given the ability to adjust in-person classes from the capacity of 100 per cent to 50 per cent," Education Ministry secretary general Suharti said in a statement.
Mdm Suharti, who like many Indonesians goes with one name, added that schools in Level 2 PPKM areas can still have all of its students attend physical classes with permission from the parents. 
The decision came after Indonesia saw a surge in the number of COVID-19 cases with more than 10,000 infections recorded daily. 
Amid the rising cases, President Joko Widodo expressed his concerns about the health risk amid the rising number of confirmed cases.
"I want an evaluation on in-person learning, particularly in West Java, Jakarta and Banten," he told a Cabinet meeting on Jan 31. The president, known popularly as Jokowi, was referring to the three provinces which have recently become the epicentres for COVID-19 transmission.
Public health expert Hermawan Saputra said the Education Ministry should consider repealing its revised policy and extend hybrid learning to all schools.  
"No one should be forced to send their children to attend in-person classes," he told CNA.
COVID-19 CASES ROSE 150-FOLD IN A MONTH
The Indonesian government began rolling out COVID-19 vaccines to children aged between six and 11 on Dec 14.
As of Thursday, only 3.3 million children or 12.6 per cent of the age group have been completely vaccinated, according to Health Ministry figures. Slightly over 10 million children or 40.5 per cent have not received their first vaccination dose. 
Meanwhile, there were 2.4 million or 9.2 per cent of children aged between 12 and 17 who have not been vaccinated.
The Education Ministry's previous policy which mandated schools under Level 1 and 2 of PPKM to have physical classes from Jan 3 onwards was problematic as it forced students in most areas to go to schools, Dr Saputra said. 
"This puts children, teachers and their families at risk of contracting COVID-19," he added.
The advisor at the Indonesian Public Health Expert Association said not all schools are suited to stage in-person classes in the middle of the pandemic. Some schools are not well ventilated while others are so small that it is impossible to practise safe distancing, he added. 
"Even if the schools comply with proper health protocols, students can still contract COVID-19 on the way to school or inside public transportation. They might carry the virus home and infect other members of their families, including their elderly grandparents who might have comorbidities," he said. 
Indonesia reported its first case of Omicron variant on Dec 8. Since then, the number of COVID-19 infections has risen dramatically.
On Jan 3, when students returned to school for physical classes, Indonesia recorded just 174 confirmed COVID-19 cases over a 24-hour period. On Feb 3, the number of daily infections skyrocketed to 27,197.
"The revision (to the previous policy) is long overdue. Offices had already told their employees to work from home for weeks but children were still being forced to go to school," one parent from Jakarta, Mdm Santi Handayani, told CNA.
"Many parents were against this policy but the school said they had no choice but to follow the central government's instruction. I am glad that the government finally came to its senses."
JAKARTA STILL UNDER LEVEL 2 DESPITE RISING CASES
Currently, around half of COVID-19 infections in Indonesia were recorded in Jakarta.
For the past one month, the city had closed down at least 99 schools after more than 200 students and teachers were infected. Affected schools were required to shut for five days.  
Despite the high number of cases, the Indonesian capital and surrounding cities and regencies are still imposing Level 2 PPKM. 
Jakarta governor Anies Baswedan said on Wednesday that he has proposed a tighter activity restriction to the central government, which has the final say on a region's PPKM status.
Wiku Adisasmito, spokesman of the government's COVID-19 Mitigation Task Force said on Thursday that the government assesses a region's PPKM status based on the number of confirmed COVID-19 cases, hospital bed occupancy and the percentage of people vaccinated.
Dr Saputra, the public health expert, said areas like Jakarta should be placed under Level 3 PPKM. 
"I think Indonesia is trying to avoid a tighter lockdown particularly as Indonesia prepares to host the MotoGP race (in March) and the G20 Summit (in October). A lockdown might destroy the international community's confidence in Indonesia," he said. 
With the latest school policy permitting schools in Level 2 PPKM to practise hybrid learning, parents in Jakarta said they would keep their children at home for now. 
Mdm Fira Ruswandi said her daughter tested positive for COVID-19 last month after a classmate was infected. 
"The school was closed for five days, after which the school reopened like nothing had happened.
"I was really anxious about my daughter going back to school. I still am. That's why the new policy is a huge relief for me," the 39-year-old mother of two told CNA. 
Similarly, Mr Thomas Liem, who lives in the Jakarta suburb of Bogor, was relieved that his children would no longer be forced to go to school.
"For the past one month, I have been very anxious about my two children going back to school. They imposed the (previous) policy when the Omicron (variant) began to hit Indonesia. As cases began to rise, my anxiousness slowly turned to fear," the 40-year-old marketing manager said.
"They decided to change the policy when the situation has already worsened. But it is better late than never."