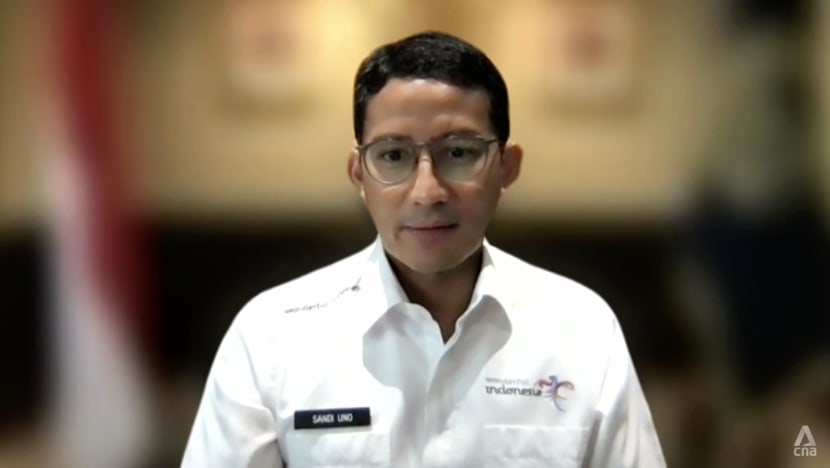 SINGAPORE: Indonesia is aiming for quality over quantity of tourists as it opens up after 18 tough months of closed borders and bumpy transitions into post-pandemic life, said Tourism and Creative Economy Minister Sandiaga Uno. 
Southeast Asia's biggest economy is targeting only 2 million visitors in 2022, a sharp drop of nearly 90 per cent from its pre-pandemic figure of close on 17 million foreign tourists a year. 
Instead, the sprawling archipelago, known for its famous beaches and lush green landscapes, is focusing on the amount of time visitors stay in Indonesia and their impact on the environment. 
"This is the concept of personalise, customise, localise and smaller, much, much smaller in size tourism," the minister said in an exclusive interview with CNA.
"We want to improve the number of days that they are spending in Indonesia, the length of stay. We want to make sure not only a much better-quality spending but also the impact to environment. The 17 million plus numbers put a heavy tax on our environment. We're moving into quality and sustainability type of tourism," he explained. 
This radical shift comes as the pandemic calls into question the viability of mass travel and as the climate crisis pushes environmental concerns up the agenda. Tourism is one of the main sources of Indonesia's foreign currency earnings – contributing close to 6 per cent of the country's gross domestic product pre-pandemic. 
Two of Indonesia's most popular tourist spots, Bali and the Riau islands, rolled out the welcome mat to foreign visitors from 19 countries last month as COVID-19 cases subsided in the country. However, the reopening has been plagued by few international flights and a mandatory quarantine still in force. 
The Indonesian tourism minister was more cautious about when such curbs will be lifted, emphasising that health concerns must still be the priority, although weekly reviews will be made based on the health data. He said chartered flights in Bali might be a possibility and scheduled flights would likely follow-up on that.
"There's a lot of demand for the live on boat quarantine, meaning that they arrive in Bali and they go straight to the boat ... They would be allowed to go into the dive sites and enjoy the open seas but within the premise of the boat," he said. 
At the same time, the Indonesian government argues that the country's painful experience in tackling a surge in COVID-19 cases earlier this year, means its healthcare system is in good shape to handle a potential spike of foreign visitors who might fall sick with COVID-19 while visiting Indonesia.
"(The) second wave in Bali and other parts of Indonesia happening in July and August, really taught us a big lesson that we would need to prepare these health facilities and health supplies," said the minister. 
"We are confident that we would be able to handle if should there be another surge," he asserted. 
The other big question is even with Indonesia opening its doors again, big-spending visitors from China who make up Indonesia's biggest source of international arrivals pre-pandemic may be conspicuously absent. 
Beijing has yet to allow its residents to freely travel out of the country. China has reimposed lockdowns in parts of the country as it remains one of the few places in the world to hold on to a 'Zero COVID' policy.
Acknowledging that it will be a slow climb to get tourism back to its buoyant pre-pandemic levels, the minister said: "Gradually up to the end of this administration in 2024, we're targeting to reach closer to 8 to 10 million tourists – but it will take some time."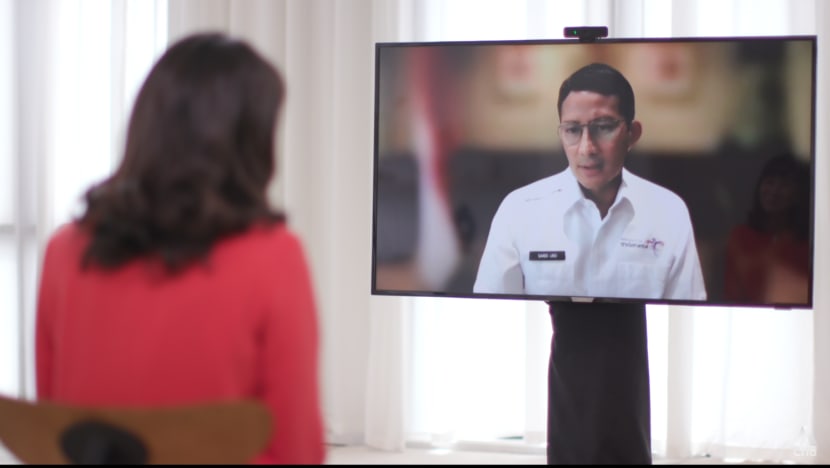 "BABY STEPS" 
In recent days, a range of Southeast Asian countries have announced optimistic plans to throw open borders to tourists from neighboring countries and further abroad. 
Thailand was a first-mover in July allowing a sandbox scheme where vaccinated tourists could visit the popular island resort of Phuket quarantine-free. However, these hopeful reopenings have stopped far short of amounting to an ASEAN-wide travel bubble, an ambitious idea being pushed by Indonesian President Joko Widodo. 
The Association of Southeast Asian Nations (ASEAN) is made up of 10 member states, and short-haul travel between these close neighbours has been growing rapidly – making up a hefty 40 per cent of travel in the region before the pandemic struck.
However, travel experts say the likelihood of an ASEAN tourism bubble becoming reality anytime soon is dim.
One of the major problems is the extreme disparity in vaccination rates in the region. Singapore leads the pack with over 80 per cent of its population fully vaccinated. Myanmar lags far behind with a mere 13.2 per cent of its population fully vaccinated. 
About 70 per cent of the population in many ASEAN countries, including Indonesia, remain unvaccinated. Only about 28 per cent of the Indonesian population are fully vaccinated. 
The Indonesian tourism minister acknowledged the big gap in vaccination rates among ASEAN member states poses a big hurdle to the goal of a regional travel bubble. But he expressed hope that the countries will be "inspired" to ramp up vaccinations for their population.
The minister said Indonesia will take "baby steps" in an "incremental" reopening as the country assumes the 2022 presidency of the G20 – with Bali slated to host the next G20 summit. 
"That's why we have to be very, very absolutely sure that the opening up of Bali would be done … on a safe and secure basis."
Watch the full interview with Sandiaga Uno, Indonesia's Minister for Tourism and Creative Economy, on "In Conversation", Nov 10, 9pm SIN/HK, 8pm JKT on CNA.