Indonesia's Jokowi meets China's Xi Jinping, both pledge to step up bilateral cooperation
The Indonesian president also met with Premier Li Keqiang and discussed economic cooperation.
JAKARTA:  Indonesian President Joko Widodo met with Chinese President Xi Jinping on Tuesday (Jul 26) in Beijing during the first leg of his three-day working visit to Northeast Asia.
Mr Widodo is the first foreign leader to visit China since the Winter Olympics in February as the country adopts a strict "zero COVID-19" policy resulting in limited visits of officials from overseas.
His visit comes at the invitation of Mr Xi.
Mr Widodo or Jokowi, as the president is popularly known, has expressed the hope that the visit would strengthen the bilateral ties and cooperation between the two countries. 
"China is Indonesia's comprehensive strategic partner. We must fill this partnership with cooperation that is beneficial for our country, and at the same time for the region and the world," said Jokowi.
Meanwhile, Mr Xi said that Mr Widodo is the first head of state the Chinese side has received after the Beijing Winter Olympics.
"This is quite enough to prove how intimate the relationship between the two sides is," said Mr Xi.
In a joint press statement, Indonesia congratulated China in advance on the upcoming 20th National Congress of the Communist Party of China. 
It added that the national congress "would guide China's march toward achieving its second centenary goal of building a great modern socialist country in all aspects". 
Both presidents agreed to strive for a general direction of building the China-Indonesia community with a shared future and committed to forging exemplary models of major developing countries that seek mutual benefits, common development and South-South cooperation. 
The two countries agreed to speed up the formulation of a new Five-Year Action Plan for the Implementation of the China-Indonesia Comprehensive Strategic Partnership. 
They will also cooperate through the Belt and Road Initiative (BRI) and Global Maritime Fulcrum (GMF) and are committed to complete the Jakarta-Bandung High-speed Railway on schedule as a flagship project.
China and Indonesia will accelerate the resumption of people-to-people exchanges, including the return of Indonesian students to China, opening more direct flights, and beefing up cooperation in sectors such as education, tourism, youth and local exchanges. 
They will also strengthen cooperation in vaccine and genomic research, development, and production with China agreeing to support Indonesia's effort to set up a regional vaccine hub, said the statement.
On regional development, both countries have agreed to implement the consensus reached at the China-ASEAN Special Summit to Commemorate the 30th Anniversary of China-ASEAN Dialogue Relations last year. 
They will uphold open regionalism and advance China-ASEAN Comprehensive Strategic Partnership for Peace, Security, Prosperity, Sustainable Development and Amity. 
According to the joint statement, China also reaffirms its support for ASEAN centrality in the evolving regional architecture and supports Indonesian ASEAN chairmanship in 2023. 
Meanwhile, Indonesia stands ready to work with the Chinese side in ensuring peace and stability through dialogue and diplomacy, the statement added.  
Several Memoranda of Understanding (MoUs) were also renewed and signed during today's meeting, especially in areas such as research and development of vaccine and genomics, green development and cyber security capacity building.
Indonesia is currently the rotating president of the Group of 20 (G20) major economies and Jokowi took the opportunity to invite the Chinese leader to attend the G20 leaders' summit in Bali this November.
Mr Xi, who has not left China since the COVID-19 pandemic, said that China supports Indonesia's presidency and wishes the summit to be a success. 
CONTINUING COOPERATION
While in Beijing, Mr Widodo also met Premier Li Keqiang. 
According to a statement issued by the Indonesian presidential press bureau, the Indonesian leader said that China is Indonesia's strategic partner and both countries have succeeded in filling the partnership with mutually beneficial cooperation.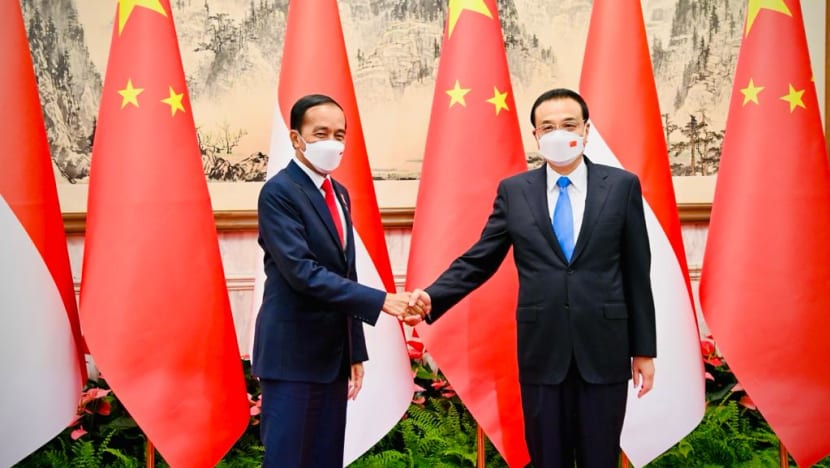 The value of trade between Indonesia and China has exceeded US$100 billion and continues to increase, said Mr Widodo. 
"I hope that this cooperation can continue to be improved," he added.
During the meeting, China expressed a commitment to increase imports of 1 million tons of crude palm oil from Indonesia. 
China will also prioritise imports of agricultural products from Indonesia. 
The leaders also discussed cooperation in developing the green industrial park in North Kalimantan which is expected to become the world's largest green industrial area drawing power from hydro and solar energy. 
Jokowi will continue his three-day Northeast Asia tour with a visit to Japan on Wednesday. 
He is expected to meet Prime Minister Fumio Kishida and the business community in Tokyo before heading to South Korea on the final leg of his tour.