Inflation and instant noodles: How Indonesia and Thailand are trying to keep the humble carb affordable
JAKARTA/BANGKOK: On a busy, narrow street in South Jakarta, the inconspicuous "warkop" along Jalan Amil draws a steady stream of customers.
Short for "warong kopi" or coffee shop in Bahasa Indonesia, this little joint is one of many in the Indonesian capital selling 3-in-1 coffee and simple fare like instant noodles and fried tempeh.

Agus Mulyadi, now 42, moved to Jakarta from Tasikmalaya Regency in West Java more than two decades ago in search of a better life. He has had his warkop for the last eight years.

Instant noodles are popular in Indonesia, eaten not only at home, but also at the warkop. The noodles come in a variety of flavours to cater to all tastebuds. As a meal, it is cheap, convenient and tasty.
But even so, business at Mr Agus' establishment has not been great. At the height of the COVID-19 pandemic, people were afraid to eat out. Mr Agus has been trying to cope but it has not been easy.
"A FRIEND AT THE END OF THE MONTH"
Meanwhile in Bangkok, also during a COVID-19 lockdown, Ungkool Wongkolthoot became interested in instant noodles and the number of varieties in the market.
After discovering and sourcing almost 350 different types, he and a business partner decided to set up a dedicated instant noodle shop in a mall.
A bright orange wall displays instant noodle packaging from across Asia. The aisles are categorised by noodle origin: Thai, Chinese, Japanese, Korean, Indonesian - the list goes on.
In-store dining is available for the hungry and impatient. Customers can pick up fresh ingredients like eggs, seafood and vegetables as add-ons and everything is prepared at cooking stations.
Mr Ungkool's shop opened in late 2021, during which the lifting of COVID-19 restrictions was already in progress.
Thailand's main staple is rice but instant noodles are an essential pantry item for many because of cost.
"They have been around in Thai society for a long time. It's a friend at the end of the month," Mr Ungkool told CNA, referencing a Thai figure of speech, in which, for many, instant noodles might be the only affordable meal just before payday.
WAR AND WHEAT
The main ingredient of instant noodles is wheat, a commodity Ukraine produces heaps of. But millions of tons of wheat, along with other grains like corn and barley, have been stuck in Ukrainian ports because of a Russian blockade.
A recent deal brokered by Turkey will allow exports to resume, a move that many hope will bring down global grain prices, and by extension, food prices.
For Indonesia, the largest wheat importer in the world, this cannot come soon enough. According to data from the UN food agency, the Food and Agriculture Organization, Indonesia imported more than 10 million tonnes of wheat in 2020 - a quarter of that came from Ukraine.
Thailand's situation is similar. After the United States, Ukraine is Thailand's second biggest source of wheat.
PASSING ON THE COST
Mr Agus, the warkop vendor in Jakarta, said the price of instant noodles went up by more 20 per cent two months ago. He has little choice but to pass this on to his customers.
He reeled off a list of figures - seemingly low - but for a clientele like his, not insignificant: "A bowl of instant noodles usually costs about 6,000 rupiah (US$0.40). Now, it's 10,000 rupiah (US$0.66). Add an egg and it's 13,000 rupiah (US$0.86)."

Food manufacturers are concerned about a protracted war.

"I'm not too worried about the food stock this year. This is because crops were sown last year, and harvested this year," said Mr Adhi Lukman, chairman of the Indonesian Food & Beverage Producers Association (GAPMMI).
"But, if this war is prolonged, it will be difficult to sow new crops, and next year will be more dangerous, not only in terms of higher prices, but also the availability of the commodity." 

Mr Adhi told CNA he estimates food prices may go up by 5 per cent next year, putting more pressure on an Indonesian economy that saw inflation hit 4.35 per cent in June, the highest since 2017.
MANAGING FINANCES
Thailand is also feeling the pinch. Its latest headline inflation rate outstripped forecasts, coming in at 7.66 per cent, the highest in 14 years. Food prices alone have gone up 6.42 per cent compared to the year before.

The manufacturers of Thailand's best-selling instant noodles brands have repeatedly warned that due to rising production costs, they may have to increase the price of the beloved pantry item to 7 baht (US$0.19) a packet, the first hike in 15 years.

CNA contacted some of Thailand's major manufacturers for comment. All of them declined to be interviewed on this matter.
But the government takes a different view. It rejected the manufacturers' proposal to raise prices and classified instant noodles as an "essential item". This effectively freezes its price in order to protect people from rising costs.
Other items on the list include daily essentials such as cooking oil, eggs, pork, as well as construction materials and farming products like cement and fertilisers.

Chakra Yodmani, Deputy Director General of the Thai Commerce Ministry's Department of Internal Trade, expressed some understanding for the companies and their shrinking profit margins, but also added that, just like everyone else, they need to manage their finances.
"We are asking the manufacturers to cooperate. So they might need to compensate it with the revenue of the products that are still selling well in order to continue operating," said Mr Chakra.

Back at the instant noodle shop, Mr Ungkool is not hopeful that prices will remain the same for the foreseeable future.
"We haven't increased our prices for foreign noodles yet, but I expect our suppliers (for domestic brands) to notify us of changes soon," he said. "6 or 7 baht per pack might not be enough for them."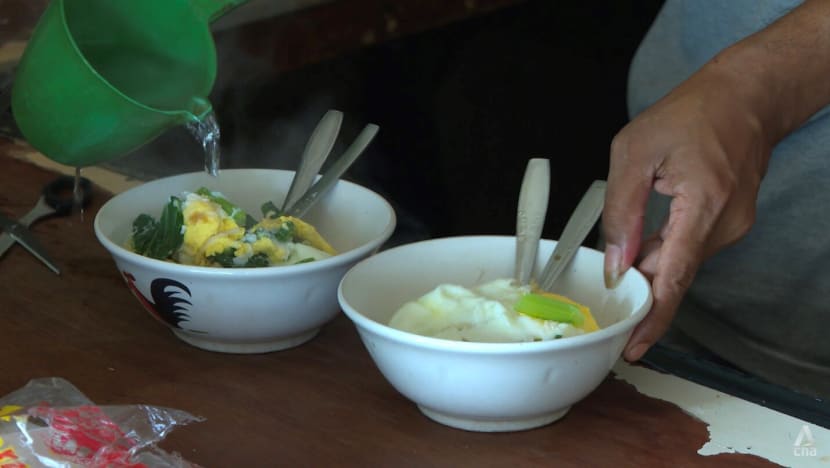 NO INSTANT FIX
In Indonesia, authorities are getting to the source of the issue and looking at alternatives to wheat. One such crop is sorghum, which can grow in various types of soil in the country.
But until then, instant noodles - of the wheat variety - will have to suffice. The ramifications of a conflict half a world away are affecting everyday food stalls like Mr Agus' warkop. He knows there's no instant fix and things are out of his hands.
"I just hope the war can end soon and that prices will be normal again."