Inside China's zero-COVID world: How it changed some residents forever
What was it like living in lockdown under China's zero-COVID policy? CNA correspondent Wei Du writes about her experience speaking to people who were at the frontlines of the struggle for freedom and why she decided to make the podcast series Red Wall: Inside China's zero-COVID world.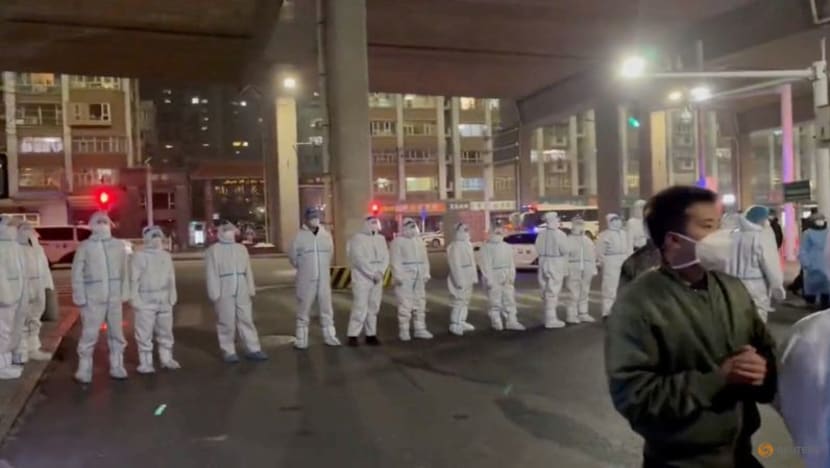 May 20 is one of three Valentines' Days celebrated in China. It's chosen simply because the date rhymes with "I love you" in Chinese.
Couples used to rush to register their marriage on this date, and many local governments would extend office hours to cope with the crowd.
But this year, the lovebirds didn't show up.
Data compiled by Chinese media outlet thePaper showed marriage registration on this day dropped roughly 40 per cent in Guangdong and Fujian, 50 per cent in Hubei and Guizhou.
In Hunan, the home province of the late Mao Zedong, the situation was the most dire: Only 4,576 couples tied the knot, a drop of nearly 75 per cent from a year ago.
It perhaps shouldn't come as a surprise. After three long years of living under the zero-COVID policy, many people in China now have a different outlook on life.
As "Hammer", one of my interviewees for the podcast told me, he can't even begin to think about having children, because the future isn't clear anymore.
"What if the lockdown happens again?" he asked.
On the surface though, China seems to be firmly back on its feet after a harrowing time with the COVID-19 pandemic. You'd struggle to find a table at any restaurant during dinner.
Even in Hong Kong, I recently walked past the famous Sister Hua's Beef Brisket shop at 3pm, and saw a snaking line outside, consisting of mainly mainland tourists.
But scratch the surface and likely you would find people carrying the emotional and mental scars caused by China's zero-COVID policy. Like Hammer. 
That is one key aspect I tried to explore in the two-part CNA podcast series Red Wall: Inside China's zero-COVID world which made its debut on May 29.
In the series, I spoke with four people whose lives were upended by strict COVID-19 measures and the sudden end.
A Shanghai doctor who became a swabber; a young tech worker who signed up to be a lockdown enforcer; a local tourist who was trapped for months in China's far west Xinjiang region; and a worker who was confined inside Foxconn, the world's biggest iPhone factory.
You might have already read many reports about the various lockdowns across China in 2022, but hearing their stories in their own words evoked a completely different set of feelings.
A friend texted me after listening: "I didn't anticipate how their stories would still make my heart feel so heavy."
WHERE ARE THEY NOW?
My co-producer and I conducted the first interviews in December 2022 when China had just abandoned zero-COVID.
I spoke to some of the interviewees again in February 2023 after the country was hit by a brutal exit wave of infections.
We got back in touch with the four (we used pseudonyms for all to protect their identities) after we wrapped production to see how they were doing.
"Jie" was one of the first workers to escape from the iPhone factory in Henan. He is now doing odd jobs to support himself and his widowed mum.
After being deeply scarred by his time inside Foxconn's "closed loop management", he said he doesn't plan to ever return to that job.
"Susu" was haunted by the experience of being trapped in Xinjiang even after her escape.
"I still have nightmares. Once I dreamt that I was still trapped in Xinjiang. Another time I dreamt that the officials turned up at my door and said they would take me back, that I had to be there for three years," she said on the podcast.
Today Susu is no longer having bad dreams, but the fear of losing control lingers. She's moved to the countryside to build a house and start a farm. She said she now wants to be self-sufficient.
"Kaka" is the tech worker who was laid off and went to work as a lockdown enforcer for only a few days before China ended lockdowns for good.
On the podcast, she said: "It feels a bit ridiculous that I couldn't even hang on to a job enforcing COVID rules."
Kaka has now found another job in the tech industry, but she doesn't know how long she can hold on to the job after her experience. She is hoping to retire when she turns 35 and end the cycle of job changes.
Perhaps the most drastic change happened with Hammer.
He has now become somewhat of a doomsday prepper. Hammer is keeping six months' worth of food at home and has set up his own power generator in case the lockdown comes around again.
"There were only two things on my mind: One is to find enough food, the other is not to go crazy," he said of the last lockdown on the podcast.
When I caught up with him again, Hammer told me that he has listened to both episodes and while he was initially alarmed by how freely he spoke, he said he soon realised that in a normal society, he would have no reason to fear.  
"I don't think I belong here anymore," he told me.
Right now, he's planning to pursue a PhD in Europe.
Both episodes of Red Wall: Inside China's zero-COVID world are available on all major podcast platforms.