Commentary: Living in Shanghai as tensions mount under China's zero-COVID policy
As frustration boils over in China over its strict COVID-19 policy, Singaporean Ye Jiayi who's based in Shanghai holds hope that things will improve.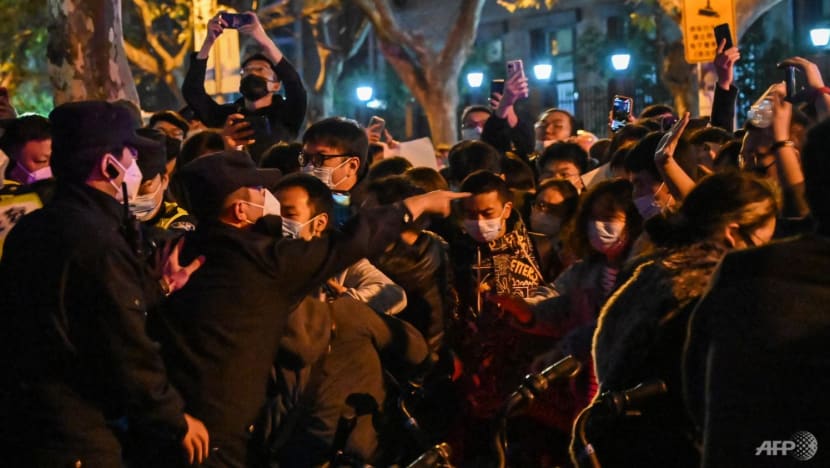 SHANGHAI: "Did you hear? About what happened last night," my friend asked me as we walked out of a spin class in the heart of downtown Shanghai's Jing'an district on Sunday (Nov 27).
"What do you mean? I saw some friends sending pictures and videos in our WeChat group but I haven't looked at them yet," I responded.
The Xintiandi area where we were headed for a post-spin brunch was uncharacteristically quiet. I spotted more security than usual in the area.
My friend lowered her voice, and launched into a rundown about the events that had transpired on Wulumuqi Road the night before, about 4km from where we were.
Photos and videos of the protest had been circulating since the wee hours of the morning, she said. But she wasn't about to start forwarding them to people, just in case her WeChat account got blocked.
A coworker of ours recently had his account blocked for a month, because he posted a politically sensitive screenshot on his WeChat Moments. Another ex-colleague had hers suspended for a couple of weeks for the same reason.
I took out my phone and started swiping through Instagram. Stories posted by friends showed tightened security and large crowds on Wulumuqi Road that morning, in the aftermath of the demonstrations that took place the night before in response to tightening COVID-19 controls.
On Monday, Wulumuqi Road was boarded up with blue barriers, and a viral online post showed the street sign being removed and taken away by workers.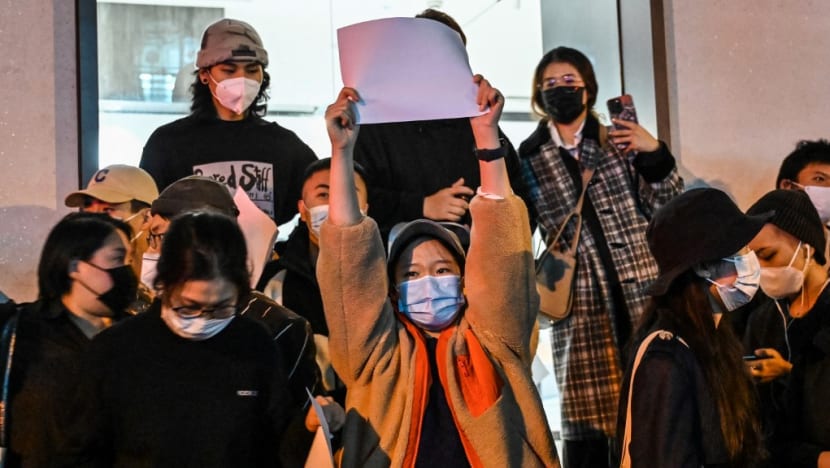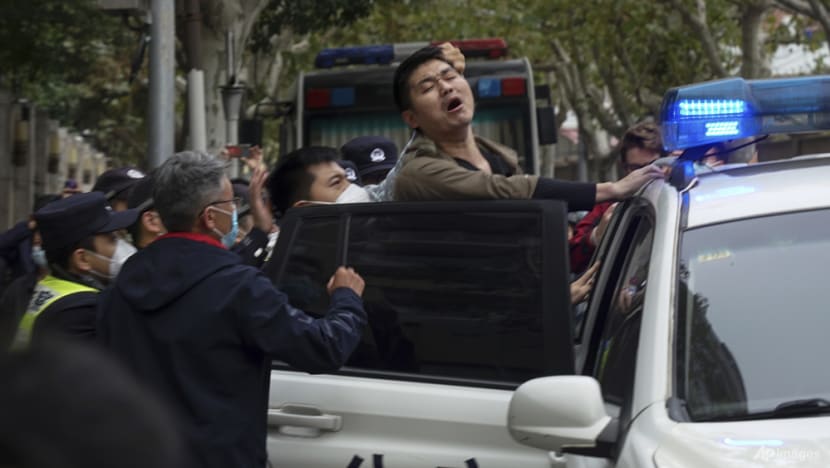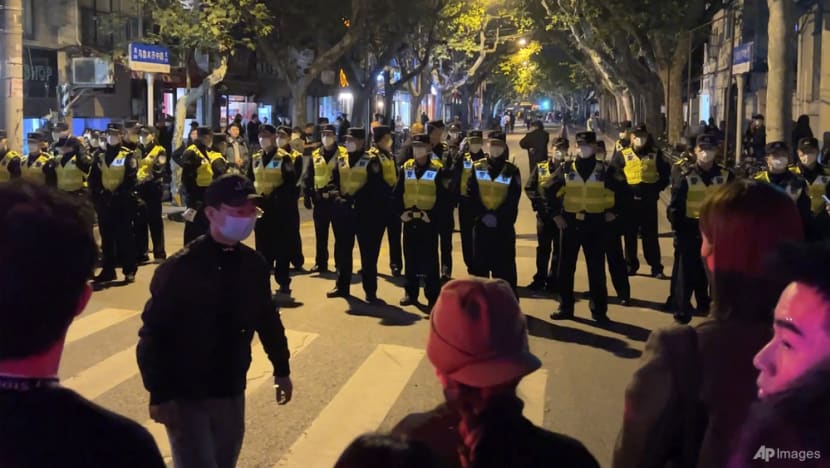 BUILT-UP FRUSTRATION
In the five years since moving from Singapore to Shanghai, I have never seen dissent like this in the city.
When the pandemic first started, the nation's zero-tolerance approach was embraced and lauded for its effectiveness in keeping infections low.
But as the virus evolved, so did public opinion. With COVID-19 now being seen as an endemic in many countries, the necessity of such strict measures has been called into question.
The protests come at a time when tensions are mounting, following the unprecedented lockdown in Shanghai earlier in the year. What was originally announced as a five-day city-wide shutdown to curb infections stretched for nearly two months, frustrating many of its inhabitants.
Lower-income households and those living in districts further out from the city centre were harder hit by the lockdown. In some estates, food deliveries went missing, taken by hard-pressed neighbours who had no income during the lockdown and could not afford to pay for necessities.
The local government did offer provisions during the lockdown, but the frequency and quantity of those supplies varied between districts.
The disparity was apparent, as I found myself struggling with regular boxes of fresh greens that I could never finish, while some of my coworkers survived on instant noodles and frozen dumplings while awaiting their next supply drop.
Till today, lockdowns can happen at any time, without warning.
On one occasion, I sat waiting in a darkened studio at a spin studio for an instructor who never showed because her compound got locked down suddenly.
When the staff told the class the session was cancelled, there were murmurs of complaints, but no one seemed particularly perturbed. People dismounted their bikes and left the class calmly.
Compound lockdowns happen so frequently in Shanghai these days that people seem almost desensitised to it. They are tiresome, but inevitable and expected. An inconvenience that has become ingrained in daily life.
HOPE MAY BE WHAT THE CITY NEEDS
While most of the world has reopened, China has persisted with its strict PCR testing and quarantine requirements upon entry ­– and this is increasingly grating.
The younger generation of Chinese feel these restrictions more keenly than their parents' generation, my friend tells me, and are probably acting out more because of that. A native Shanghainese, she never once considered leaving the glistening metropolis for life anywhere else until now.
While exiting the country has been made easier for foreigners residing in China in recent months, it remains challenging for locals unless they have valid reasons to leave, such as family living abroad, or educational requirements.
It is, however, not all bleak. Just a week ago, rumours about a potential reopening in the next few months (albeit based on unverified screenshots) buoyed markets and sparked buying of travel packages online by locals.
Dates for the usage of these packages were not set and can be booked at a later date, indicating strong interest in international travel and hope that borders might open soon.
While it might not sound like much, hope is a powerful thing – and might just be what the city needs right now.
Ye Jiayi is a Singaporean who works in the digital research and consulting space in Shanghai.