Costlier roti canai, Ramly burgers: Locals in JB tighten their belts as eateries hike prices
Eateries deny raising their prices to cash in on the recent influx of Singaporean tourists. They maintain that the price hike is inevitable as operating costs have gone up.
JOHOR BAHRU: For factory technician Muhd Nur Hidayat Abu Bakar, the rising food prices in recent months mean he has to watch his expenses closely. 
Meals at his favourite haunts for roti canai, nasi campur (mixed rice) and nasi lemak around Johor Bahru have all increased in the last three months. 
"Initially it seemed insignificant, a couple of ringgit here and there," said Mr Muhd Nur Hidayat. 
"But when I saw the figures in my bank account dwindling, I started to realise that this problem may be serious," added the 28-year-old, who is saving up for a wedding in 2023.
To curb his dining expenses, Mr Muhd Nur Hidayat has recently resolved to eat simply, recounting how he eats plain rice with fried eggs in the week leading up to payday. He declined to reveal how much he earns every month. 
"It's shocking how (extensive) the problem has become - almost every warung, mamak shop, restaurant or cafe, their dishes are more expensive than before. And I don't think they will revert back (to the old prices) ever," he said. 
Some eateries in Johor Bahru have acknowledged that indeed there has been an inevitable increase in prices of their food menu items, due to the sustained hike in costs of food products like eggs, cooking oil, flour, rice and meat. 
In June, the Department of Statistics Malaysia said the inflation has increased by 3.4 per cent year-on-year in June, surpassing the average inflation for January 2011 to June 2022 by 1.9 per cent. 
Food inflation increased by 6.1 per cent and was the main contributor to the rise in inflation in June, chief statistifican Mohd Uzir Mahidin was quoted as saying by Bernama.
Prices of chicken, for instance, increased 17.2 per cent in June, the Edge reported. The average price of processed chicken was RM10.02 per kg compared with RM8.55 a year ago. 
Many Malaysians are feeling the pinch of increasing prices, and some like Mr Muhd Nur Hidayat are finding it challenging to reduce their eating out expenses. 
MORE EXPENSIVE RAW INGREDIENTS HAS TRIGGERED PRICE HIKE: EATERIES 
Johor Indian Muslim Entrepreneurs Association (Perusim) secretary Hussein Ibrahim told CNA that some mamak stalls in Johor Bahru initially tried to absorb the added costs. They were eventually left with no choice but to increase the prices of their dishes. 
"Yes, there has been a pervasive increase in prices of raw food ingredients, and ultimately the dishes we serve at mamak outlets. It's to the point that we feel bad for increasing prices for customers because we are burdening them," said Mr Hussein. 
"(The price of) everything has gone up by between 10 and 15 per cent. Even staples like roti canai, we have no choice but to increase by 20 to 30 sen, because the reality is that flour and cooking oil are more expensive," he added. 
Mr Hussein also acknowledged that prices of other mamak dishes like fried noodles, naan, nasi kandar and nasi briyani have increased by 10 to 15 per cent across many outlets. 
Taxi driver Allan Teh, who resides in Kulai but works in Johor Bahru, told CNA that he now has to think twice before dining out for breakfast or lunch during his shift.  
"Maybe instead of ordering an egg roti (canai), I order the plain," said Mr Teh.
"The price of everything has increased but (my) income is the same. I have no choice but to be careful with spending," added the 47-year-old. 
The price of food offerings have also increased in some cafes and restaurants in the city.
Johor Bahru resident Zulkhubri Ali Khan, who is a regular at Seven Oaks Bakery Cafe at Taman Pelangi, told CNA that he noticed the outlet has tweaked the prices on its menu in recent weeks. 
"The prices have gone up. Pasta dishes that previously cost RM18 to RM20 are now RM22 to RM25. Same with other mains like burgers and rice dishes," said Mr Zulkhubri. 
"I don't think this will prevent me from coming again because the food quality here is good. But it's worth noting that each meal will be more expensive," added the business consultant. 
Manager for Seven Oaks Bakery Cafe Firdaus Mansur said that due to price hikes for raw materials like eggs, rice and cooking oil, prices of "most dishes" on its menu have gone up by 5 to 10 per cent. 
However, he said that the cafe has also increased the portion of its dishes.
"We obtain ingredients directly from a supplier, and the prices we buy these raw foods are in line with what the government has set," said Mr Firdaus. 
"Our profit margins are already very small so we don't gain anything from increasing the prices," he added. 
INFLUX OF SINGAPORE VISITORS A CONTRIBUTING FACTOR?   
Some locals have mooted the possibility that eateries in Johor Bahru have increased prices due to the return of visitors from Singapore since the borders reopened in April. 
Mr Muhd Nur Hidayat claimed that it was possible many of these eateries lost revenue during prolonged border closures due to COVID-19, and are now looking to "earn back" by increasing prices. 
"In 2021, when dining out resumed (as part of loosening COVID-19 restrictions), many outlets did not raise prices as they were likely afraid of scaring away locals," said Muhd Nur Hidayat.
"But now that Singaporeans are back, business is good and in demand, they grab the opportunity to recoup their losses," he posited. 
Local news outlet the Star reported last week that the influx of visitors from Singapore, coupled with a stronger Singapore dollar against the Malaysia ringgit, has led to Johor Bahru eateries cashing in by raising prices. 
Yet, Johor Bahru eateries interviewed by CNA denied they were deliberately cashing in on any tourist influx, maintaining that the hike was just a snowball effect of an increase in operating costs. 
Seven Oaks manager Mr Firdaus said that the increase in prices on the cafe's menu was made to ensure it remains affordable for its local clientele, and not its Singapore customers. 
"On weekends, our customers are 50 to 60 per cent from Singapore. But on the whole, we are still very much dependent on locals to keep our business going," said Mr Firdaus. 
"Hence, we only raised prices in a measured manner," he added. 
Ms Nizwara Sayabi, who operates a Ramly burger stall near a car wash in Bukit Chagar, said that she has increased prices because meat patties, eggs, buns and wrapping paper were getting more expensive. 
She said that a normal chicken burger which cost RM3.50 in 2019 pre-pandemic is now priced at RM4.50. 
She maintained that even though more than 75 per cent of her customers are Singaporeans, she never considered the stronger dollar or the influx of visitors to be the reason for increasing prices. 
"In fact, some of the customers who are Singaporeans have also noticed the price increase and they do ask why," said Ms Nizwara. 
"But on the whole they are understanding. Inflation is everywhere and everyone is impacted," she added. 
However, Ms Nizwara acknowledged that many local Johoreans customers find the price spike to be excessive. 
"Some of my friends and family members come by to support me. But on the whole, locals who do buy from us in recent times, won't buy again after buying once," she added. 
Ms Nizwara added that as someone "who hustles to make ends meet", the rising costs of living, including meal expenses, have also impacted her. 
"I've also had to pawn jewellery to feed my family, and tide through this tough period," she added. 
JOHOR GOVERNMENT STUDYING BEST WAY TO HELP LOCALS
With the cost of food expenses increasing in recent months in Johor Bahru and across Malaysia, many residents are concerned that the trend is likely to continue. 
In a statement issued last month, Malaysia's Bank Negara said that the country's headline inflation is projected to remain within the 2.2 per cent to 3.2 per cent forecast range for the year.
The central bank outlined that the rise was contributed mainly by higher inflation for dining outside home, expenditure at restaurants and cafes as well as repair and maintenance for personal transport. 
In June, Johor opposition politician Madzir Ibrahim from Parti Pejuang Tanah Air (Pejuang) called for Johor Chief Minister Onn Hafiz Ghazi to issue "targeted and short-term subsidies" for food commodities like wheat flour, cooking oil and rice for Johoreans. 
"Such subsidies would be more useful than just giving out one-off initiatives like rice or food baskets to the people as these are reserved for poor families and selected B40 groups. Those who are not on this list will be left out," he reportedly said. B40 refers to the bottom 40 per cent of households.
Following a visit to the wet markets recently, Mr Onn Hafiz released a statement, expressing his confidence that the federal government was doing its best to control the price level of food commodities.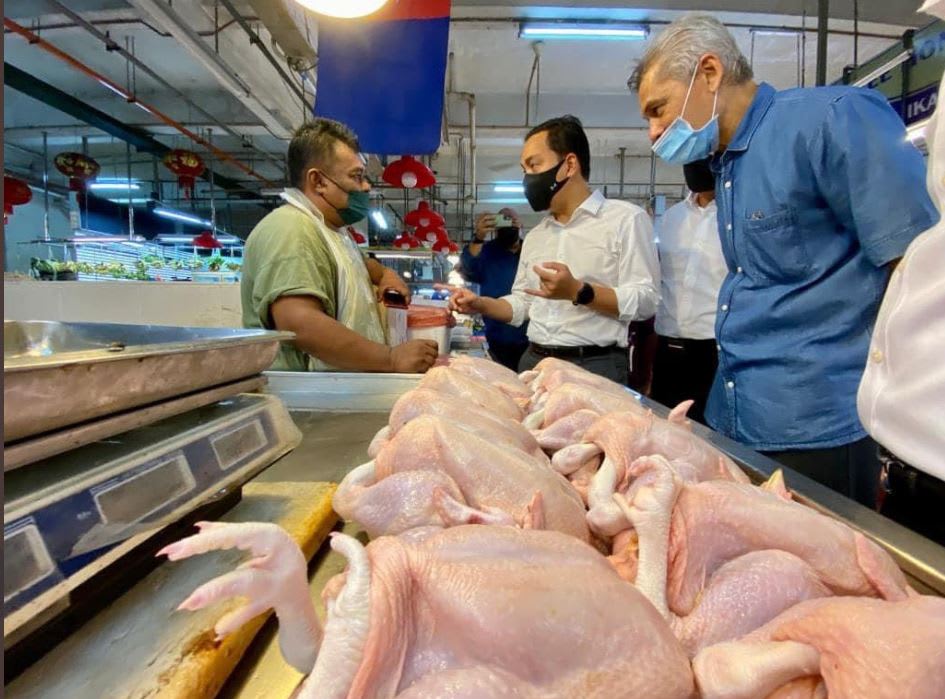 "Despite this, because of inflation, these efforts have not been able to prevent the prices of goods from rising continuously and the people have been forced to shoulder this burden themselves," wrote Mr Onn Hafiz. 
"At the same time, the Johor state government is studying the best way to lower the burden shouldered by the people of Johor. God willing, I will strive to announce something in the short term," he added. 
On the other hand, eateries have said that it is unlikely that the prices will be reduced in the future. 
Seven Oaks manager Mr Firdaus said: "I don't think we will reduce prices, but we will instead strive to improve the quality of our dishes and offerings." 
Perusim's Mr Hussein shared similar views, and he also called for the government to cut out middle men for the transportation and sale of raw goods like chicken, vegetables and egg. 
"It's not likely the prices will go down anytime soon. Perhaps what might help is if the government opens a one system centre where farmers can sell directly to eateries and cut out the middle men," said Mr Hussein. 
"Perhaps this is an opportunity to try something different to help businesses and the people," he added.