'Most people are complaining': With food inflation higher at 4.1%, Malaysian consumers are feeling the pinch
In the Department of Statistics Malaysia's April consumer price index report, 89.1 per cent of items in the food and beverages group have recorded price increases.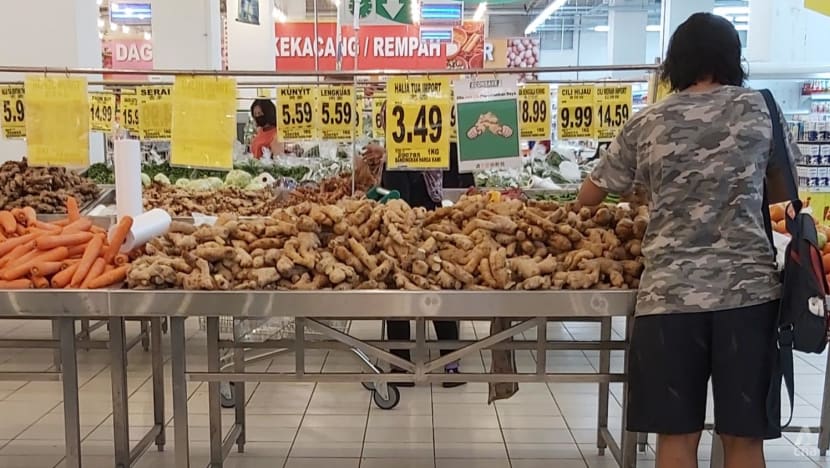 KUALA LUMPUR: Every time Ms Michelle Tan, 33, goes to the market or supermarket, she does not know what to expect in terms of the amount of cash she has to fork out for groceries.
The marketing executive at a multinational company noticed that the prices of most food items have gone up in the past few months.
"It is unavoidable that prices are increasing but unfortunately our salaries remain stagnant. As a middle-income family, we are cutting down on food items that are considered a luxury," Ms Tan, who lives with her parents in Kuala Lumpur, told CNA.
Salmon that once cost RM65 (US$14.80) per kg is now RM90, cut chicken which was RM19.90 is now RM25.90, while minced pork has increased by RM6 per kg, she said.
"We don't eat salmon anymore. We switched to chicken but even chicken prices are increasing. If we can feel the pinch, I shudder to think how the lower income group is getting by," she said, adding that she also eats at home more these days.
According to the Department of Statistics Malaysia's April consumer price index (CPI) report, food inflation was 4.1 per cent higher compared to the same month last year, with 89.1 per cent of items in the food and beverages group recording price increases.
It said that this group of items - the largest component of household spending - showed the highest increase since January 2018.
The subgroup of milk, cheese and eggs increased by 7.2 per cent compared to April last year, while meat, vegetables, fish and seafood, as well as oils and fats increased by 6.2 per cent, 4.5 per cent, 3.8 per cent and 3.5 per cent respectively.
The department noted in its report that was released on May 25 that the increase in demand for food materials during Ramadan, especially from the main sectors of the food industry such as catering, hotels and Ramadan bazaars, had put pressure on food inflation.
Headline inflation is projected to average between 2.2 and 3.2 per cent this year, according to the central bank, while industry players cited the ringgit's depreciation, Russia's invasion of Ukraine, the new minimum wage policy and logistics issues as among the factors contributing to high prices.
The government, for its part, has spent billions on subsidies and introduced price control systems to prevent the prices of goods from spiralling up even further.
Prime Minister Ismail Sabri Yaakob, in an interview with Nikkei, said the government was keen on re-introducing the Goods and Services Tax to ease fiscal strain. 
FROM HOUSEHOLD ITEMS TO FOOD, PRICES HAVE GONE UP 
Federation of Sundry Goods Merchants Association of Malaysia president Hong Chee Meng said prices of things have generally gone up by 5 to 10 per cent.
The 25 per cent hike in minimum wage from RM1,200 to RM1,500, effective May 1, was among the reasons costs were rising, he said.
"We have no choice but to raise prices," Mr Hong told CNA.
Retailer AEON Malaysia said during a press conference that the prices of products sold at their outlets have increased between 3 per cent and 5 per cent.
However, they have been able to delay price hikes to enable consumers to adapt to the inflation situation, according to financial daily the Edge.
Budget chain store Eco-shop, which sells household items at RM2.40 each, also recently announced that it would increase its price to RM2.60 starting from June because of cost increases.
Mr Tommy Ng, who owns a sundry shop in Shah Alam, said he expected prices of goods to increase further in June.
He now sells a bottle of 5kg Buruh cooking oil for RM30.90, which was RM18.90 not too long back, while 1kg of flour has increased from RM2 to RM3.60.
He also noted that the price of a popular liquor has increased from RM230 last year to RM290 recently.
"Most people are complaining but I can only try and explain to my customers. Everything has increased in price since April but the economy is not doing so well. People are buying less, and we businesses are also facing difficulty," he said.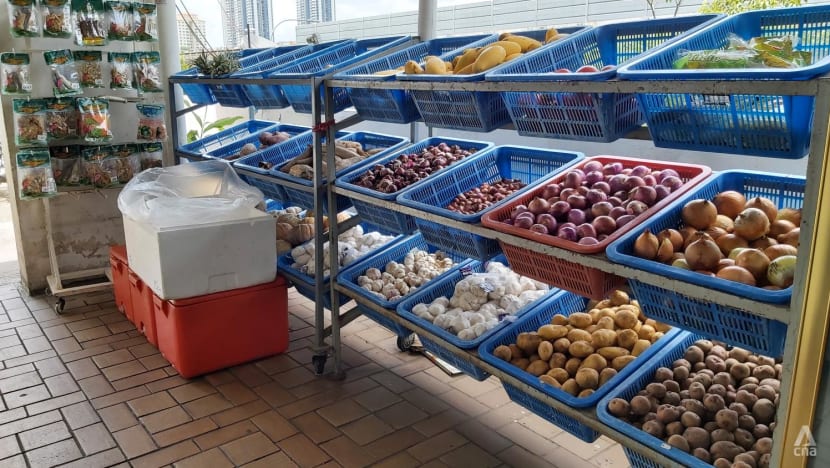 Malaysia-Singapore Coffeshop Proprietors Association president Wong Teu Hoon told CNA that for the moment, their members would not hike up prices of food despite the increase in costs.
"We don't dare do this because fewer customers will come then, and we will lose more. We can only absorb the price increases and get smaller profits," he said.
Some restaurants have no choice but to raise prices, such as Yut Kee, a famous Hainanese coffee shop in downtown Kuala Lumpur that has been operating since 1928.
It said new prices would be implemented from June.
"We regret having to do so, but with the cost of materials spiking to new highs, we are struggling to make ends meet. We can only ask for your kind understanding and continued support," it said in a Facebook post on May 31.
WHAT HAS THE GOVERNMENT DONE
Malaysia is a net importer of food, importing RM55.5 billion of food products in 2020 while exporting RM33.8 billion the same year.
Therefore, the weakening ringgit will increase the costs of imports and cause higher food prices.
Finance Minister Tengku Zafrul Tengku Abdul Aziz said that Malaysia was expected to fork out higher total subsidies to the tune of RM71 billion this year.
The higher subsidies had resulted in a lower inflation rate at 2.3 per cent, he said at the World Economic Forum's annual meeting in Davos this month, Bernama reported. 
An example of government subsidy would be the RM729.43 million allocated for chicken breeders to alleviate their burden. This will end on Jul 1. 
The federal government was also looking into targeted subsidies for the people.
"The government, realising the pressure felt by the people due to rising prices, is providing large subsidies. And these subsidies will continue, but from a policy standpoint, we have decided to implement a targeted subsidy policy for those who are eligible and needy," Minister in the Prime Minister's Department Mustapa Mohamed was quoted as saying by Bernama.
The minister added that the rate of inflation was still low and under control due to broad-based subsidies by the government.
The government's move to control raw material prices has helped curb inflation, he said, while pointing out that the inflation rate in the United States and United Kingdom were 8.3 per cent and 9 per cent respectively.
State governments have also stepped in to assist the people.
In Sarawak, the state government said it would introduce a discount on electricity tariff for food producers and retailers to help them reduce their costs of doing business.
The Selangor government, meanwhile, allocated RM 1 million to run a food price intervention programme, which offered chickens and eggs at a cheaper price, according to the state's official news portal Selangor Journal.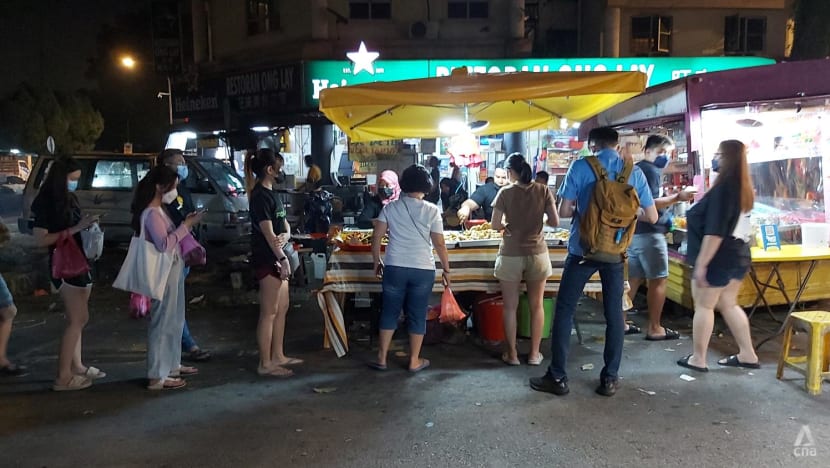 WHAT CAN CONSUMERS DO
A housewife, who wanted to be known as Faridah, 36, told CNA that she has felt the pinch, but would not skimp on proper meals even if the food items cost more.
She said her husband, who works in a cement factory in Ipoh, has to put in an additional 10 hours of overtime per month to earn more money.
"Everything has gone up. Tell me what has gone down in price? If last time RM250 meant five bags of items at a supermarket, now it is only three bags," said Faridah, who has three children aged seven and below.
She said she has cut down on her children's snacks, which she said are much more expensive these days.
"If they were RM1 before, they could cost RM1.50 now. I can cut this out but not proper meals," she said.
Economic analyst Madeline Berma told CNA that food inflation would affect the low-income group or the B40 as they spent the most money on food in relation to their income.
Dr Berma, who is a fellow with the Academy of Sciences Malaysia, said the government has done what it could, such as instituting price controls for certain things and removing the approved permits to import food.
"I don't think the government wants to increase subsidies because that will come from the taxpayers," she said.
She said consumers have to find alternatives by trying to plant their own food, although she acknowledged that some people might not be in favour of such a suggestion.
She pointed to urban farming practices, which can be practised in urban areas and high-rise buildings.
Dr Berma said the most important thing the government could do is to make sure the economy grows.
"When there are mega projects and small projects, investments will come in and workers will benefit with more income," she said.