'Deserted ghost town': Johor Country Garden condo residents concerned over unfinished projects amid China developer's debt crisis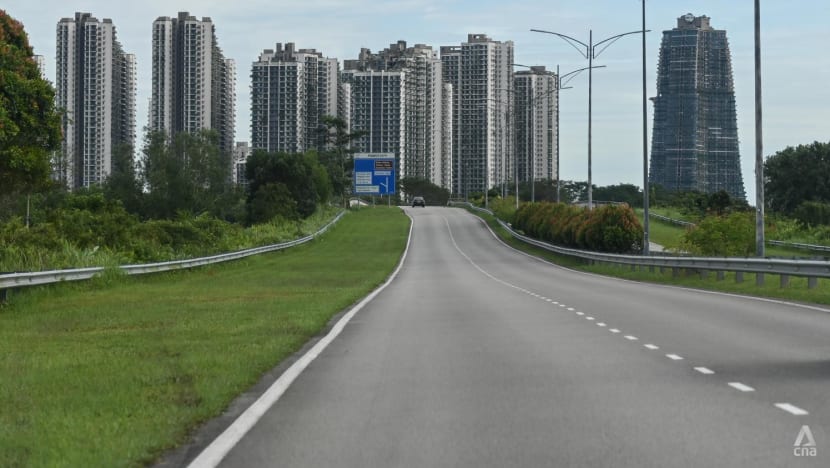 News of Country Garden's debt crisis in China has sparked fears among residents living in the developer's subsidiary projects in Johor

Many are worried that unfinished projects will be abandoned and property prices will fall further

Industry experts say residents concerns are valid and Country Garden Malaysia should publicly clarify if projects will proceed as planned
JOHOR BAHRU: A bustling, futuristic metropolis with spacecraft-shaped towers draped in greenery is what the area around the Forest City residential project in Johor Bahru should look like today.
But it remains a mirage for Singaporean Chee Pei Lin, four years after moving into her two-bedroom apartment there that she paid RM700,000 (S$204,779) for in 2019. 
Lured by the lower property price compared to Singapore's and prospects of using the 635 square feet apartment as a retirement home, Ms Chee tells CNA she now feels underwhelmed and disappointed by the slow pace of the development around her apartment block at Ataraxia Park and the surrounding city centre. 
"All around the town, there are pockets of space which are barren and underutilised. But if you look at the 3D model on show at the sales gallery, there are supposed to be more residential towers and other amenities like yachts and shopping complexes," says the 48-year-old.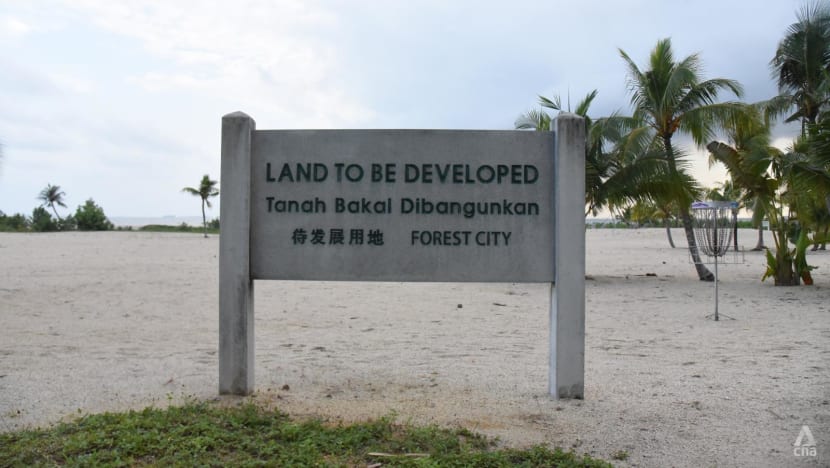 Ms Chee, who works in finance, adds that the recent news of the project developer's parent company Country Garden in China edging towards financial default exacerbates her concerns.
Specifically, she fears that construction for the remainder of the Forest City development may not be completed and that the area she lives in will continue to be a "deserted ghost town". 
"The reports are very worrying. I think it raises a lot of questions (on) whether the developer in Malaysia also has cash flow problems, and if they will be able to finish what they planned to do?" she adds.
Property experts in Johor CNA spoke to concur that these concerns are valid, especially given recent steps taken by Country Garden to divest its property ventures in other countries. 
COUNTRY GARDEN'S DEBT CRISIS COULD IMPACT PROJECTS IN AUSTRALIA, MALAYSIA 
The debt crisis at Country Garden in China has made global headlines as the firm had been the country's largest developer by sales value before 2023. 
Last week, it suspended trading in nearly a dozen onshore bonds, paving the way for debt negotiations and a possible restructuring, as its share price plummeted. 
The company now has a 30-day grace period reportedly till early September to pay up its debts before it is considered to be in default.
The firm's business and construction projects are mainly concentrated in cities across mainland China, but it has subsidiary companies in Malaysia which also oversee three developments in the southern state of Johor.
This includes the company's flagship US$100 billion (S$135 billion) mega project Forest City in Gelang Patah and another coastal development, Danga Bay, near Johor Bahru which has a gross development value of US$18 billion. 
The third project - Central Park - is still under construction and the entire masterplan of the project is set to be completed from 2024. It is set to be valued at RM4.6 billion (US$990 million).
A planned development across four separated pieces of reclaimed land near the Tuas Second Link bridge, Forest City encompasses condominium complexes, villas, a hotel, golf courses as well as various other amenities such as malls and schools.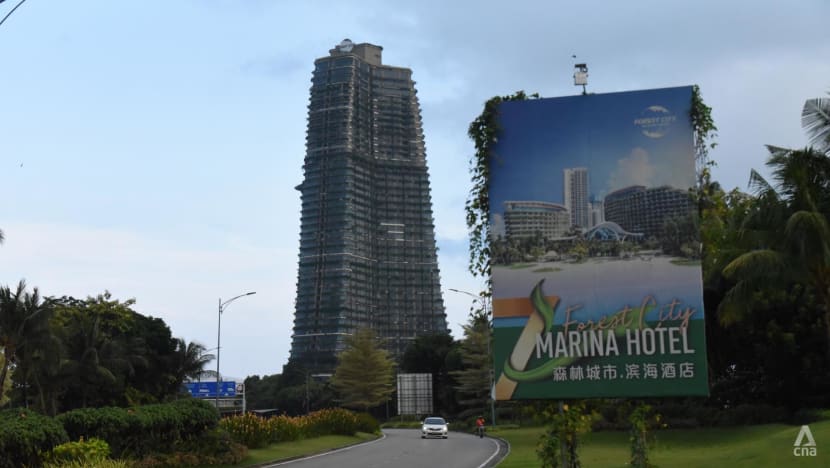 According to checks on property websites online, prices of houses in Forest City range from around RM400,000 to RM4.8 million. 
Danga Bay meanwhile features six different condominium complexes within its 0.23 sq km of coastal reclaimed land. 
The project offers one to four-bedroom condominium units, with prices currently valued at between RM300,000 and RM1.3 million. 
The Central Park project also offers apartment units of between one to four-room houses. In addition, it also has two-storey terrace units valued at between RM280,000 to RM1.1 million. 
CNA spoke to 10 residents from the two developments in Johor - Forest City and Danga Bay - who expressed that they are concerned that the parent company's financial woes will have a spillover effect on the completion of projects in Malaysia. 
They worry that this may have an indirect impact on property value as well as their living environment, looking at Country Garden's moves over its projects elsewhere.
According to news reports in Australia, the beleaguered China company is putting up for sale a 150-hectare undeveloped portion of its Windermere estate with an asking price of A$250 million (S$218 million). 
A report by Financial Review also quoted the developer as saying that it plans to "divest" its last remaining project in Australia - the A$2 billion Wilton Greens Estate in Sydney.
Mr Samuel Tan, the executive director of KGV International Property Consultants in Johor, tells CNA that it is "quite inevitable" that debt issues by Country Garden China will also trigger negative sentiments among current residents and prospective buyers in Malaysia.  
"It is a valid concern by some of these residents that Country Garden in Malaysia might also default and this will trigger cash flow problems that will impact the completion of the projects," says Mr Tan. 
"If demand is slow, they will stop launching any new products. This is a practical and pragmatic stance by any developer," he adds. 
FOREST CITY ONLY 15% COMPLETED; RESIDENTS FEAR VALUE DEPRECIATION 
In a press statement on Aug 2 - just 12 days before news broke that Country Garden in China missed bond payments and its shares sank - Country Garden Malaysia said the firm was committed to proceeding with its plan to develop Forest City, in line with the existing master plan until 2025. 
The statement quoted the firm's regional deputy president Syarul Izam Sarifudin as saying that development at Forest City had been hampered by "unforeseen factors such as the COVID-19 pandemic and the slow global economy".
Mr Syarul Izam Sarifudin also said that the company is "always prepared to review and to re-evaluate Forest City's development plans after 2025" if there is a need to do so.  
Construction of the Forest City project began in 2015, with an aim to develop four artificial islands covering a total of 20 sq km.
Since then, construction for half of one artificial island - equivalent to 15 per cent of the total area of the Forest City project - has been completed. 
According to the developer, a total of 28,000 residential units have been completed and to date, around 9,000 residents live in Forest City.
Forest City has also been infamously reported by various media outlets as a ghost town - in reference to how the area is largely deserted, with a large number of residential units remaining unoccupied. 
When CNA visited Forest City recently, the housing estates seemed quiet and mostly unoccupied.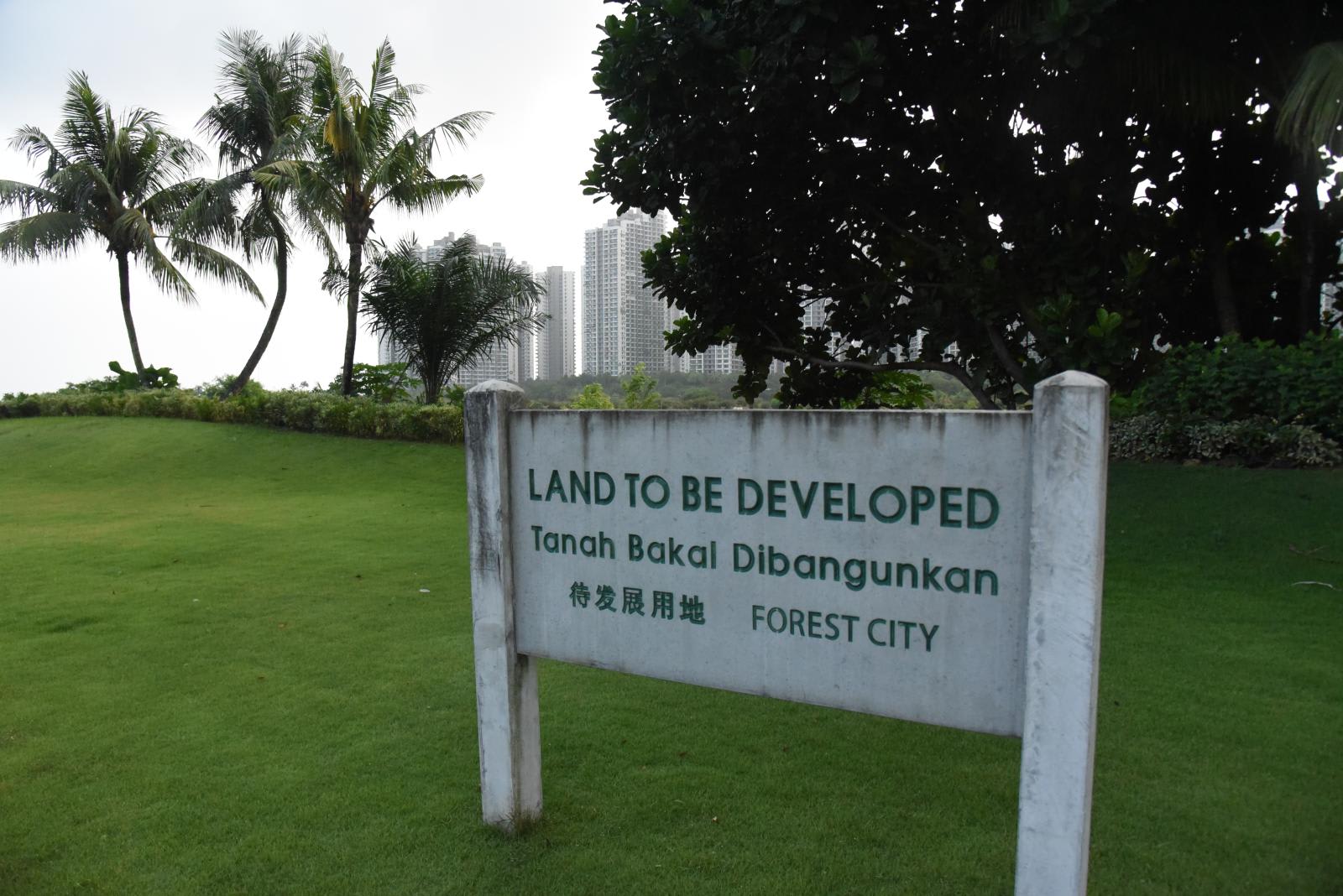 While the properties appeared well maintained by staff clad in Forest City uniforms, there was barely any construction work ongoing on land reserved for development. 
Singaporean Ms Chee, who lives in Ataraxia Park, tells CNA that she feels it will be "extremely unlikely" that Forest City's construction will be eventually completed. 
"What I'm concerned about is the impact on my property's value. I bought the unit at around RM700,000 but now they are worth only (around) RM400,000," adds Ms Chee, who bought the apartment partly for investment. 
"I fear that with this news of potential default, the Malaysian developer will cease construction of the remainder of the project and we will see the value drop even more in the coming months." 
Another property owner Hong Li Wei, who owns a three-bedroom apartment at Starview Bay in Forest City, tells CNA that the recent financial woes will likely hit his rental rate. 
The Malaysian citizen bought the 1,130 sq ft property at around RM1 million in May 2019. 
During the COVID-19 pandemic, the Selangor-based engineer rented out his unit for RM2,000 a month, but with the lack of progress in construction of amenities near his estate, he fears he can no longer convince tenants to continue paying the same amount.  
"The market rate for units of this size has dropped to around RM900 a month because the amenities around Forest City have not been built as promised. There are no major grocery stores or cineplexes in the estate," says Mr Hong. 
"When I read that Country Garden is having financial issues, I am afraid the rent may fall more and my investment would not be worth it anymore," he adds. 
Mr Tan of KGV International Property Consultants, told CNA that overall negative sentiment at the Country Garden prices might drive prices and rental rates further down - especially for property owned.
He noted that the prices of apartment units in Danga Bay, for instance, have dropped 50-60 per cent since it was launched already. 
"If the fear persists, there will be auctions of homes and prices will continue to go down," says Mr Tan. 
DANGA BAY RESIDENTS FEAR THEY WON'T RECEIVE STRATA TITLE  
The incompleteness of the development has also triggered a health hazard, according to residents at another Country Garden project, Danga Bay. 
The entire development has been completely built, except for a single residential block - block 18 - at the King's Bay section.  
In minutes of a recent resident's committee meeting seen by CNA, a representative from the developer Country Garden reportedly said that the company "has the flexibility to build or not to build the provisional block 18" and that "it would be beneficial to the (resident's) committee if block 18 were not built", citing less crowd. 
The foundation for block 18 has been constructed, but it remains an eyesore, and breeding ground for mosquitoes, according to residents CNA spoke to. 
A Singaporean owner in the King's Bay section of the development - who wanted to be identified only as Mr Alvin - tells CNA that puddles of water have formed at the concrete area, and he fears this will facilitate mosquito breeding and lead to the spread of dengue in the estate. 
"We have had to tell (the condo management committee) - please clear the water. The resources needed to maintain the area are covered by the maintenance fee we pay so we feel that the burden to maintain this unfinished construction area is unfairly placed on the residents," says Mr Alvin. 
Another King's Bay resident who wanted to be known as Mr Morris, a foreign citizen who bought his unit in 2013, told CNA that the unfinished block 18 also includes a "sky garden area" which is part of the common facilities shared by residents in the estate. 
"The construction for the Sky Garden should have been completed before the handing over of the units to us as pursuant to the sales and purchase agreement, but it was not done," he adds. 
Some residents across the different estates in Danga Bay have also expressed concern that they would not receive their strata titles, which is proof of legal ownership of their property. 
Mr Alvin, who moved into his unit in 2018, told CNA the process to obtain his strata title is ongoing due to "slow" administrative process by the developer as well as local government agencies. 
He fears that this process will not be completed given that the developer may be impacted by Country Garden's financial issues in China. 
Singaporean Mr Mukhzin Hamid has also not received his strata title, despite having completed the purchase of his seaview three-bedroom apartment unit in 2015. He fears a scenario that his apartment may be seized by the government or liquidators.
"It seems unreal that this can happen to us. We have already paid hundreds of thousands of ringgit but something basic like the house deed cannot even be settled yet," said the 52-year-old retiree.
Industry experts tell CNA that in the event that Country Garden Holdings in China defaults and goes under liquidation, there is a valid concern that residents in Johor would have to undergo an administrative process to submit proof to liquidators that they are indeed the rightful owners. This could incur some additional cost.
Real estate lawyer NG Vinod of Law Chambers of VinSa and Ian, tells CNA that the China parent company would have to realise all its assets including shares it holds with its subsidiary companies in Malaysia. This includes the developer of the Danga Bay project - Country Garden Danga Bay. 
He adds that if Country Garden Danga Bay is liquidated, residents who do not already own their strata titles might be forced to show proof that they are indeed the owner of the unit. 
"The liquidator will have to verify whether that particular unit was indeed sold to this particular individual and generally, liquidators will charge a fee for doing that," said Mr Vinod.
He adds that the liquidator will likely charge a fee of "up to a couple of thousand of ringgit" to ascertain that these residents are the genuine owners of the property, further adding to their financial burden. 
CNA has reached out to Country Garden Malaysia for comment on whether the company is impacted by debt issues faced by its parent company in China, as well as whether residents' concerns relating to unfinished projects, property value and process of obtaining strata titles can be addressed. 
On what Country Garden Malaysia can do to ease residents' concerns, Mr Tan of KGV International Property Consultants stressed that the onus is on the company to clarify its financial position and whether it is impacted by the debt issues faced by the parent company. 
"Shaping public perception is so important," said Mr Tan. "It's now up to Country Garden to communicate its position publicly."
Read this story in Bahasa Melayu here.