I will not hesitate to dissolve state assembly, says Johor sultan as he warns against 'political games'
JOHOR BAHRU: Johor Sultan Ibrahim Iskandar said on Thursday (Aug 12) that he will not hesitate to dissolve the state legislature if assemblymen continued to engage in "political games" and struggle for power. 
In a statement published on his Facebook page after he spoke at the opening of the state assembly, the sultan said: "I will not entertain any political games by assemblymen and risk destabilising my state and government. If that occurs, then I will not hesitate to dissolve the state assembly."
"We don't need politicians to represent the people if all they think about is themselves and not the interests and welfare of the people," he added.
Thursday marked the first sitting of the state legislature since Malaysia imposed a state of emergency back in January. 
He also stressed that assemblymen should use the current session to chart a plan to help the people and rebuild Johor's economy amid the COVID-19 pandemic. 
"There is no need to bring up unnecessary motions to the House. Don't be selfish. The people are suffering, going hungry, losing their jobs and some are even fighting for their lives because of COVID-19," said the sultan.
"This is an august House, not a cage for monkeys. Remember my advice, Mr Speaker. Do your job well," he was reported as saying by Bernama in his opening speech.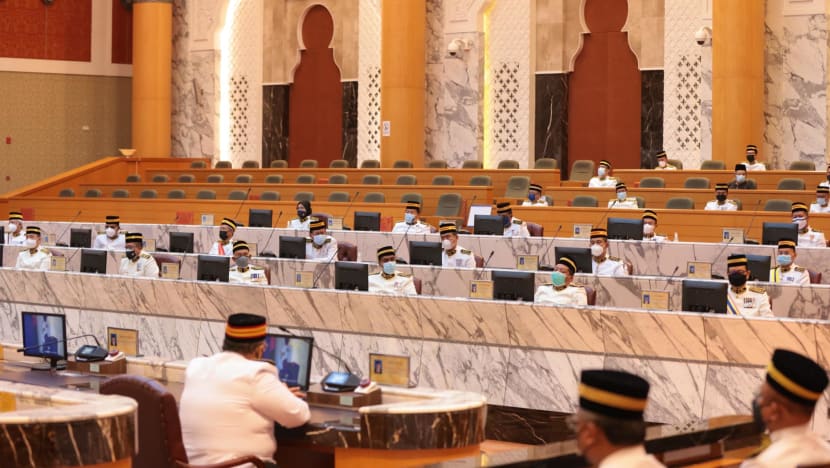 Malaysia's King Al-Sultan Abdullah Ri'ayatuddin Al-Mustafa Billah Shah first declared a state of emergency on Jan 12 to curb the spread of COVID-19. The emergency ended on Aug 1.
Since it was declared, state legislative assemblies have not sat. 
The Johor ruler's speech came amid signs of political tension at the federal level. On Wednesday, local media reported that the king has asked Prime Minister Muhyiddin Yassin to bring forward a parliamentary vote of confidence currently scheduled for early September.
This comes amid pressure from Mr Muhyiddin's political opponents for him to resign on the basis that he has purportedly lost support from the majority of Members of Parliament (MPs) in the Dewan Rakyat. 
In Johor, Kempas state assemblyman Osman Sapian has reportedly called for chief minister Hasni Mohamad to state whether he supports Mr Muhyiddin's federal leadership. The chief minister is from the United Malays National Organisation, where some federal MPs have withdrawn their support for the prime minister.
Among those present during Thursday's Johor state assembly sitting was Mr Muhyiddin, who is also the state assemblyman for Gambir. 
In June, Sultan Ibrahim gave consent for the state assembly to reconvene on Aug 12 for politicians to come up with an action plan to help people affected by the COVID-19 pandemic and a recovery plan for Johor's economy.
Johor is still grappling with a high COVID-19 caseload. On Wednesday, it reported a record 1,693 cases, the third-highest area behind Selangor (6,921) and Kuala Lumpur (2,065). 
Johor is among the states under phase 1 of the National Recovery Plan. As of Thursday, just 16.8 per cent of the southern state's population have received both doses of COVID-19 vaccines. 
The state assembly sitting has been adjourned until Aug 22 so that a COVID-19 risk assessment can be carried out.
Download our app or subscribe to our Telegram channel for the latest updates on the coronavirus outbreak: https://cna.asia/telegram