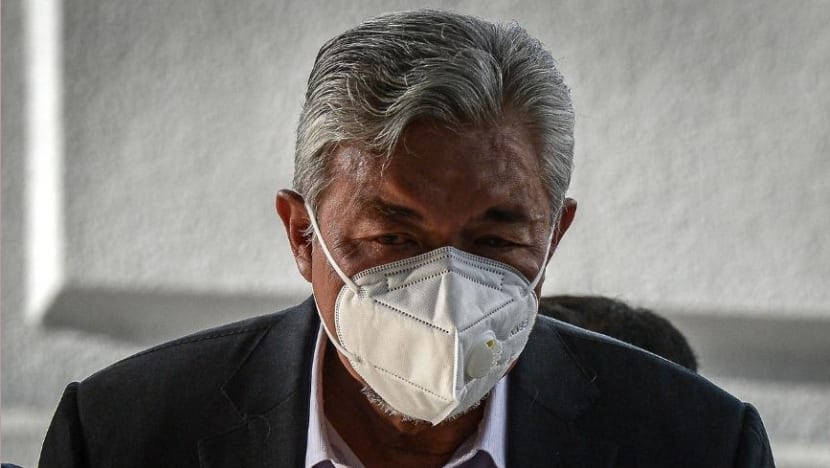 KUALA LUMPUR: Ahmad Zahid Hamidi, the president of Malaysia's United Malays National Organisation (UMNO) has been acquitted in his foreign visa system bribery trial.  
Ahmad Zahid faced 33 charges of receiving bribes totalling RM42 million (US$9.2 million) from Ultra Kirana Sdn Bhd (UKSB) as an inducement to extend the company's contract as the operator of the one-stop centre (OSC) service in China and the foreign visa system (VLN) for the Home Ministry.
In addition to the 33 bribery charges, the UMNO leader was also charged with another seven counts as former home minister for receiving S$1.15 million, RM3 million, CHF15,000 and US$15,000 in cash from the same company. The cash amounted to about US$1.5 million. 
In delivering his judgment on Friday (Sep 23), High Court judge Mohd Yazid Mustafa was quoted as saying by Malaysian media that the prosecution had failed to establish a prima facie case against the former deputy prime minister.
According to the judge, the testimonies by three key prosecution witnesses were not credible and could not be relied on. 
The three witnesses, Mr Wan Quoris Shah Wan Abdul Ghani, Mr Harry Lee Vui Khiun and Mr David Tan Siong Sun, were former executives of UKSB. 
They were among 18 prosecution witnesses called to testify in the trial which began on May 24, 2021. 
Speaking to reporters outside the court, Ahmad Zahid said that he was grateful for his acquittal, adding that he was confident from the beginning of the trial that the presiding judge would scrutinise all legal aspects before making a decision.
The Bagan Datuk MP said that the acquittal means that he had never committed any of the allegations mentioned in the graft charges in the case.
"I'm also confident that as the chairman of Barisan Nasional and president of UMNO that this is the success of Barisan and UMNO's struggles." 
 "I was shamed, accused and punished by the court of public opinion. But, god-willing, on a Friday, we saw that the law has been upheld for justice and I'm grateful," the Star quoted Ahmad Zahid as saying. 
Commenting on the court's decision, UMNO vice-president Khaled Nordin said the party was happy and grateful for the court's finding. 
"It will make us all work harder to face the coming election,"  said Mr Khaled as quoted by Free Malaysia Today. 
Separately, Ahmad Zahid is facing 47 charges - 12 for criminal breach of trust (CBT), eight for corruption and 27 for money laundering - involving tens of millions of ringgit belonging to Yayasan Akalbudi (YAB).
YAB is a charity foundation. The UMNO leader is the foundation's trustee and sole signatory for cheques. 
The hearing for the YAB trial is ongoing.
Ahmad Zahid has accused the former ruling Pakatan Harapan (PH) coalition of selective prosecution against him and other Barisan Nasional (BN) leaders after the 14th general election in 2018.