Bailout of troubled government-linked company, Malaysia's future among issues raised in Anwar-Najib debate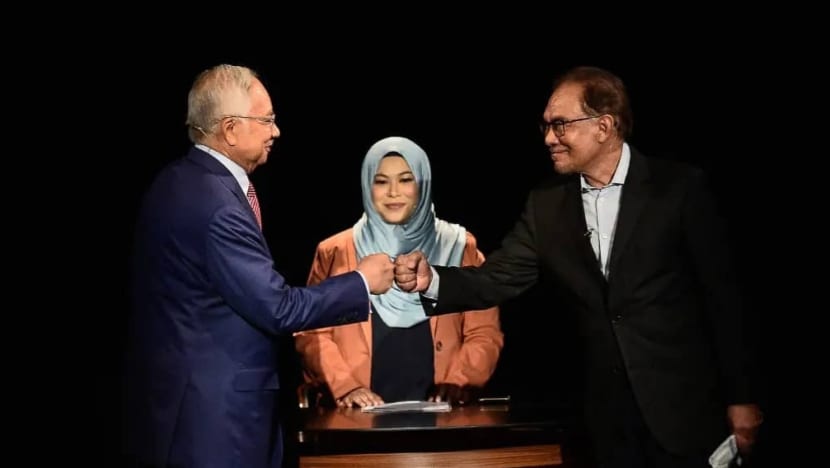 KUALA LUMPUR: Malaysia's opposition leader Anwar Ibrahim and former prime minister Najib Razak squared off in a live debate on Thursday (May 12) night. 
The 90-minute debate centred on whether to bail out cash-strapped Sapura Energy Bhd, as well as the future and direction of Malaysia's economy and politics.
Najib supported the bailout, arguing that people would be on the losing end if the company goes bankrupt, while Mr Anwar proposed for a forensic audit to get to the root of mismanagement.   
Najib said that as Sapura Energy is owned by Malaysians via Permodalan Nasional Bhd (a government-linked investment company), there is a need to rescue Sapura Energy which he said was once the second biggest oil and gas company in the world. 
He suggested that either Petronas takes over Sapura Energy or that the company gets government-guaranteed bank loans. 
The Pekan MP said more than 10,500 locals hold high-skilled jobs in Sapura Energy and that it has about 3,000 vendors, contributing RM92 billion (US$20.9 billion) to the local economy.   
"I agree that if there has been misappropriation, there should be action, but don't let it go bankrupt. 
"If it goes bankrupt, the country and the people will be the ones to lose out," he said, adding that his suggestions would not cost the taxpayers a single cent.
In March, Sapura Energy announced an RM8.9 billion loss for its financial year that ended on Jan 31, 2022.
It said that it recorded an operating loss of RM2.2 billion on the back of RM4.1 billion revenue, which was 22.8 per cent lower than the RM5.3 billion revenue recorded in the previous financial year.
It said that the financial year was one of its most challenging years in the group's history as it faced an unprecedented liquidity crunch.
"Our current financial constraint is the culmination of many factors, including contracts accepted on onerous terms and operational issues exacerbated by COVID-19 pandemic.
"These have resulted in significant losses in many projects, impacting our financial position. Almost all of the project losses were from legacy contracts," its chief executive Anuar Taib said in a statement on Mar 18.
At the Thursday debate, Mr Anwar, who is the president of Parti Keadilan Rakyat (PKR), said there is a need for a forensic audit to be done before any government intervention.
He claimed that the problems faced by Sapura Energy were similar to those faced by 1Malaysia Development Berhad (1MDB), Tabung Haji and Felda, among others.
"We need to start with a forensic audit and identify who is responsible first. It is not just about saving it," said Mr Anwar, adding that the top management received millions of ringgit in wages when the company was doing badly.  
The Port Dickson MP also rubbished claims that not a cent of the taxpayers' money would be used for the bailout, and that the money for a bailout can be better utilised to help small- and medium-size enterprises that have been forced to shut because of financial difficulties.
Both Najib and Mr Anwar used to serve as finance ministers. 
Najib, who is mired in a corruption scandal involving 1MDB funds, was Malaysia's prime minister until the Barisan Nasional coalition was defeated by Pakatan Harapan (PH) in the 2018 general election.  
Malaysia has since seen the appointment of three prime ministers and snap change of government amid political instability. 
Mr Anwar claimed he had a convincing majority in September 2020 to form a new government, but it did not materialise. 
MEGA PROJECTS MAKE ECONOMIC CAKE BIGGER, SAYS NAJIB 
During the debate, Najib touted mega projects such as the East Coast Railway Line, High Speed Railway and the Pan Borneo Highway as necessary for the country's economic cake to be bigger.  
He also said that political stability is important for these kinds of projects to be implemented.   
"The premise is political stability. 
"We can't have a repeat of the situation where we have three governments and three prime ministers in the span of four years," he said, adding that it would affect investors' confidence in the country. 
Najib also claimed that the country would have an extra RM30 billion to spend today if the Goods and Services Tax (GST) that he implemented during his time as prime minister had not been abolished by PH. 
Najib said that the country should accumulate assets instead of selling them off, like what the PH administration had done during its 22-month administration.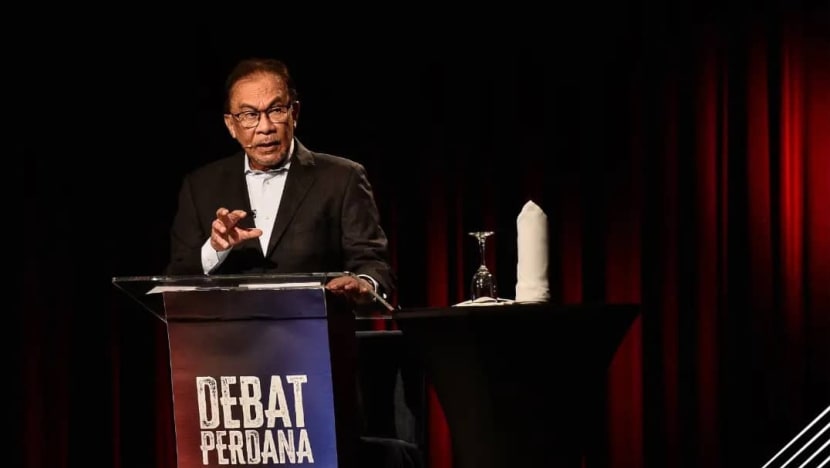 WILL THE ECONOMIC CAKE BE CUT EQUALLY, ANWAR ASKS 
Mr Anwar, however, questioned the political stability touted by Najib and asked him if the economic cake would be cut equally.  
"Will the elites carve up the cake among themselves, and leave a little bit for the others?" he said.
He stressed that there is a need for systemic change in the country, saying that integrity and accountability are important for its future.
While Mr Anwar said he is not against mega projects, more should be done to help the lower classes of the people who face healthcare, education and water supply woes.
He said many people are facing problems because of the rising costs of living
Mr Anwar also criticised the "cash is king" policy touted by Najib, saying that it created a dependency syndrome.  
"Money is given to the poor so that they are dependent on you and not to liberate them," he said, in response to Najib's direct cash assistance proposal.
Thursday's debate was arranged after Najib and Mr Rafizi Ramli, who is contesting the PKR deputy president's post in the party polls, traded barbs over the Sapura Energy issue on social media. 
Mr Rafizi had challenged Najib to debate the issue, but the former prime minister said he would only debate Mr Anwar, the PKR president.  
The latter eventually agreed.