Negotiate or fight? Battle for No 2 post in Anwar's PKR reveals divergences in political strategy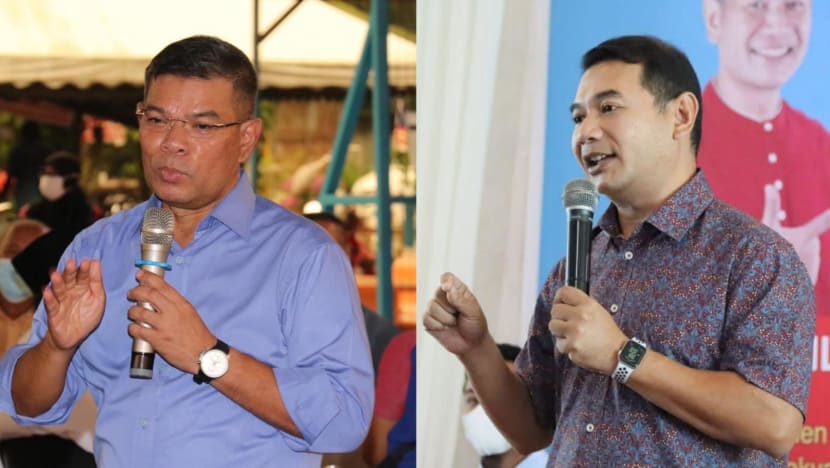 KUALA LUMPUR: Within Mr Anwar Ibrahim's Parti Keadilan Rakyat (PKR) these days, all eyes are on the tussle for the No 2 post in the May party election. 
Mr Saifuddin Nasution Ismail, currently the party's secretary-general, is locking horns with Mr Rafizi Ramli, a former MP who returned from a hiatus from politics, over the deputy president's post.
The contest has taken on a somewhat personal dimension for the two candidates, with both Mr Saifuddin and Mr Rafizi taking swipes at each other publicly in recent weeks. 
In one example, Mr Saifuddin called Mr Rafizi's decision to take a break from politics in 2019 as "exaggerated". 
Mr Rafizi had said back then that he left politics because he knew Dr Mahathir Mohamad, who was then prime minister, disliked him and he did not want it to affect the transfer of power from Dr Mahathir to Mr Anwar. He also said he wanted to focus on his tech start-up. 
Meanwhile, Mr Rafizi proclaimed he had "made way" for Mr Saifuddin to assume the secretary-general position in the last party election, and also persuaded Mr Saifuddin to return to active politics after the latter lost in the 2013 general election to his opponent from United Malays National Organisation (UMNO).
The party election, last conducted at the end of 2018 and originally due for last year, was postponed until 2022 due to COVID-19. The polls will determine the party's leadership line-up for the 2022-2025 term. 
Malaysia's political landscape has undergone drastic changes since 2018. 
The last party election was conducted on the heels of an election victory in the 14th general election (GE14), when Pakatan Harapan (PH) coalition - in which PKR is a linchpin - defeated Barisan Nasional (BN) and marched into Putrajaya. 
However, the PH government crumbled barely two years later following the defection of 11 PKR MPs led by Mr Mohamed Azmin Ali, who had won against Mr Rafizi in the fight for the deputy president post in the 2018 party election with a two per cent margin.  
PH also suffered a string of defeats in snap state polls and by-elections since GE14.   
The deputy presidential battle aside, it is a crowded affair for other party positions, such as 17 nominations for the four vice presidency slots, while Mr Anwar retained the president's post uncontested.
In total, more than 11,000 candidates are contesting for both branch and central leadership positions. 
Polling will be held from May 22 until May 29 followed by the party's national congress in early June.
The fight for the No 2 post, in particular, is being closely watched as it will affect both the party's direction and PKR's relationship with other parties for the 15th general election (GE15). 
Mr Saifuddin is in favour of retaking federal power in the short-term, while Mr Rafizi is pushing for rebuilding the party to come back stronger. 
DIFFERING GE15 APPROACHES
On PKR's preparations for GE15, Mr Saifuddin has espoused sentiments supporting the "big tent" approach as a method to retake federal power, by keeping negotiations with other opposition parties open to prevent the ruling BN coalition led by UMNO from claiming victory. 
However, for Mr Rafizi, who is the incumbent PKR vice president, rebuilding the PH coalition while remaining in the opposition "with dignity" is the route the party should take. 
He had rejected the "big tent" approach in favour of rebuilding the opposition. 
In a video of him campaigning with party grassroots in Ipoh, Perak, on Apr 25, Mr Rafizi said the party election was also a referendum for the grassroots on whether to choose the negotiation or fighting route. 
"My view is that four or five months from now, the best way is for us to take up our political weaponry, we fight BN, Perikatan Nasional, and become closer with the people. That is the one method that has proven in five elections to win over the people," Mr Rafizi told the grassroots.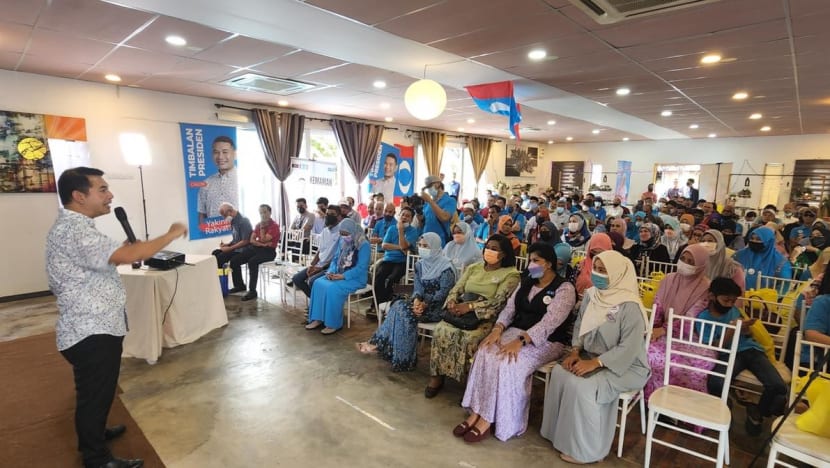 Mr Anwar's daughter and former PKR vice president Nurul Izzah Anwar, who had also chosen to take a step back from active politics, had earlier said it would take 10 years for PH to regain power.
Speaking to CNA, Mr Saifuddin disagreed, stating that PKR has strategies and leaders to turn things around for the next election. 
He noted UMNO and BN did not garner more voters in the recent snap state polls in Melaka and Johor, while the opposition was split. 
With a higher voter turnout, the results would have been different, he said.  
"We believe that if we can identify the real problems of the people and offer good solutions, we will do well in GE15," the party secretary-general added, noting issues such as inflation, supply chain issues, food price increases and floods as those faced by the common folk. 
Mr Saifuddin, who is former domestic trade minister, added that PKR had recently organised a strategy workshop to discuss and identify problems faced by the rakyat and draw up a solutions framework.  
"Solutions to problems make the winning formula," he said. 
At the Apr 25 rally event, Mr Rafizi told the party members that they should pick Mr Saifuddin if they felt PKR's position and welfare were better guaranteed by negotiation heading into the next GE.  
"Because that is his viewpoint and his specialty."
"But if you feel that for this next GE, we need to fight like before, we need to campaign, win the people's votes. If that wound from the betrayal is still fresh, you need a fighter, like me," Mr Rafizi said. 
Mr Rafizi did not respond to CNA's request for comment. 
A REFERENDUM FOR PKR'S FUTURE: ANALYST
The recent state election and by-election defeats would be a factor in selecting the new PKR leadership line-up, analysts told CNA. 
University of Tasmania's Professor of Asian Studies James Chin noted that the mood for the party election this time is very different compared to the previous one, as PKR had lost three state elections - Melaka, Sarawak and Johor - in a row. 
 
If Mr Saifuddin were to win the deputy president's post, he said, that meant the party was not in the mood for change, and observers could expect more of the same tactics of negotiation and deals for GE15. 
A win by Mr Rafizi, on the other hand, would mean that PKR wanted drastic change, Prof Chin added. 
"But the danger is that if Rafizi wins, it means the party is headed for a major internal  split, because he is going to bring what we might call fundamental reforms to the party," he said.  
However, Prof Chin did not see any reason for defections even if there was a split, as "there were no more other parties to run to". 
"Both the government side and the opposition side are firming up for GE15, so if there is going to be any unhappiness, they will split the party, but most will still remain with PKR. There really is no place to go after this," Prof Chin said. 
PKR, he said, was already expected to perform poorly in GE15, and a split plus the appearance of political momentum on BN's side would only further worsen the party's chances. 
"If you were to nitpick, both of them (Mr Saifuddin and Mr Rafizi) have issues in their past, not only Rafizi. Of course it will have to get toxic, because you're fighting to be No 2. 
"What is not said openly,  but widely understood, is that No 2 will be in a position to replace Anwar. So basically, you are also selecting Anwar's successor," Prof Chin said.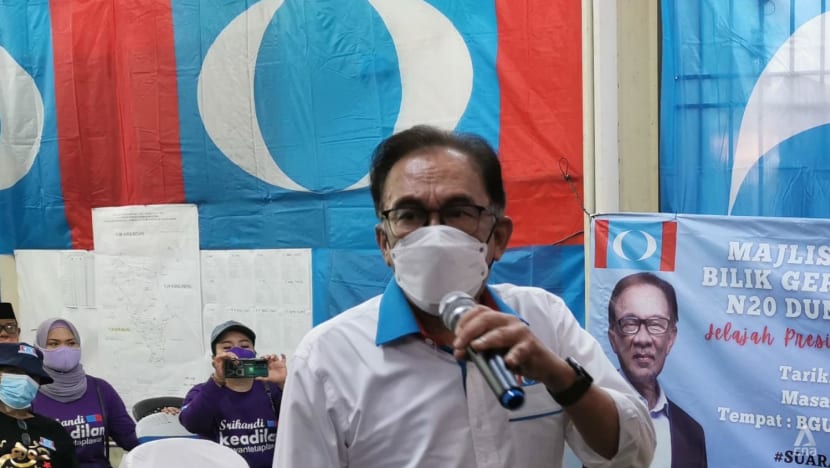 Universiti Sains Malaysia political science professor Ahmad Fauzi Abdul Hamid said while heated campaigning was par for the course, he did not anticipate a split from the losing candidate. 
"It is a referendum of sorts for the party's future, whether to reset and build back stronger like Rafizi proposed, or negotiate and still aim for power, as Saifuddin has proposed."
"This also takes into account that Anwar is already 74, and this might be his last chance to aim for the prime minister's post," he said. 
Prof Ahmad Fauzi said as an alternative and to revive the party, PKR could let the younger generation take over the party leadership.  
"Figures like Nurul Izzah, Fahmi Fadzil and Rafizi could lead the party, and still come to an agreement for Anwar to become prime minister," he said. Mr Fahmi is the current PKR communications director.  
 
"This would also stand them in better stead with the younger party members, many of whom have only been with PKR, unlike the older generation who split from UMNO in 1998," he said.
In his reply to CNA, Mr Saifuddin stated that the battle for the deputy president's post is a friendly internal contest.
"Raf is my good friend and brother with many good qualities that I respect. We have been in PKR since 1998.
"Raf can negotiate too, and I can fight too," he said.