Time to call general election now as opposition is weak, says UMNO deputy chief at annual party meeting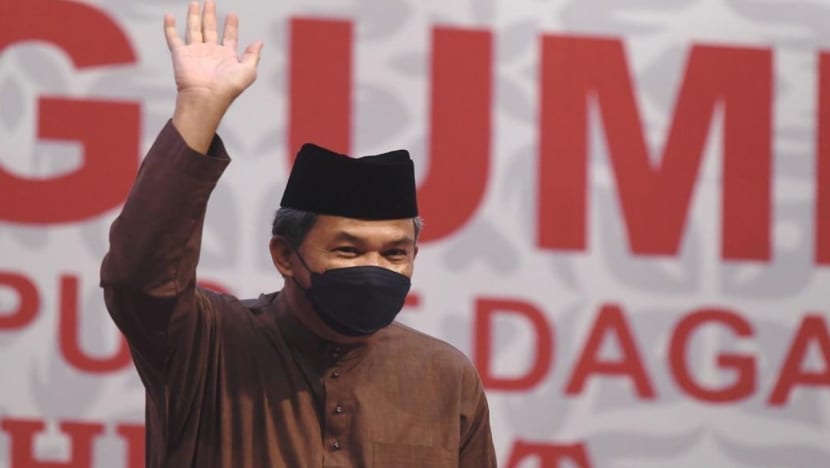 KUALA LUMPUR: On the back of several state election wins, the United Malays National Organisation (UMNO) should strike while the enemy is weak and call a general election, said the party's deputy president Mohamad Hasan.
Addressing delegates at the start of a four-day general assembly on Wednesday (Mar 16) night, he said that winning the next general election means that it needs to be held at the right time.
The next parliamentary polls are due in 2023.
Although UMNO had won each battle, he said, referring to the string of by-election and state election victories since the 2018 general election, he said the party should not get too comfortable.
"There is a much larger battlefield, that is our priority. Do not let us be too comfortable, and lulled with what we have achieved so far, because the real achievement we want is during the general election," he said.  
Winning the next general election and gaining control of the government, he said, meant holding the general election at the correct time, and the state elections in Melaka, Sarawak and Johor had provided some important pointers that the best time was the present, and not next year.
Mr Mohamad said one reason was that the opposition was clearly weak, and pointed to the opposition Pakatan Harapan (PH) parties' poor electoral performance in the recent three state elections.
The UMNO deputy president also explained that the rival Perikatan Nasional (PN) coalition had depended on its component Parti Islam Se-Malaysia's (PAS) machinery, and was no longer a competitor that needed to be feared. 
"This is military philosophy, strike while your enemy is weak, and strike while the iron is hot," he said, adding that UMNO should not wait for the opposition to regroup and defeat them, which was previously done in the run-up to the 14th general election.
Mr Mohamad pointed out that there had been multiple elections safely carried out during the pandemic without incident. 
"Therefore there is no excuse for elections to be delayed, and in fact holding it during this time is the best option, as everything is carried out in an orderly manner, as in Melaka, Sarawak and Johor," he added. 
He also said UMNO had to take a position to speed up the general election.
"Yes, I know some among us will object to this proposal, but what is the guarantee that conditions will be more favourable to Barisan Nasional (BN) if we continue to put off the election?" he asked. 
In addition, Mr Mohamad asked the delegates what guarantees the party had that the confidence and supply agreement (CSA) and memorandum of understanding (that the government had signed with the opposition) would be upheld in Malaysia's dynamic political environment. 
He cautioned that behind UMNO's big wins in Melaka and Johor, the party actually had not fully recovered from the previous harsh judgments of Malay voters in 2018. 
"It is clear that UMNO really needs the support of Malays, it is the responsibility of UMNO to protect, become the spokesperson and illuminator for Malays."
"Let us remember that the relationship between UMNO and Malays must become more constructive and meaningful," he said. 
Mr Mohamad's opening remarks also touched on the party's political standing, as Malaysia's current prime minister was from UMNO, but it was not an UMNO government. 
"Right now, we only control 17 per cent of parliament seats, our position and influence has dropped so far, as this is the lowest percentage in Malaysia's democratic history," he said during the launch.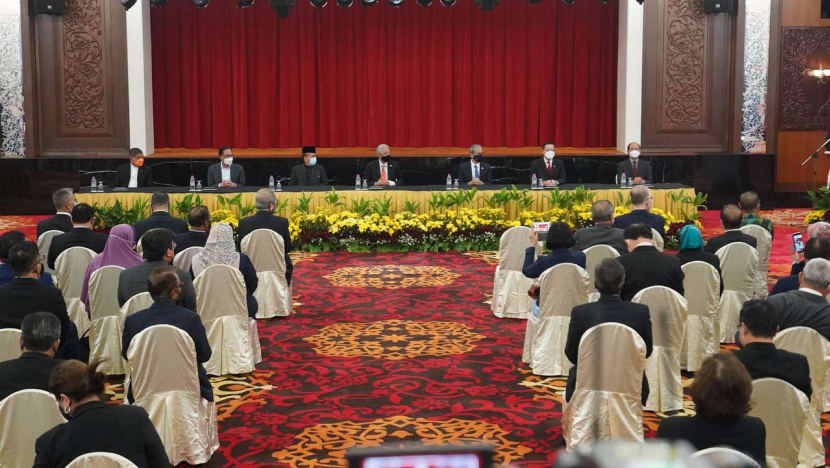 NEED FOR NEW STRATEGIES
Mr Mohamad outlined new strategies as UMNO faced the next general election, stating that the party had to be fully ready.
This included tailoring a more multicultural and pluralistic strategy, as Malaysia's current political scene was like a "fiesta" with multiple parties competing for both Malay and non-Malay votes.
"We must also convince the non-Malays, because depending only on Malay votes will not create a stable government, nevermind a dominant one," he explained. 
UMNO would be the moderate choice, not extremist but celebrating plurality and focused on stability, he told the delegates.
Additionally, the party would have to broaden its support base and reach out to urban Malays, as its typical base of strong support in rural constituencies was slowly shrinking. 
"We have depended on strong support in the rural areas, but this is not adequate as more and more Malays are migrating to the cities and rural areas are being developed," he told the party delegates. 
The party would also need to reach out to millennial voters, and until now, there had been no solid indicator that UMNO had given such voters cause for confidence. 
"We cannot just tell them that UMNO is the largest party, we fought for independence, we defend Malays … believe me, they will not listen."
"And even if they listen, they will not necessarily join us, we need a new touch," he said. 
The UMNO general assembly comes on the heels of BN's landslide win in the recent Johor snap election, which was called by the coalition to seek a fresh mandate to rule the state.
The state polls saw BN winning 40 out of 56 seats, giving it a two-thirds majority to form the new state government. 
However, the chief minister's position went to Mr Onn Hafiz Ghazi, who had previously served as Johor's executive councillor for tourism, youth and sports, instead of incumbent Mr Hasni Mohammad as promised by UMNO president Ahmad Zahid Hamidi. 
Party delegates from Johor will not participate in the debates at the UMNO general assembly, Bernama reported, following the crisis over the appointment of the new chief minister. 
UMNO and its partners in BN have seen a reversal in fortunes after their shock loss to opposition Pakatan Harapan (PH) in the previous general election. 
It has also regained the prime ministership since August 2021, after Ahmad Zahid led UMNO MPs to withdraw their support for Mr Muhyiddin Yassin from the Perikatan Nasional coalition.
In a break with convention, Mr Ismail Sabri Yaakob is the first prime minister from UMNO who is not a party president.  
Since BN's wins in both the Melaka and Johor state elections, there has been talk of an earlier 15th general election (GE15) to capitalise on these victories.
Ahmad Zahid, who is embroiled in ongoing corruption trials, is expected to give a policy speech on Friday. 
The current term of UMNO's office bearers had expired in June last year, but the party decided to postpone the election to a later date due to the COVID-19 pandemic.