After 18-year wait for badminton to feature in Paralympics, Malaysia's Cheah Liek Hou strikes gold
"I have been playing for so long, but no one recognised me. It's different now. Many people sent me private messages on social media to congratulate me."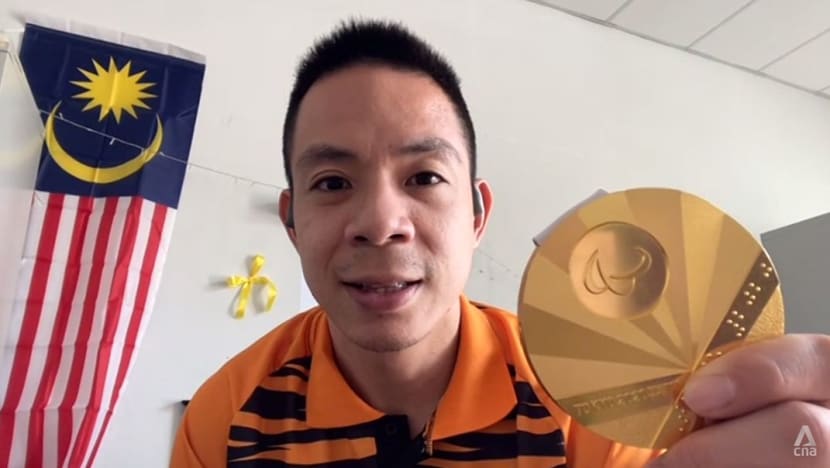 KUALA LUMPUR: As the anthem of Malaysia rang through the speakers of the Yoyogi National Stadium in Tokyo on Sep 4, Cheah Liek Hou fixed his gaze on the national flag, his left hand raised in a salute. 
On social media, congratulations poured in for the 33-year-old, who was crowned champion of the Paralympics men's singles SU5 (upper limb impairment). Some were curious why the southpaw used his dominant hand in the ceremony, since the gesture of respect is normally rendered with the right hand in Malaysia. 
Others were quick to defend Cheah. "They explained to those who do not know me," he told CNA in a video interview from his quarantine base in Kuala Lumpur after returning from Japan. 
He has Erb's palsy, a birth injury to his right arm's nerves which causes paralysis of muscles. As a result, he cannot lift his right arm up high and perform tasks that require participation of both arms, such as lifting. 
This also affects the way he plays badminton. With a weaker right shoulder, balancing can be a challenge when he makes quick dashes across the court. "My overhead shot, backhand, defence from my right side, it's very clear that it's weak," he explained. 
His opponents know this and often direct their attacks towards his weaker side, as seen in his gold medal match against world number one Dheva Anrimusthi from Indonesia. 
"(Strengthening my right side) is part of my training. I brush up daily, and do it consistently.
"I train my right side for four days and spend two days training on my left side, which is my strong form. I need to focus on the right side," said the athlete who hails from Kuala Lumpur.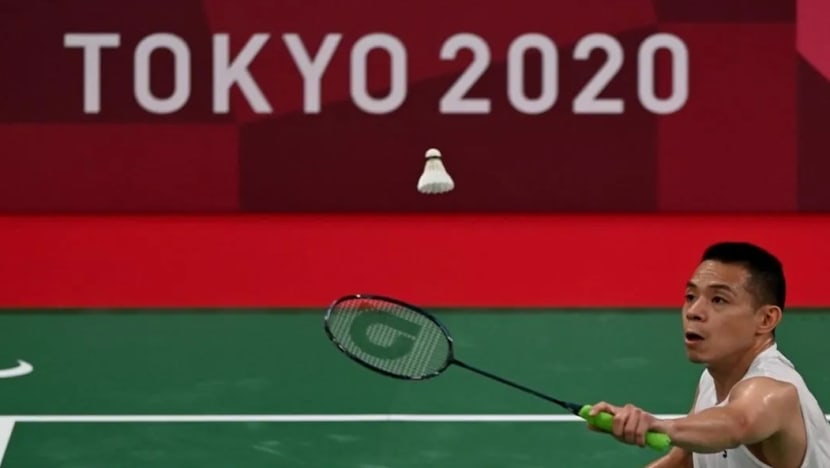 The Paralympic gold medal extended his winning streak, having been on an unbeaten run for 35 matches since October 2019, according to the Star. How did he stay undefeated?
He gave a cheeky reply: "Just keep winning." 
But on a serious note, Cheah said he was not keeping a tally. "I really never think about all these until I see the news. I thought, I won so many matches? I never counted. As a player we don't count all these." 
"Looking back, this is an achievement for sure. Wow. It's very good," he said. 
With Cheah's historic medal, Malaysia's tally at the Tokyo Paralympics was 3 gold and 2 silver. He is the first Malaysian to win a medal in the category as badminton only made its debut in this recently-concluded games.
AN 18-YEAR WAIT FOR PARALYMPIC GOLD
Cheah, a corporate communication graduate, first represented Malaysia in an international tournament in the ASEAN Para Games in Vietnam when he was 15 years old. 
The three gold medals he won at the games led a long list of international accolades that he would subsequently earn, including 11 titles at the BWF Para-Badminton World Championships from 2005 to 2017. 
Badminton has been part of his life since he was nine when he picked the racquet sport as his school co-curricular activities. 
Rising through the ranks from district- and state-level contests to national events in able-bodied badminton, he was sent to be trained professionally when he was around 12 years old. 
Erb's palsy did not bother him too much growing up, both in and out of the courts. A national coach noticed his weaker right arm when he was 15 and introduced him to the para games. 
"I was so curious. I didn't know badminton is also an event in para sports," he recounted.   
Cheah played in both able-bodied and para badminton matches - bringing the skills and experience sparring with top able-bodied athletes to the para games, and vice versa - for a few years. 
He realised he could not progress in able-bodied events when he approached the age of 20. Finding the matches increasingly challenging, he decided to focus on para events. 
However, after bagging world titles and Asian titles over the decade, Cheah's enthusiasm began to wane. He started focusing on his corporate job and spent less time on training. "My level dropped," he recounted.
It was news about badminton being confirmed as an event in the Tokyo 2020 Paralympics for the first time ever in 2017 that reignited his fighting spirit.
He also felt threatened by Dheva, a rising player 10 years his junior who quashed him in competitions easily. "It was a piece of cake for him," Cheah recalled.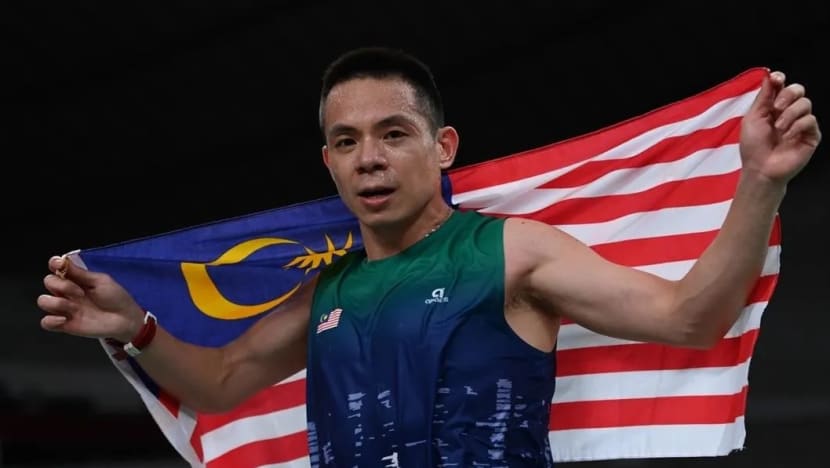 Fuelled by the desire to tame his opponents at the Paralympics, Cheah quit his job as strategic account manager and approached his former coach Nova Armada to help him get back in shape. Under the tutelage of Malaysian legend and bronze Olympic medalist Rashid Sidek, Cheah shed 20kg and focused on rebuilding his stamina and form.
Training was further intensified in the three months leading up to the games. All sacrifices were worthwhile the moment Cheah defeated his arch rival Dheva 21-17, 21-15 in the 50-minute final match.  
Sweat-drenched, he let out an euphoric scream on the floor before springing up to meet Rashid in an emotional embrace.
"I waited for this for so long since I joined (competitive badminton) at the age of 15. When I joined, they told me we would have para badminton at the Olympics, but I waited, waited and waited for 18 years," Cheah said.
For his victory at the Paralympics, Cheah would receive RM1 million (US$240,500) from the government and a lifetime monthly pension of RM5,000.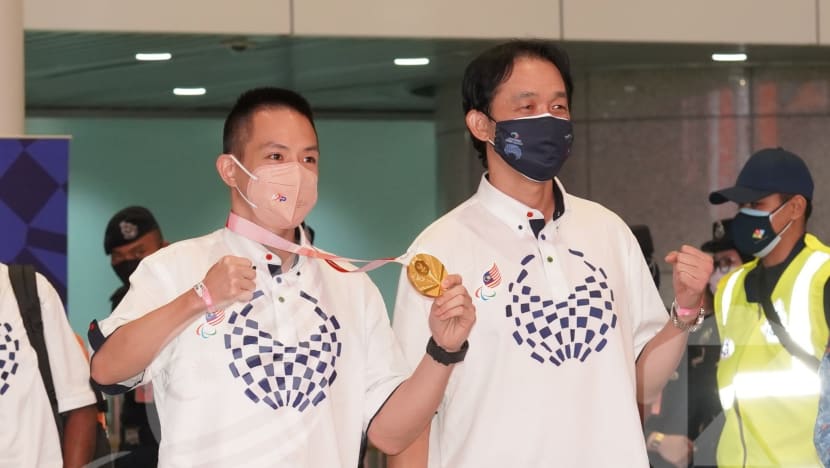 "I WANT TO GIVE THEM A HUG"
Cheah's mother Jap Joe Tjin has been his pillar of support throughout his life.  
When he was an infant, she massaged his right arm and helped him with a range of movement motions to improve his condition. 
She also taught him how to handle curious queries later in life. "When I was a kid, my mum told me, if people ask you, you can say your arm is weaker, not as strong as your other hand."
His mother, now 71 years old, was also the one who signed him up for professional badminton training. "I was a hyperactive kid, I liked to run here and there and I couldn't sit down quietly. My mum sent me for training, hoping that I could sit down and rest if my energy was drained," he said. 
To focus on his training for the Paralympics, Cheah has not seen his family, including his wife Dewi Febriana Tan, for four months. 
The temporary separation was complicated by the raging pandemic, with Cheah constantly worrying about his loved ones while under immense pressure to perform well on the court. 
What would he do when he finally gets to see them again after serving his quarantine? "I will hug them first. I want to give them a big hug. I really miss them so much," he said.  
Prior to his Paralympic triumph, Cheah had been relatively unknown in Malaysia despite his string of international victories. Quite unlike his peers in able-bodied badminton who are hailed as national heroes, not many Malaysians knew his name. 
Things have now changed. He was given the honour to be the Malaysian flag bearer at the closing ceremony, further cementing his status as the country's Paralympic star. 
"I have been playing for so long, but no one recognised me. It's different now. Many people sent me private messages on social media to congratulate me. There was not one negative comment," he said. 
There had also been a "crazy increase" in new followers on his social media pages following his gold medal. "I cannot imagine. I feel very, very proud of myself."  
Cheah's new fans will be able to watch him in action again soon at the BWF Para-Badminton World Championships, which will be held in Tokyo in late October. 
He has also set his eyes on Paris 2024. 
"The thing I need to do right now is to maintain my body, my immune system, because I am getting older. I need more supplements to support myself until I'm 36 years old. 
"I need to plan my training. I am getting older, so the training has to change a lot. I need to play smart, and not play hard anymore," he said.