Barisan Nasional chairman Ahmad Zahid urges component parties to strengthen themselves to expand support base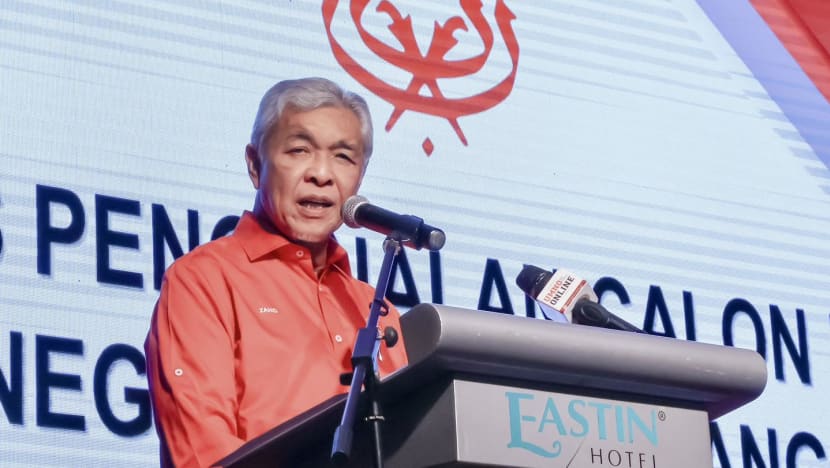 KUALA LUMPUR: Barisan Nasional (BN) chairman Ahmad Zahid Hamidi on Tuesday (May 23) said that component parties within the coalition need to focus on strengthening and improving themselves in order to expand their support base.
According to Free Malaysia Today (FMT), Ahmad Zahid – who is also Malaysia's deputy prime minister – reportedly said that no party in BN should feel slighted as its cooperation with Pakatan Harapan (PH) is a "smart partnership".
"I don't want others to despair when we are cooperating in a smart partnership. Give a good impression (of yourself).
"Member parties (in BN) must strengthen themselves," Ahmad Zahid was quoted as saying by FMT.
Ahmad Zahid – the president of the United Malays National Organisation (UMNO) – was responding to Malaysian Chinese Association (MCA) secretary-general Chong Sin Woon, who had urged the deputy prime minister to focus on taking care of BN component parties instead of parties within PH, Malay Mail reported.
UMNO and MCA are component parties within the BN coalition.
On Monday, Mr Chong said that Ahmad Zahid should focus on helping BN's coalition partners after the latter seemingly endorsed candidates from the Democratic Action Party (DAP) in the upcoming Malaysian state elections.
The six states set to hold elections later this year are Kelantan, Terengganu, Kedah, Negeri Sembilan, Penang and Selangor.
"As BN chairman, he should prioritise the component parties in BN and look after their interests, instead of PH and DAP's," Mr Chong was quoted as saying by FMT.
Ahmad Zahid on Tuesday reportedly said that with the unity government helmed by Prime Minister Anwar Ibrahim that it is a "new political reality" for component parties within BN to collaborate with those from PH.
"In this new political reality, we need to respect the different parties under this collaboration," he was quoted as saying by Malay Mail.
According to Ahmad Zahid, there are 19 political parties under the unity government. Besides PH and BN, other parties and coalitions that back the unity government include Gabungan Parti Sarawak (GPS), Gabungan Rakyat Sabah (GRS) and Parti Warisan.