Commentary: UMNO president Ahmad Zahid is a formidable yet flawed political operator
While Ahmad Zahid Hamidi's control of the United Malays National Organisation (UMNO) is almost absolute, his undercutting of rivals has dented the party's electoral performance, says this writer.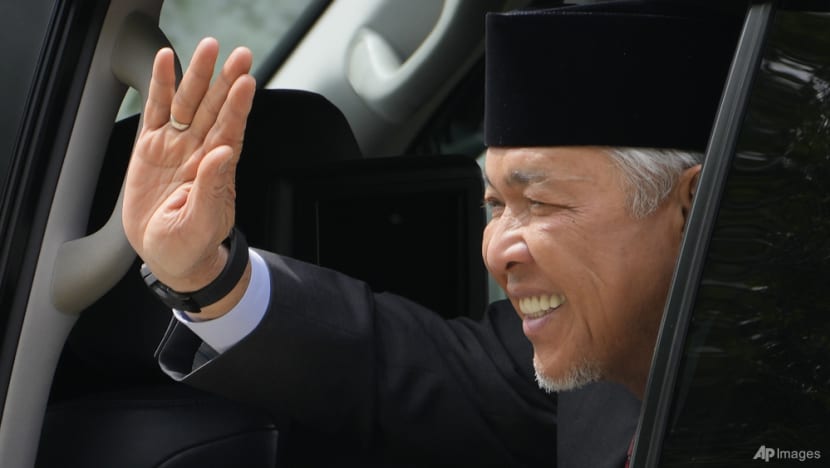 SINGAPORE: Ever the dapper dresser, United Malays National Organisation (UMNO) president Ahmad Zahid Hamidi now has additional sass in his swagger. Months of work have cemented his grip on the party and saved it from penury in the parliamentary wilderness.
Zahid assumed the UMNO presidency following Najib Razak's resignation after the historic May 2018 election defeat. Immediately after, Zahid had to contest against two competitors to retain his position. Benefiting from his close ties with Najib, Zahid carried the day.
Despite his new mandate, Malaysian voters continued to punish the party and its coalition Barisan Nasional (BN). In addition to by-election defeats, Zahid began to have legal woes. In late 2018, he was charged for alleged offences linked to his charitable foundation, then procurement issues from his tenure as minister of home affairs arose.
With his political and legal challenges multiplying, Zahid went on garden leave for six months.
Following his return in mid-2019, Zahid's political fortunes have improved. This is due to his using a wide array of weapons, including rhetorical backflips and backroom dealings, wielded to improve UMNO's position in government and to cement his hold on the party apparatus.
While not a key player in the 2020 Sheraton Move, Zahid and his allies benefited from the collapse of the Pakatan Harapan (PH) administration. Despite being part of the subsequent ruling coalition, they were barred from Cabinet due to their association with the Najib administration. From the backbench, however, Zahid managed to simultaneously support the Muhyiddin Yassin administration and undermine it.
This low-intensity conflict continued under the Ismail Sabri administration. Driven by the relentless progress of his court cases and frustrated at being barred yet again from Cabinet, Zahid pushed for early polls. This move split the party, as UMNO Cabinet members preferred talking about snap elections over holding them. However, Zahid prevailed over Ismail Sabri, who eventually called for premature polls.
ZAHID DILLIGENT ABOUT SECURING CONTROL OF UMNO
Malaysia headed to elections in November 2022. The result was a disaster for UMNO and BN: The party netted a mere 26 seats and other coalition partners secured another four.
Yet, Zahid was able to cobble together an unlikely alliance between BN and Anwar Ibrahim's PH coalition. Digging deep, Zahid argued that UMNO's interests were best served by joining PH as the largest Malay party, rather than being overshadowed by PAS and Bersatu in Perikatan Nasional (PN).
Zahid has been equally diligent about securing control of UMNO, aided in part by its top-heavy structure. Of vital import is the president's responsibility for approving every electoral candidate fielded, which binds him to division chiefs who lead the party machinery at the parliamentary level.
In May 2022, the UMNO constitution was amended to allow more flexibility to schedule party elections. These were scheduled for after the parliamentary elections, which cleverly allowed Zahid to avoid being challenged by Ismail Sabri - then prime minister - for control of UMNO.
In September and October, Zahid decisively moved against his opponents. Well-known supporters of Ismail Sabri like Shahidan Kassim and Annuar Musa were dropped as parliamentary candidates and potential rivals such as then minister of health Khairy Jamaluddin were parachuted into hostile constituencies. Zahid got an additional boost when he was acquitted of one set of corruption charges.
In December, Zahid's pact with Anwar resulted in a good haul of ministries for UMNO. He secured the deputy prime ministership and rural development portfolio, Mohamad Hasan was appointed to defence, and the vice president most allied to him, Khaled Nordin, got higher education. Senior figures such as Ismail Sabri and Hishammuddin Hussein were bypassed; the remaining Cabinet members are not alternative centres of power.
In January, the UMNO general assembly resolved to exempt the top two positions (president and deputy president) from being contested. Immediately after, a group of senior UMNO leaders were purged or side-lined. Khairy Jamaluddin and former Selangor UMNO chief Noh Omar were sacked while several others, including Hishammuddin and former information chief Shahril Hamdan, were suspended.
UMNO's party elections were held this month and Zahid's control is almost absolute. In addition to his deputy, Mohamad Hasan, two of the three vice presidents are allies. Khaled Nordin retained his position and newcomer Pahang Menteri Besar Wan Rosdy Wan Ismail is also a Zahid associate. Supporters clinched the Youth and Puteri wings and a solid proportion of the incoming Supreme Council.
ZAHID'S GRIP ON UMNO COMES AT A COST
Yet, Zahid securing UMNO's position in government and his grip on the party has come at a cost - the party's electability.
Zahid's persistent pushing for elections has been out of sync with the public zeitgeist. Lingering COVID-19 worries, inflation woes, and floods meant that electioneering was far from people's minds. Furthermore, the argument that the party needed a resounding mandate when it was already in power was unconvincing.
Zahid's undercutting of rivals also dented UMNO's electoral performance. For example, after being dropped from the UMNO slate of candidates, Shahidan Kassim moved to PN. BN then was unprecedentedly routed from Perlis. Going forward, the purging of Khairy and Shahril Hamdan may dent UMNO's appeal in urban areas.
Last, surveys taken during the campaign consistently indicated that Zahid is unpopular, including among the Malay electorate, compared to Ismail Sabri, Muhyiddin Yassin, and Anwar Ibrahim. Indeed, BN's campaign lost momentum when it appeared that Zahid could go for the top job himself.
Surveys of younger voters indicate that good governance and corruption are key concerns. Coming of age in a post-pandemic world, these voters do not have positive memories of UMNO's track record and are open to alternatives.
While Zahid has shown that he will not go gently into that good night, he will need to do more than retain control of UMNO. In addition to deciding whom to field for elections, successful party leaders need to win them.
Francis E Hutchinson is Senior Fellow and Coordinator of the Malaysia Studies Programme at the ISEAS - Yusof Ishak Institute. This commentary first appeared on the ISEAS - Yusof Ishak Institute's blog, Fulcrum.