A day on the campaign trail: Aspiring PM Khairy fights for political survival in Sungai Buloh
CNA followed Barisan Nasional's Khairy Jamaluddin for a day as he canvassed support for what could be the political fight of his life in Malaysia's GE15.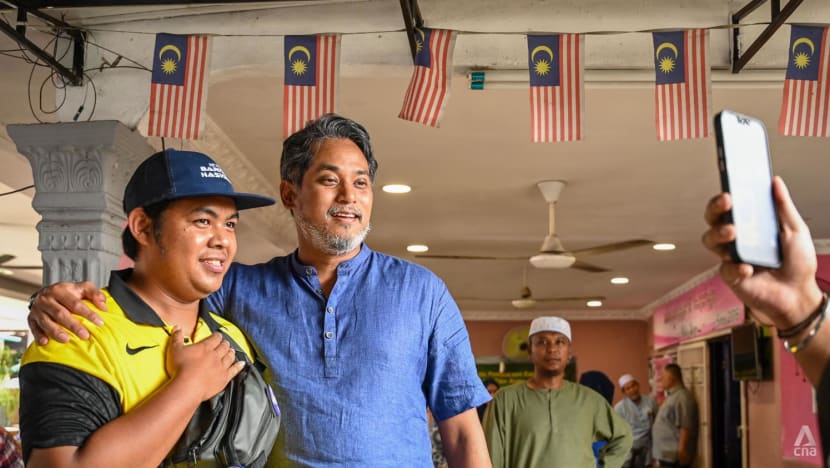 SUNGAI BULOH, Selangor: Mr Khairy Jamaluddin started his 15th General Election (GE15) campaign on Tuesday (Nov 15) bright and early.
It was the 11th day when he would be walking the ground, making speeches and meeting residents in a new constituency where he is standing. 
A few minutes into his interview with a local radio station at 8am, Mr Khairy's eyes lit up when he was asked if being fielded by the Barisan Nasional (BN) coalition in the federal constituency of Sungai Buloh was him being put out to pasture.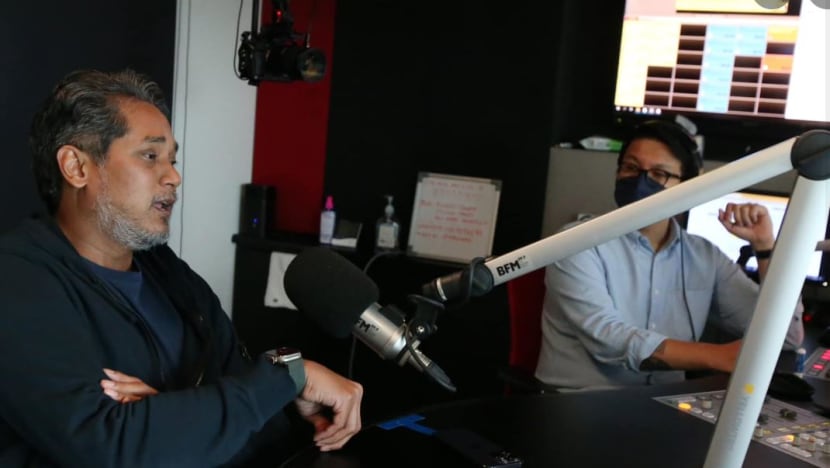 "I have not been put out (to) pasture. I'm here to win, I'm not here to lose. This is not going to be my political cemetery," said the 46-year-old caretaker health minister.
The contest for the Sungai Buloh federal seat has been one of the most keenly watched this election. 
The seat has been won by the Pakatan Harapan (PH) coalition in the last three national polls. In 2018, the PH candidate won by a 26,000 vote majority and the BN candidate then was only the third best-performing, behind another candidate from Parti Islam Se-Malaysia (PAS). 
Local media reported that Mr Khairy had been edged out by his party's senior leadership from his safe seat of Rembau in Negeri Sembilan, where he had been a Member of Parliament for three terms. 
He was then moved to contest in Sungai Buloh. He is in a seven-cornered fight and his main contender is PH's R Ramanan. He is under no illusions about the task at hand. 
"I have come into the lion's den," he noted during the radio interview. 
"The incumbent (PH MP) Sivarasa won with a majority of 26,000 in 2018 but mountains were made to be climbed," he added. 
Following the interview, Mr Khairy started his walkabout in Sungai Buloh, first visiting the local police headquarters and then an army camp where some officers were casting their ballots for early voting.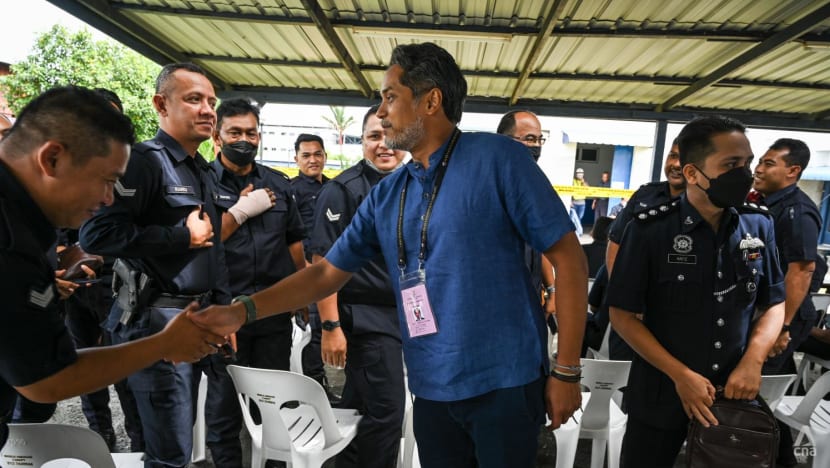 He posed for pictures with some and thanked them for fulfilling their civic duties. 
One policeman who shook hands with Mr Khairy told him: "Thank you for visiting us, sir, it's an honour."
"Hope to visit more after this," replied Mr Khairy with a smile. 
The United Malays National Organisation (UMNO) politician then headed out to an eatery at Kampung Melayu Batu to meet with workers during the lunch hour. 
Unlike some of the other candidates who typically walk the ground with an entourage of around 20 to 30 grassroots members, Mr Khairy moves around with a nimble team of around four to five people.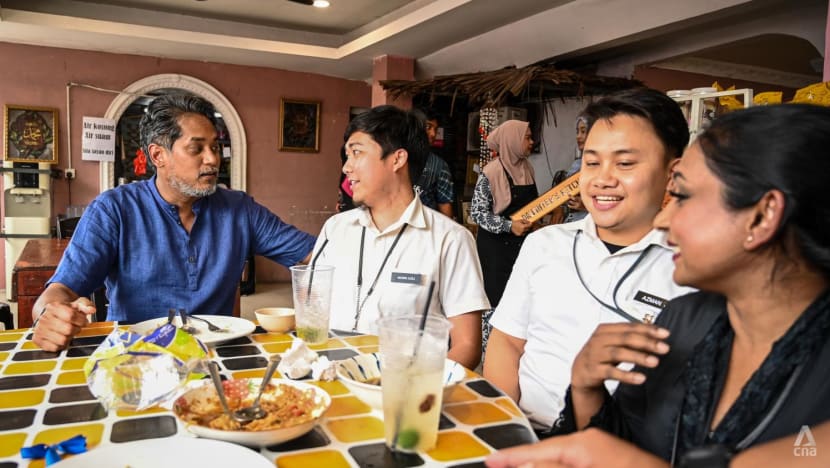 The eatery only had around half-a-dozen patrons before Mr Khairy arrived. However, within a few minutes of him entering, it was packed to the hilt. 
"KJ, could you sit and take a photo with us please," said a civil servant, referring to Mr Khairy's nickname and short-term abbreviation. He obliged. 
Mr Khairy was also served some dishes - laksa sarang (laksa noodles with omelette), nasi ganja (rice with beef curry), mee kari kerang (curry noodles with clams) and a mango float beverage. 
"We all know that there's the popular nasi ganja in Ipoh but who knew that there are good options right here in Sungai Buloh as well," he said while filming an Instagram video for the outlet's owners. 
While Mr Khairy was generally well-received by residents in the area, he exchanged views candidly with a woman who owned a nearby roadside eatery. 
The woman accused him of not helping Sungai Buloh residents when he served as minister, and is only now promising improvements after he wins the seat. 
Mr Khairy explained that he was not allowed to sanction any funding for Sungai Buloh, especially during this campaign period. 
"During the election period we cannot move any funds, and I am a new candidate to this area," he told her before moving on to speak with another resident.
KHAIRY ON BECOMING PM ONE DAY 
At around 4pm, he attended a dialogue session with residents living in a private estate in Mutiara Subang. 
Many raised local issues such as road congestion and asked for infrastructural improvements. 
Mr Khairy jotted down notes on his mobile phone and promised that he would work with the relevant authorities if elected, vowing KJ or "Kerja Jalan", a colloquial term referring to how work gets done efficiently. 
One woman asked Mr Khairy about his plans for Malaysia if he were to be appointed prime minister one day. 
This came after Mr Khairy declared his ambition to be Malaysia's prime minister in the future during a rally speech a week ago, as he urged voters in Sungai Buloh to support him.
"You support me today, God willing ... one day, I want to lead UMNO. One day, I want to be your prime minister. But to do that, I must win here first," he reportedly said at that time. 
When asked to lay out his plans by the resident, he said that winning Sungai Buloh would not be "the end of the story".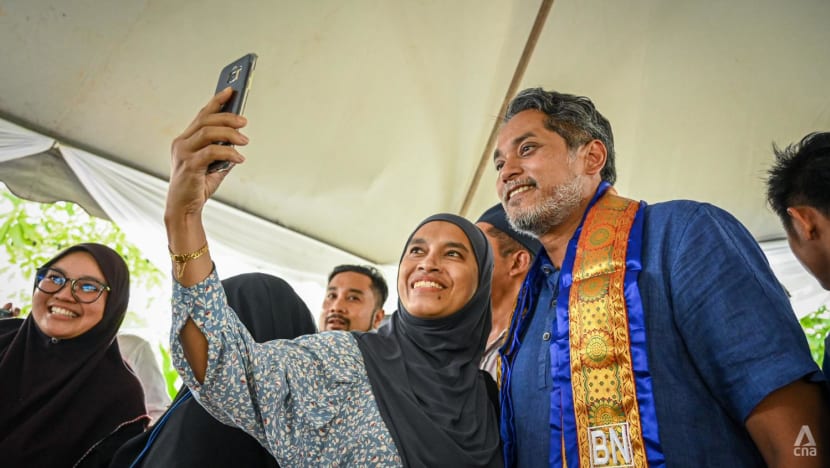 "There are those that accuse me of being hungry for power, not to win Sungai Buloh but to be prime minister," he said. 
"I want to be the Member of Parliament for Sungai Buloh, prove that I can win, prove that I can get work done in Sungai Buloh. Only then will I consider becoming prime minister," added Mr Khairy. 
For dinner, he attended a ballroom event with residents of Kampung Baru Subang, when he was welcomed by a lion dance performance. 
He stood as two large lion masks twisted and turned to the drumbeat, just mere centimetres from his face.  
Mr Khairy walked to a few tables in the banquet hall and interacted with residents. In some instances, he introduced himself to the residents in mandarin.
There was mixed reaction among the attendees. Some were elated and posed for selfies while others appeared to be more interested in finishing their dinners. 
Mr Khairy gave a speech, during which he spoke about the perceived risk he took to move from what was a safe seat in Rembau to a dangerous seat in Sungai Buloh. 
"As leaders, we cannot just sit in our safe districts. We cannot remain in our comfort zone," he said while pacing across the room. 
"Even though this is a Harapan constituency, I have come to fight. And I will fight for you oh people of Sungai Buloh," he added, to a loud roar of applause.