Commentary: It's Game of Thrones all over again for Malaysia's GE15
As Malaysia gears up for a high stakes 15th General Election, the main coalition leaders have traded places as allies and adversaries in the last few years. Polling Day on Nov 19 could be the season finale of this political drama, says James Chin.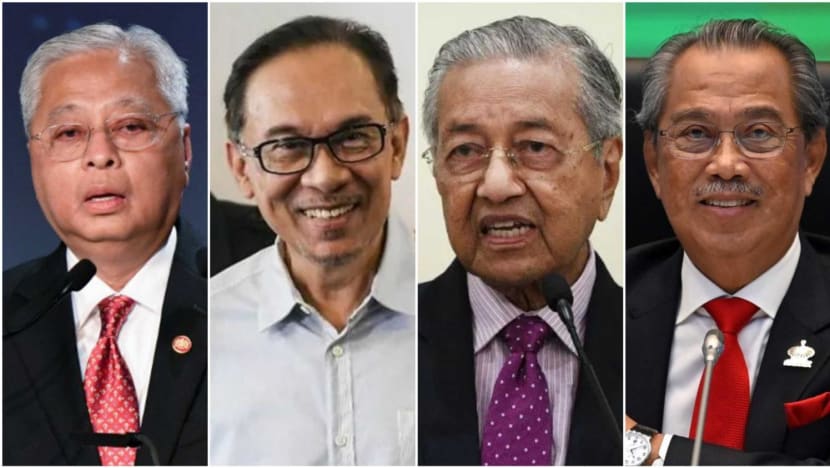 KUALA LUMPUR: Saturday (Nov 5) saw campaigning formally start for Malaysia's 15th General Election (GE15) on Nov 19. For the first time in Malaysia's history, no party or coalition is going into the election as the frontrunner.
Since the 2018 General Election (GE14), when Pakatan Harapan (PH) pulled a major upset over the historically dominant Barisan Nasional (BN) coalition, Malaysia has mainly seen political instability - three prime ministers and three ruling coalitions, with constant shifts in political alignments and politicians crossing the floor to join other parties.
BN chairman Ahmad Zahid Hamidi had earlier warned former members of parliament (MPs) dropped from the slate of GE15 candidates against betraying the coalition. At least one snubbed MP, Arau incumbent Shahidan Kassim, will contest on a Perikatan Nasional (PN) ticket instead.
Perhaps it's fitting that another Game of Thrones series has recently hit the screens. The show has been used to describe Malaysian politics, with shifting alliances and shrewd strategies for each house to stay on top, including the infamous Sheraton Move in 2020 that saw the PH government collapse.
One could think that Malaysian politics have never been this vibrant, with four main political coalitions and a record 945 candidates contesting the 222 parliamentary seats. But amid this crowded election field, what might voters expect when the main coalition leaders all belonged then split off from the same party?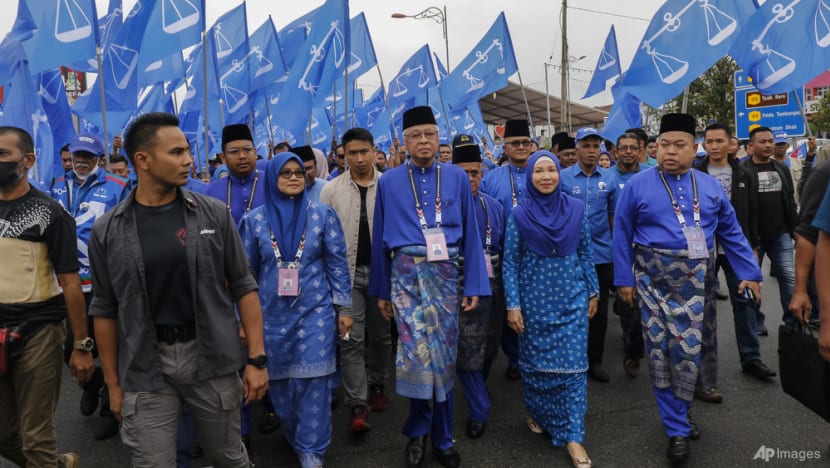 MESSY SPLIT FROM UMNO
BN, with the United Malays National Organisation (UMNO) as its backbone party, has been the ruling coalition since 1973 when it was established in the aftermath of the 1969 riots. Through a mixture of raw political power and clever manoeuvring, they managed to stay in power until 2018.
But it has been plagued with infighting in recent years, and could be arguably what set this game of thrones in motion.
It all started when Mahathir Mohamad quit and Muhyiddin Yassin was sacked from UMNO in 2016. They formed a new Party, Parti Pribumi Bersatu Malaysia (Bersatu) and joined up with the PH coalition led by Mahathir's former deputy and long-time nemesis Anwar Ibrahim.
Their aim was to topple UMNO, in particular then-prime minister Najib Razak, because of the 1MDB financial scandal. PH won GE14 in 2018, with Mahathir installed as prime minister for the second time, with a public pledge to step down for Anwar.
Mahathir did not do so. Amid that turmoil, the PH government collapsed after 22 months after Muhyiddin withdrew Bersatu from the coalition. Mahathir and Muhyiddin parted ways after the Sheraton Move.
Muhyiddin went on to become prime minister in March 2020, under a new PN coalition, comprising Bersatu, Parti Islam Se-Malaysia (PAS) and notably, UMNO. He was pushed out after 17 months of infighting and UMNO withdrawing support from PN.
UMNO's Ismail Sabri Yaakob was subsequently appointed prime minister in August 2021.
COALITIONS' NARRATIVES REFLECT THE MESS
How has this messiness shaped the coalitions' narratives in this GE15?
Barisan Nasional's narrative is one that taps into voter regret. It is painting a picture of the good old pre-2018 days of political stability, touting itself as the only coalition that can keep Malaysia politically stable and economically prosperous. BN's manifesto, launched on Monday, is promising every Malaysian household a basic monthly income of RM2,208 (US$465.80) and free early childhood education.
BN's biggest problem remains the allegations of corruption. Najib is currently serving a jail sentence for corruption.
Though Ahmad Zahid, also UMNO president, was acquitted of 40 corruption charges in September, he is still facing 47 more charges of criminal breach of trust, corruption and money laundering. There are real concerns among voters that Ahmad Zahid could end up as prime minister, instead of Ismail Sabri, if BN wins big.
This opportunity has not been missed by Muhyiddin's Perikatan Nasional. PN shares the same DNA as UMNO and is vying for the same ethnic Malay vote. This is clear in PN's narrative: The same Malay leadership, but without the crooks.
But PN has a weak election machinery as the new kid on the block, cobbled together in the wake of the PH administration collapse. Muhyiddin has also said that GE15 will be his last.
PN's component party PAS is also a double-edged sword. While it may deliver seats in traditional PAS strongholds and appeal to voters as a more familiar brand than PN, their religious narrative tends to turn off non-Muslim Malaysians. PAS president Hadi Awang has also made statements calling non-Malay Muslims the most corrupt, resulting in mass exodus of Chinese voters moving towards anyone but PN.
END OF THE ROAD FOR MAHATHIR, MUHYIDDIN AND ANWAR?
Pakatan Harapan, under Anwar, has a whole mess of narratives. On one hand, it wants to get voters angry about its "stolen mandate", when the five-year term of the PH government was cut short by a "backdoor" government that gave way to the present-day rule by UMNO, the very party the electorate rejected in 2018.
But on the other, it is still pushing the narrative of institutional reform and a multiracial leadership under Malay leadership, which sits in contrast to UMNO's Ketuanan Melayu (Malay supremacy) model.
PH's electoral strength is also its weakness. It has locked in the Chinese votes, but that will likely deliver less than 35 federal seats and its stronger multiracial component will make it challenging to woo rural Malays to win the elections. But at 75, Anwar knows this is his last shot to be prime minister.
Rounding up the prominent coalitions is Mahathir's freshly formed Gerakan Tanah Air (GTA). Since his removal from Bersatu, the 97-year-old has been largely sidelined politically. Many perceive GTA as moving to the far right to attract Malay support, fielding some candidates associated with ISMA, a controversial religious hardliner group.
Malaysia observers, including me, expect GTA to win fewer than five seats, which would be an unceremonious end to Mahathir's political legacy.
Analysts say GE15 will be hard to predict, with the large number of candidates and many multi-cornered fights amid global economic and geopolitical uncertainty. But in all likelihood, whoever wins GE15, this will mark the end of Mahathir's political career. This will be a historic moment in Malaysian politics.
James Chin is Professor of Asian Studies at the University of Tasmania and Senior Fellow at the Jeffrey Cheah Institute on Southeast Asia.